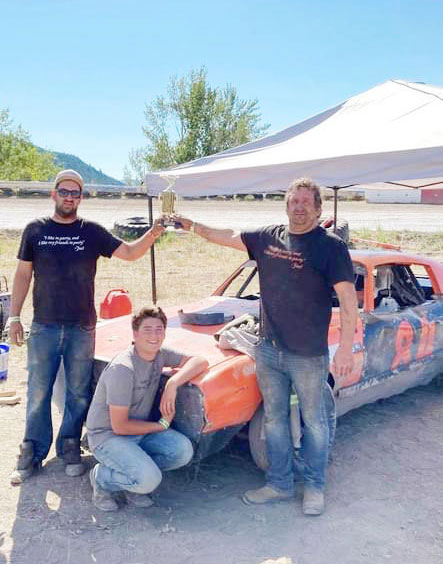 By Trish Dunn
Joel Cinnamon of Tete Jaune has been racing his custom-built stock car this summer—and winning—despite being new to racing.
On July 3rd and 4th he raced at the Clearwater Speedway where he placed 1st on the first day in the Trophy Dash in the A Class Street Stock, a 4-car race where they do four laps of the track. He also placed 3rd in the A Class Heat Race. On the second day he won the Main Event in the A Class Street Stock.
He raced in Merritt last weekend where he had troubles the first day tweaking the car as the Merritt Speedway was a lot flatter and the car was pulling, he said. On the second day he got it figured out and placed 2nd in the Main Event of the A Class which is the fastest car class.
His next race will be back in Clearwater August 7th and 8th for anyone who wants to cheer him on.
He says next year when his son Corbin is 14, he can start racing in the Hornet Class and his wife Emelia can drive in the women's class after their new baby arrives.
Joel built his 1979 Pontiac Firebird Trans Am in his basement this winter, after picking it up in December from Joe and Yvonne Dawson's farm in Dunster where it had sat in a field for 20 years with no tires. Joel brought it home and put it in his basement through a window they removed and then they lowered it in with his tractor. They started stripping it immediately. The engine in this car is a 355 Chevy small block with all the modifications you can do according to the A Class Street Stock guidelines. It has 375 horsepower.
Joel has been helping get the Clearwater Speedway going after being closed for 15 years. He is hoping that possibly down the road the Valemount stock car track can re-open. As a few of his friends have bought cars and are hoping to join him at the races.