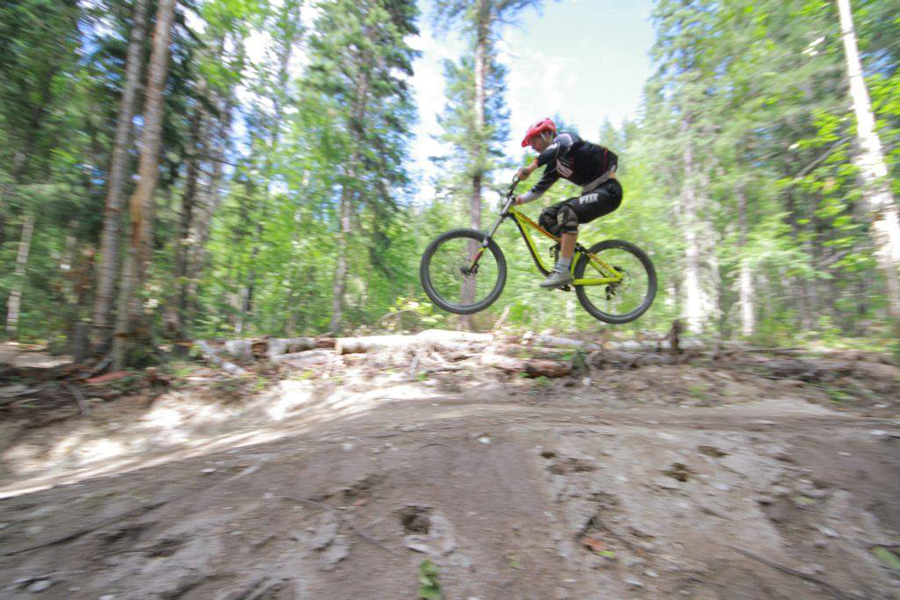 By Michael Piasetzki
Anyone who knows a thing or two about athletic competition at any level knows that one of the hardest personal challenges is staging a comeback after a long layoff.
That's exactly what Valemount native Brendan Taylor has done in his chosen sport of cross-country and endurance mountain bike racing over the past several years.
Taylor, a 38-year-old local entrepreneur who owns a company called the Source Tree Service Ltd., first started riding while in his teens. He competed at the high school level, qualifying for several provincial races.
But then life's different stages began to change his outlook on racing and competition in general. His focus waned, drifting from sport to dating, socializing and discovering what he wanted to do with his life.
"Peer pressure played a big part of my life when I was in my teens," Taylor told the Goat last Thursday while taking a quick break from his busy life. "One thing led to another and I drifted away from the sport of mountain bike racing. Then I got married, had kids, you know the usual stuff."
For the next 10 years Taylor lived a normal, busy life combining work and family. But when he entered his early 30s he found something was missing. There was a certain emptiness in his life, in particular, that exhilarating feeling of riding.
As a result, the passion for getting back on his bike and peddling returned, and about five years ago, when dozens of new mountain biking trails were developed in what is now the Valemount Bike Park he was hooked again. He began training with purpose – mostly from constant use of his chainsaw along with his bike – which led to a return to competing. By using steeper hills, he prepared for races in other parts of the province, especially along the coast.
Since that time, his progression on the comeback trail has been steady and impressive. Last July, he finished first at the 120-kilometre Merritt Crown race in Merritt, an arduous event in which riders must finish a 3000-metre elevation race in less than 12 hours. For his efforts, Taylor received the coveted crown from race organizers, making him "king of the mountain" at the event.
In August, he finished seventh at the 2021 Crowsnest 100-kilometre mountain bike race in southern Alberta with an excellent time of six hours, 21 minutes and 29.4 seconds. The event featured a mix of fire roads, double and single tracks and a total elevation gain of 1500-3000 metres.
Most recently, on Sept. 18, he finished first at the Burns Lake biking tournament's BBC 40km cross-country event in Burns Lake. He set a non-official course record-winning time of two hours and 40 minutes.
"Unofficial because it was a new course," said Taylor. "But it was the fastest known time for that particular course."
Taylor's achievements along the comeback trail have not gone unnoticed among fellow riders, including Valemount resident Curtis Pawliuk, who also competes in mountain bike races around the province.
"Brendan's dedication to fitness is absolutely unbelievable," said Pawliuk, the general manager of the Valemount Area Recreation Development Association. "He lives a tremendously healthy lifestyle and is completely obsessed with staying in shape. That dedication has been transformed into success and he deserves a lot of credit for coming back so successfully into the sport."