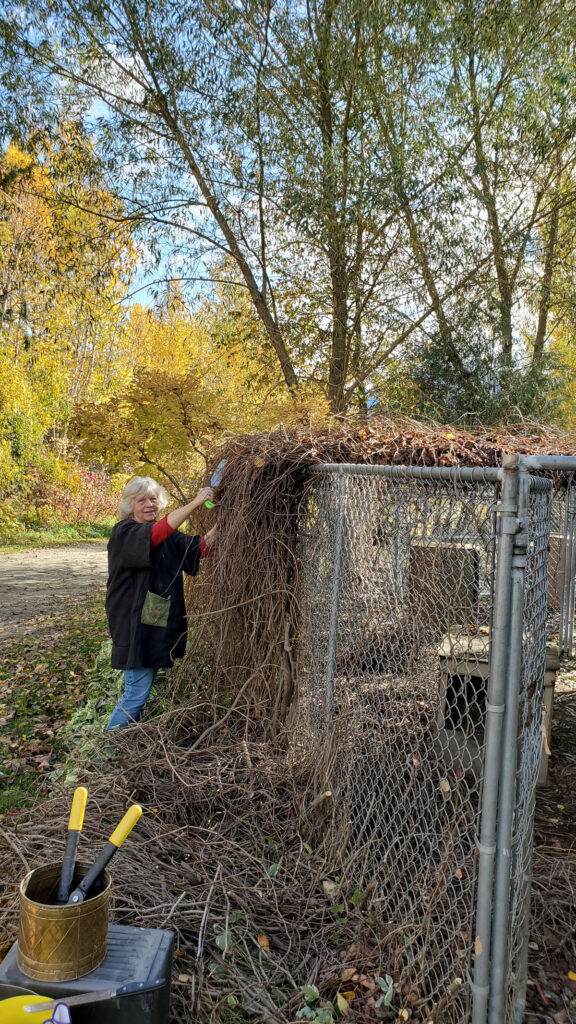 By Andrea Arnold
McBride business woman, Ann Schwartz is heading towards total retirement, as she takes steps to close the Robson Valley Pet Hostel on Nov 1st.
"The whole thing is a process," she said. "The kennels have 25-30 years of vines that have been directed to grow over to provide shade for the dogs. I have sold the kennels now, and cutting away the growth to dismantle the walls has been a slow process."
Schwartz has been serving as the valley's go to for pet grooming and kenneling for almost 40 years. Schwartz said she had planned to run the hostel until the 40th anniversary next July, but this summer, she realized that she needed to make the change for her own sake. She said the stress created, and the energy needed to provide the level of care her clients were used to was wearing on her health. It was becoming more than she could maintain.
"I've known I needed to cut back for a while," said Schwartz. "So I have been trying to take on less dogs. However, this summer, I was averaging 20-22 dogs here every day. There is a shortage of kennels everywhere."
Schwartz said she began to feel like the job that she loved, that she felt was her true calling was no longer filling her soul, so she began to seriously look at full retirement.
Schwartz was an Animal Health Technician in 1977 when she arrived in the valley and wanted to use her skills to make herself a job. Following a visit with a friend in Alberta who ran a kennel, she decided that was what she could offer the community.
"My friend had 50 kennels," she said. "I knew that was too much for me. We started with one run and one cozy outbuilding."
They expanded by building two or three kennels at a time, slowly building up their capacity. In 2011 they built a new building to house Schwartz's grooming room as well as some indoor kennels. At the maximum capacity, Schwartz had 25 kennels available.
The new area as well as the outdoor kennels were designed with the dogs' comfort in mind. Each kennel was positioned so that the dogs could see either Schwartz, or her husband Gary as they worked around the yard, providing a level of comfort and companionship, if at a distance. Even dogs staying in the indoor facility are joined by Schwartz as she works on some of her crafts that are housed in the same space.
Schwartz is not only closing the overnight services, she is also hanging up her clippers.
Although she has not closed her doors completely yet, she has already felt better physically, and is anticipating more improved health as she settles into retirement.
"I am looking forward to having more free time to travel to see grandkids, family and friends," she said. "I also hope to have more time to craft, read and garden."
The community has been mostly understanding as the news has started to make its way around the valley, with some concerns that there will no longer be a local kennel available. Schwartz would like to see someone local step in to fill the need, and she is very willing to cheer on and provide advice support for anyone willing to take on the service.
"Although I will not be taking on any boarding or grooming clients, I will still provide emergency care for furry friends," said Schwartz. "Animals that are picked up on the roadways will have a safe place to go."
She says that she will continue to provide care for these animals and help find either the rightful owners or a safe home.
"I loved being a part of my clients' lives for 39 years," said Schwartz. "Thank you for entrusting me with your families."