by Andrea Arnold
---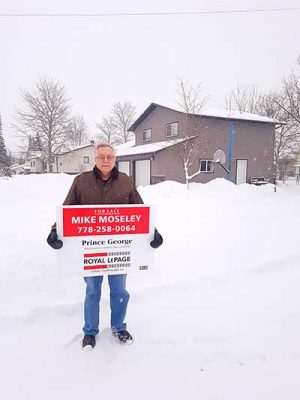 In the coming months you may notice a new name on real estate signs around the valley.  Newly-licenced agent, Mike Moseley has hung up his shingle in McBride, and is taking clients.
Moseley is no stranger to the valley. He and his wife Jean have lived in McBride on and off since 1980. They have gone on what Moseley refers to as "walkabouts," living for a time in places across Canada. They have lived on islands off both east and west coasts. "We have always felt like McBride was home, so this is where we would return to," said Moseley.
Moseley's name is most recognizable for the dental business he ran in McBride until 2014. When he retired from that profession, he and Jean moved to PEI for two years, but returned to McBride in 2016 and started building a house.
Moseley realized that in retirement he was missing the part of work he enjoyed the most: working with a variety of people and the conversations that come from that interaction. He admits he doesn't thrive on the slow lifestyle associated with retirement. So after completing the finishing touches on their home and feeling restless, he began the process of earning his real estate license. Moseley has a quote by Clint Eastwood that he has taken on as his personal mantra: "Don't let the old man in," he recited.  "I have decided that I need to say that to myself every morning."
Moseley chose to represent Royal LePage because of their known success. The brokerage based in Prince George has over 60 agents. Two of these agents are now based here in McBride, and live in close proximity. Moseley says while both he and Irene Berndsen are under the same umbrella, they are individual agents with their own clients. He says he has already learned and will continue to learn from the veteran agent.
Moseley admits that the process of selling homes is very different from dentistry. He says it's been a challenge adjusting from the immediate results he was used to seeing as a dentist to the long behind-the-scenes work required of a realtor.
Even the acquisition of the piece of paper saying he could start taking clients was a test of patience, as his documentation was lost during the postal strike. He has now received his paperwork, his website is almost ready to launch, and he is accepting clients.