Hand stitched and carved leather creations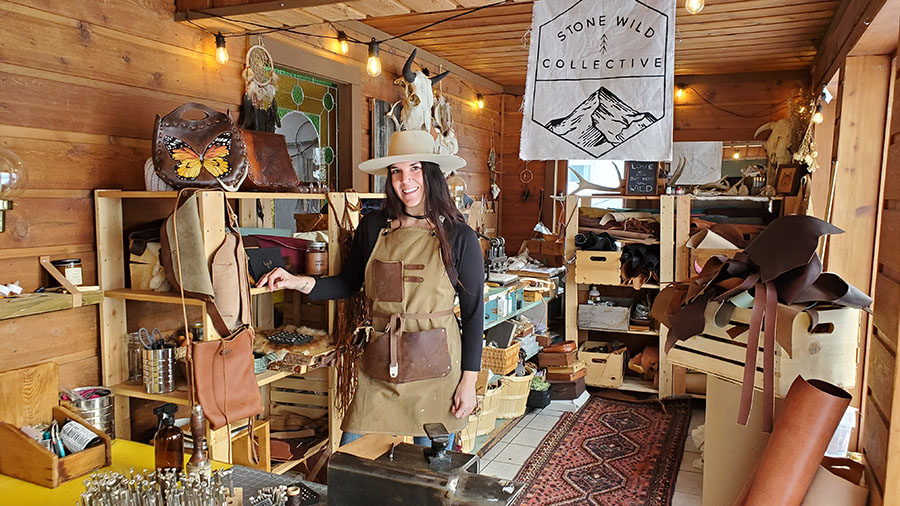 By Andrea Arnold
Morgan Green wanted a leather laptop case, but didn't want to deal with the price tag that came with the ones she could find. So, she figured out how to make one, and found a passion for working with leather, a passion that has resulted in the business, Stone Wild Collective.
"I enjoy creating pieces that will last a lifetime," said Green. "I have always been drawn to how timeless leather is."
Working with leather is a craft that requires very specific materials and tools. Green didn't have a lot of either laying around, so she had to build up inventory.
"Alex and I went on a road trip before we had kids," she said. "While we were driving, we passed a little shop. Alex stopped and we checked it out. It was a woman who made leather chaps and holsters. I asked if she would sell me some of her scraps."
The woman didn't sell Green scraps, though. She gave her permission to dig through the scrap bin free of charge. The woman also gifted Green with a few leatherworking tools.
In addition to the laptop cover, Green started her adventure by creating passport wallets.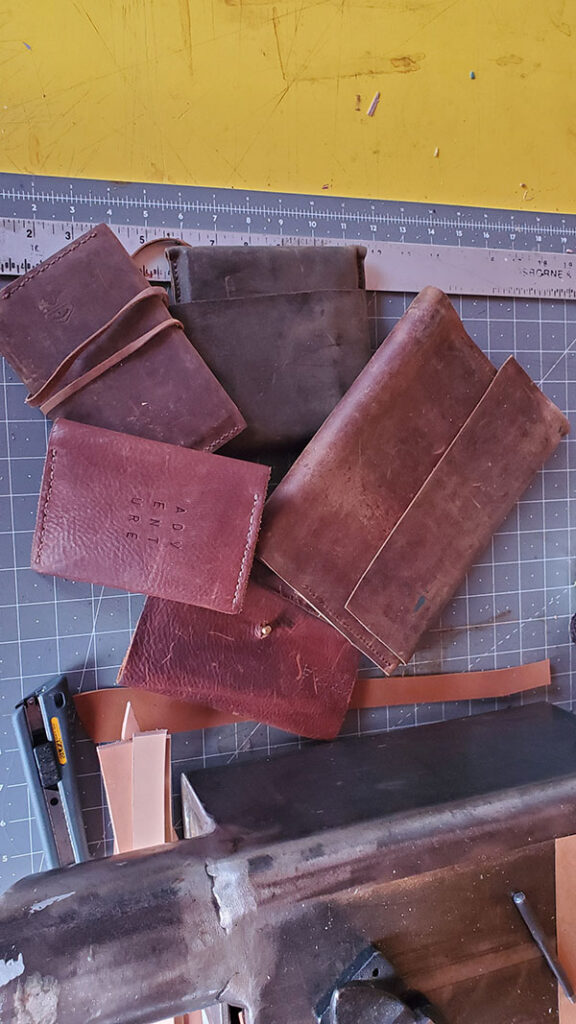 "I started dabbling and giving gifts to friends," she said. "Then, people started asking for items. That was an inspiration to keep going, and to grow."
A local gentleman approached her with an offer for her to buy a majority of his leatherworking tools and supplies. He was retiring, and wanted to see the equipment go to someone who would make good use of it. With these new tools, Green dug into carving and staining techniques.
Now her focus is more on purses, wallets, key tags and seasonal items like Christmas tree ornaments.
"There is so much freedom in carving designs," said Green.

Green also hand stitches each of her items, taking a lot of time to make sure each item is right, and she has a newfound understanding of the value of handmade items.
Since the birth of her children, Green's leather making has taken a back seat to her role as a mom. She is working hard on having a good balance between being a mom and working with leather. For a while, she worked on leather until the wee hours of the morning, drinking coffee to fuel her creativity. However, she was unable to maintain that schedule and felt like she was burning out. For her, working with her hands fuels her soul, so it was important to figure out a way to be effective at both jobs. One way she has cut back is that she is not taking on custom orders like she has in the past.
Although being asked to make a custom order is an honour that Green takes seriously, she has discovered that the pressure to produce a specific item on a specific timeline was eating into the joy she feels during the process. Instead, she has started creating a batch of similar items, working until the inspiration for that particular item has passed. She then uses Facebook and Instagram to advertise the items. This way of producing and advertising has worked to keep Green feeling inspired and passionate about the items she is creating.
"It doesn't feel like work until it feels like work," she said. "I like to feel at peace when I am working."
She has been selling at the Jasper summer markets. During the season, Green challenges herself to have a new product completed to offer each week. The kids come with her and are learning some of the skills Green has developed along the path to being an entrepreneur. Green feels it is important to instill and inspire creativity in kids.
"Being a mom has pushed me to also do something outside of being a mom," she said. "The kids see me create and sometimes want to be involved. Sometimes that process means more cleanup at the end, but I treasure the time with them."
Green has entertained the idea of hosting small workshops where people can try their hand at some of the skills she has learned.
"It is a fun way to bring people together and be creative, and have a completed project to take away at the end," she said. "I want to inspire people to get into a creative outlet they may have done before, or want to do. I want to show that a good family and work balance can be attainable."
Images of Green's leather products can be seen on Instagram @stonewildcollective and on Facebook – Stone Wild Collective. She can be contacted through either of those platforms.