Eco-Friendly Knits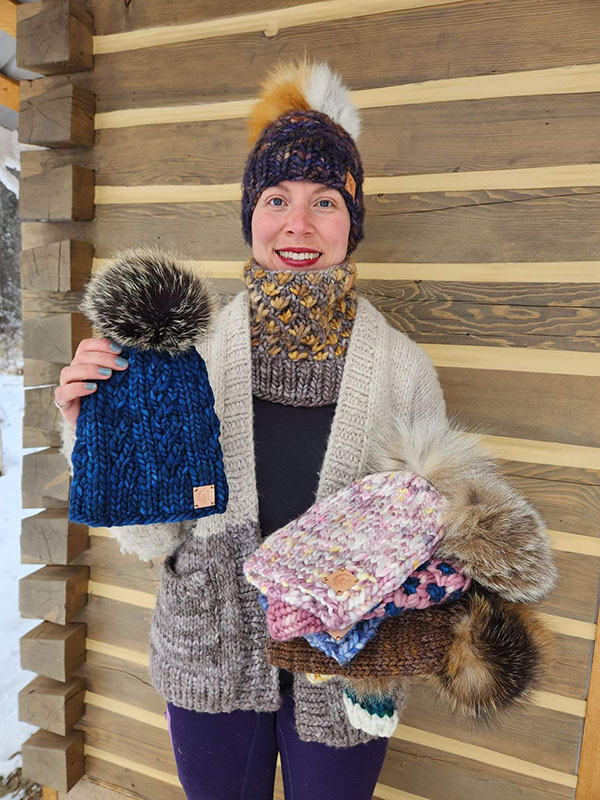 By Andrea Arnold
Dome Creek resident Ashley Chuipka wanted a toque that would, at the end of its useful life, not lay in a landfill. So she made herself one. She realized there is a market for eco-friendly, reusable, biodegradable and sustainable products.
"My goal is to provide a product that is as natural as possible," said Chuipka.
These toques along with other knitted items and some jewelry are available through her business Owl Light Creations.
"My toques are safe to wear and safe for the planet," she said. "I try to use all natural materials."
Chuipka knits using hand-dyed merino wool that she buys 50 per cent from suppliers in BC and Alberta. The other half comes from outside of Canada. She hand makes the pompoms that top her toques out of real fur. Much of this fur comes from animals she and partner Daniel get through their trapline. They hand tan lynx and coyote fur. Other fur, like the silver and red fox she likes to use, she gets through an online order. The pompoms are attached to the toque top with waxed linen or cotton thread and a handmade wooden button.
Chuipka cuts small pieces of wood, drills the holes and sands the buttons smooth before attaching them.
The stamped leather tags that adorn the products come from a maker in Alberta.
"I have made ear warmers, neck warmers and gloves as well," said Chuipka.
She chose merino wool because she was looking for a warm, non itchy and hypo-allergenic option and she is sensitive to regular wool. It is a material that regulates temperature, and is naturally fire, stain, and odor resistant.
"Merino wool is a renewable and sustainable material, and it is durable, soft and squishy," she said.
When she needs to order in supplies to make her products, Chuipka tries to source from small business owners, helping to support other entrepreneurs.
Chuipka dabbled in knitting about eight years ago, and started selling her products two years ago.
Creating products that are eco-friendly is very important to Chuipka. Her choice to use real fur over faux fur was for her a no-brainer.
"I read a study where real fur and faux fur was buried, then dug back up some time later," she said. "The real fur had completely decomposed, and the faux fur looked the same as when it had gone in."
She understands that some people feel strongly against the use of real fur. She is an animal lover herself, but also sees the long term value in using the real fur. Fur is a material that has been used all through history.
"I use fur from animals that we trap," she said. "These are predatory animals, and their numbers are really high right now. We use 100% of the animals we trap."
Chuipka also makes genuine gemstone bracelets. She is regretful that she has not been able to find an eco-friendly option for the form of the bracelets.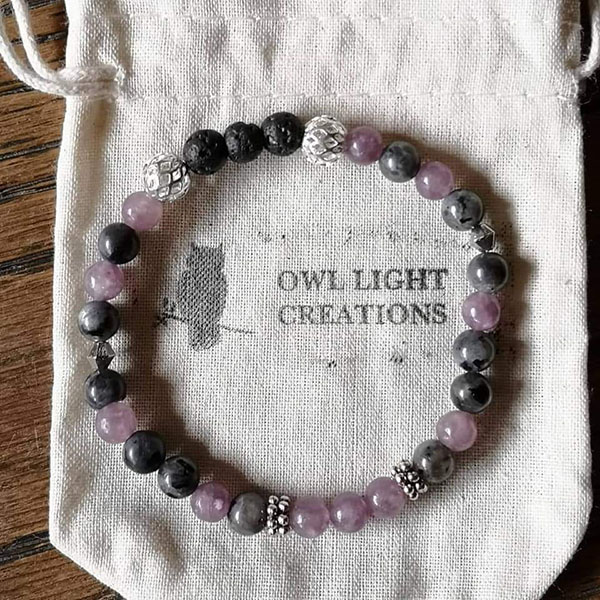 "I am careful to source the genuine stones," she said. "There are lots of look-alikes out there."
Each bracelet comes with a tag that lists the properties of the stones.
Both the jewelry creations and the knitting came out of the need to fill time in the winter, and the desire to make things using her hands.
"I started making the jewelry as something to do and a way I could make a little extra money," she said. "Stringing the beads is therapeutic."
Owl Light Creations may see an expansion of products in the near future. Chuipka recently completed a two-year herbal medicine program. She plans to create tea blends to sell.
Chuipka is taking custom Christmas orders until December 1. Customers can choose colours, design and type of fur from photos that she has posted on Owl Light Creations' Facebook or Instagram pages. Delivery to McBride can be arranged a couple times a week. Shipping through mail services is also available with an added cost.
She plans to attend the McBride Christmas Market this year. If she is able to build up enough inventory, she may attend a market or two in Prince George in the coming years.