Handmade copper and semi precious stone jewellery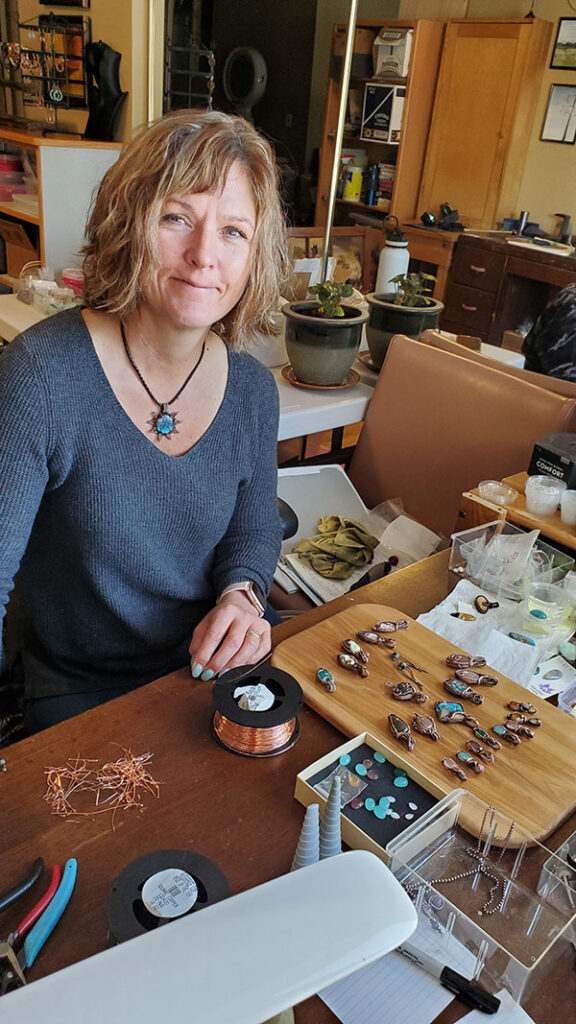 By Andrea Arnold

By Andrea Arnold
When McBride resident Dawn Hickerty set out to make a friend a bracelet in memory of her dog a few years ago, she had no idea it would become a new passion.
"I bought the beads, dog charm and the other supplies needed," she said. "When I was done making it, I had leftover items and it snowballed from there."
From that newfound passion, Riverside Crafts Co. was born about three years ago. The first part of the name came from the view out her workspace window, overlooking the Fraser river. The second part, Crafts, gives her freedom to branch out to other products if she desires. 
Over the last three years Hickerty has used youTube videos, Pinterest and hands-on experience to hone her craft and grow her business.
She creates earrings, bracelets, rings and pendants using copper wire as the wrapping and weaving medium. Weaving takes a lot more time, so she is focusing on wrapped products. When the projects are assembled, she antiques the copper using a process that leaves her work station smelling like boiled eggs, and hand polishes it to create more depth. On occasion she uses silver, but finds it more cumbersome to work with. The stones she most often uses are authentic semi-precious stones called cabochons. They are cut stone with a flat back. She also uses beads made out of semi precious stone and wood.
At first she advertised using Facebook buy and sell as well as her personal page. In January 2020 she started her Riverside Crafts Co. Instagram account. Welcome Home in McBride started carrying her earrings and a few bent wire items.
In February 2020 she expanded her creations to include hammered copper bracelets, earrings and rings. Some of her designs were inspired by products she saw other people wearing.
"The Bohemian style is my own personal style," she said. "I saw a coworker wearing a necklace. I asked her if I could take a picture of it. She brought in several more items and I got photos of them as well."
Although she gets inspiration from items she sees, each one of her products is unique. As she hand twists, weaves, or hammers the metal for her items, it is impossible to get two exactly the same.
"I sometimes get requests after someone sees a completed item," she said. "They ask for exactly the same stone, and wrap. But it never turns out the same twice."
Hickerty has always been crafty. She can knit, crochet, macrame, embroidery, and paint. She admits to being fidgety, especially during the winter. Although she likes doing all the other crafting, she has discovered that she likes the quick turn around of the jewellery products. Paintings can take weeks, but with a piece of jewellery her creativity can switch gears every few days as she moves on to another item. She retired from her 35-year career as a lab technician in June, and now has more time to focus on her art.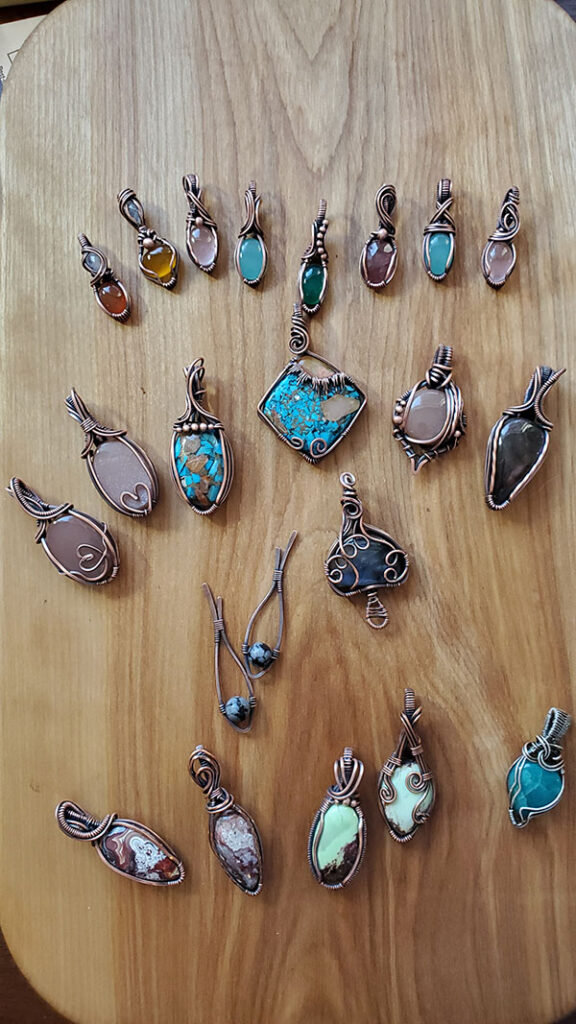 This summer, like most, she didn't do a lot of production. With amazing weather into October, she didn't create the same amount of stock as she has in past years, so she is not participating in any markets this Christmas season. She has some stock in both the Whistle Stop and Welcome Home in McBride. At this time, her pendants are only available through Hickerty directly. Through a client connection she was also approached by a shop in Williams Lake that now often stocks some of her products.
Riverside Crafts Co. has grown and she has been kept busy creating custom orders. She has shipped products to customers across Canada, and to a few locations in the United States. 
Each pendant comes with a leather or copper chain, a gift or storage bag, a polishing rag and a card listing the properties of the stone or crystal in the item. Hickerty tries to keep her products affordable, but also sets them at a price that covers her costs. Shipping costs are not worked into the listed cost. She discusses with customers the method of shipping before adding in the amount.
"These items bring people joy," said Hickerty. "Getting feedback from perfect strangers is rewarding. I have been able to continue to help people following retirement. I am helping facilitate healing in a different way, doing something that I enjoy that brings people joy."
Although she has been busy, she does have time to take on a few more custom orders. You can contact her through Riverside Crafts Co. on Instagram or Facebook, or by phone at 250-569-7268 or email [email protected]