Giving fabric a second chance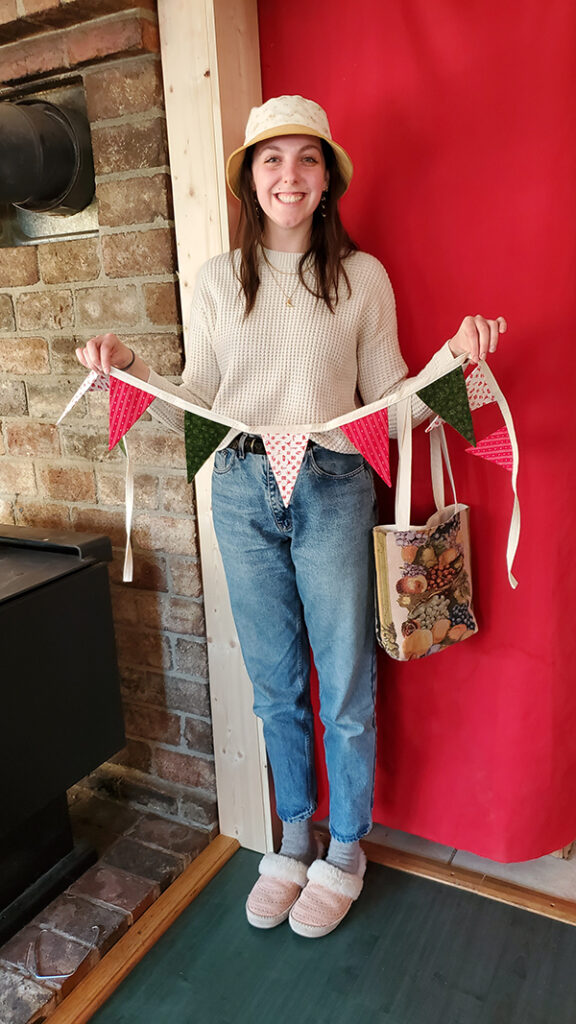 By Andrea Arnold
Entrepreneur Anika Venuto moved to Dunster with her boyfriend Chris this past spring. She quickly got involved with the Dunster Community by setting up a booth at the Community market for her home-based business Venuto Upcycle + Thrift.
A recent graduate of Fashion Design, Venuto realized how wasteful the industry is. She started to look at ways that she could be different, ways she could better use the materials, including the scraps. Once she got the idea to reuse fabrics, she dove right in.
"I started upcycling old tired fabrics that have been donated or thrifted," she said. "I recently was given a bag of quilting scraps, and I look for fabric pieces at thrift stores. I stay away from usable clothing because people need clothes."
Venuto happily accepts donations of most fabrics. Denim is her favourite material to use, and she steers away from any stretchy fabric as it is hard to work with.
Most of her current stock consists of bucket hats and shoulder bags. Some of her creations have come out of mistakes. She has recently started creating fabric event banners. She will have hats, bags, banners as well as hand made cards, and other Christmas items available at the Dunster Christmas Market on Dec 3.
"When something doesn't come out the way I hoped, I refine and improve and sometimes come up with something completely new," she said.
One avenue of fabric reuse that is near to Venuto's heart is finding ways to use sentimental fabric items into new functional pieces.
"I can take old worn blankets, shirts etc. and turn them into bucket hats, or bags," said Venuto.
She is open to other suggestions as well. She loves the opportunity to help people hold on to a piece of a loved one, or a cherished memory. She hopes to make herself a bag out of old dance shirts.
At any given time, Venuto has several projects on the go. She often fills her day bouncing from one project to another every few hours to keep herself focused and engaged. Aside from the fibre based projects, she has found a passion for baking, and her neighbours are appreciating her efforts. She would like to learn how to crochet and knit as well, and hopes to get back into other art mediums. In warmer months, she is planning to explore the skill of gardening.
When trying to find a place to call home, Venuto and her partner were looking for a quiet community to move to. They didn't know where they would end up.
"We did a road trip in the spring of 2021," said Venuto. "It is a small quiet community and we love the mountains."
The pair put an offer on a house just west of town that fell through before they found their home in Dunster.
"I love it," said Venuto. "When we go away, I'm excited to come back home."
Although she grew up in Langley BC, Venuto is adapting quickly to rural living. She divides her time between several creative endeavours. Most prevalent is keeping her business stocked and her website up to date.
Venuto enjoys being able to display her products at markets, but also uses her website, www.venuto.ca as a year round sales platform. Customers can pick from a variety of fabric options available through the site as well as view the different designs she has created.