By Andrea Arnold
Kim Hruby started making homemade signs in 2018. Her business Wild Mountain Designs has expanded to include earrings, scrunchies and skate blade covers.
"I'm crafty," she said. "I like variety."
The signs Hruby makes are hand painted on stained wood. The signs have phrases, pictures or both. She uses a Cricut machine to create stencils to design the look she is after. Hruby is most drawn to the farmhouse style and she gathers inspiration from her life and from the internet.
This fall, Hruby researched and experimented with epoxy earrings.
"I had been buying them off etsy," said Hruby. "Then I go thinking, maybe I can make them myself."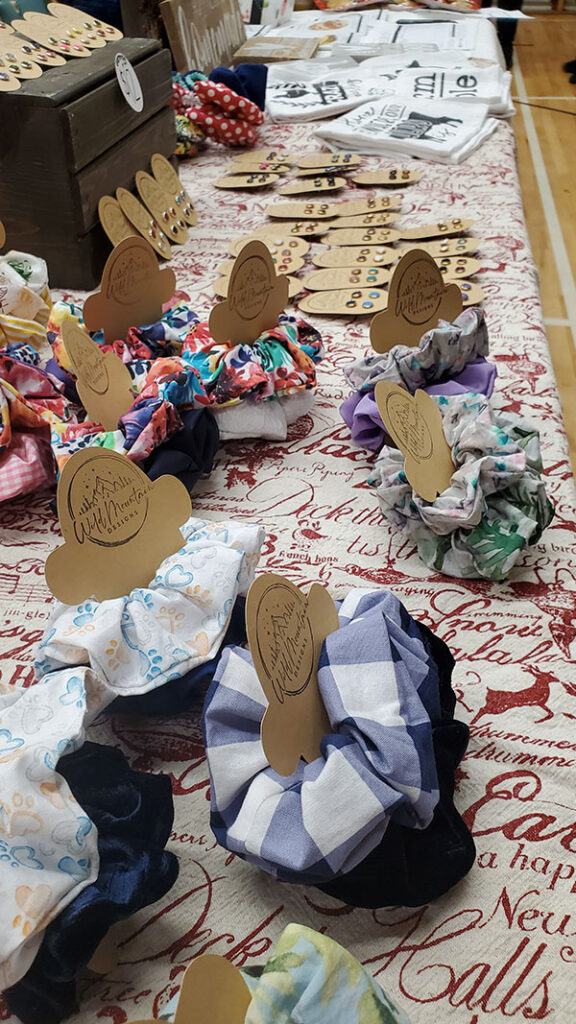 She uses a mold that is shaped like a small stone. She mixes the epoxy with glitter and pours it into the mold creating a small stone like piece called a druzy stone. Hruby then glues the stones onto the earring posts. So far she has not made any other shapes, but has had requests for horseshoes and other things. In the new year she might try other shapes.
The production of the scunchies came out of Hruby's personal style. As someone who wears scrunchies herself, she again found herself thinking that instead of buying them she could make them. She found a pattern she liked and after a little trial and error, figuring out sizes and designs, she came up with a combo she liked.
"I found a website that provides the opportunity to customize fabric," said Hruby. "I have ordered some fabric from there. I also work with some fabric that I find at thrift stores."
More recently Hruby has discovered a need in the valley for skate blade covers. Her daughter is in figure skating and instead of purchasing the blade covers, Hruby figured out how to make them instead. She decided to make a few more pairs to sell.
"I sold several at the Dunster Christmas Market," she said. "It is a specialty item. If I can make specialty items that are hard to find in a small community, I think those items will sell."
For the outside of the covers she used fabric that she had already purchased including some of the custom fabric she had for scrunchies. She said she could use pretty much any kind of fabric. For the inside, she used towel material. The towel absorbs the moisture that gathers on the blade due to ice buildup while skating.
A few of her items are for sale in the Mountainview Boutique and she is planning to start a Facebook page as well as an Etsy store. She has been focused on preparing stock for markets leading up to Christmas. Once things settle down in the new year she can shift her focus to online sales.
"It is my hobby," said Hruby. "As a mom of three kids it is nice to have something for me. I really enjoy making things, and having creative 'me-time.'"
Although she enjoys the alone time, she also enjoys it when her young daughter wants to join in. The time then becomes a bonding time for the pair.
Hruby does custom orders for signs and works with customers to create the message and images. Last Christmas, she advertised that she would personalize stuffed elves before Christmas. She ordered in the stuffed elves in November, expecting them to arrive in plenty of time.
"Due to shipping issues, I had to drive to Kamloops and back to complete the personalization process and deliver them at the very last minute," she said. "I was delivering them on the 24th. I almost gave up but decided I would get the orders filled."
Hruby does not foresee a repeat of last year's stress and drama as she is not waiting on any large shipments.
For questions regarding custom designs or to order one of her creations, Hruby can be reached at 250-569-4221.