Unique all sided live edge products
By Andrea Arnold
Valermount-based carpenter and contractor Steve Smith doesn't completely hang up his tools when he gets home from work. Smith runs Live Edge Mountain Woodworks out of his home shop where he creates live edge wood products.
Smith uses mostly use fir, cedar and pine from dead standing timber and has specific criteria for the wood that he brings home. There has to be enough wood with live edges to create the projects he has in mind. His goal is to use the same piece of wood for all sides of the finished product. He says that anything beyond 30" x 30" becomes difficult.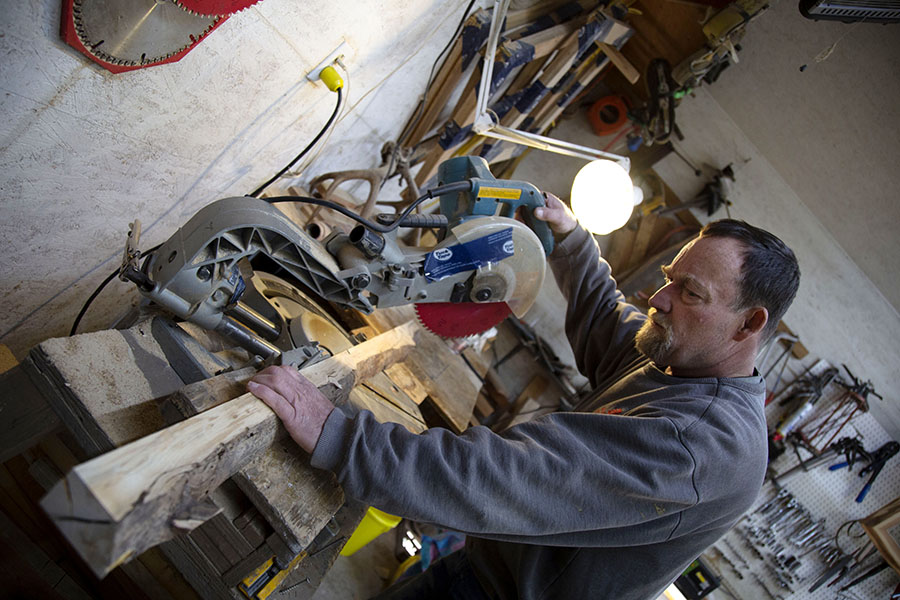 Although Smith creates multiple types of products using a variety of wood species, he does have a favourite material.
"Knotty denim pine with its blue colouring under the bark has lots of character," said Smith.
Smith moved to the valley in 2016, and began creating the picture frames in 2018. He was making live edge headboards for a lodge in Jasper and saw all the waste that was leftover. He realised he could make frames using that wood.
The business and his creativity have continued to gain momentum. His shop doubles as a display room for completed projects: picture frames, coat racks and coffee tables.

He enjoys the challenge of custom requests. He remembers one frame that was a unique challenge.
"I needed to match the look of mountain sheep horns," he said.
Each project requires artistic flare, and he enjoys the process.
He has built some much larger tables, as big as 60"x30", with each side showing off a live edge. These tables were a custom order from a restaurant.
Since beginning the process of turning his hobby into a business, he has shipped custom orders to locations in Florida and California, as well as more local destinations.
For customers that come to his shop, he has adjusted his pricing, offering his best possible pricing.
He can be contacted through [email protected], and some of his products can be seen through his Etsy store liveedgemtnwoodworks. Smith can be contacted and he will make arrangements for customers interested in visiting his shop.