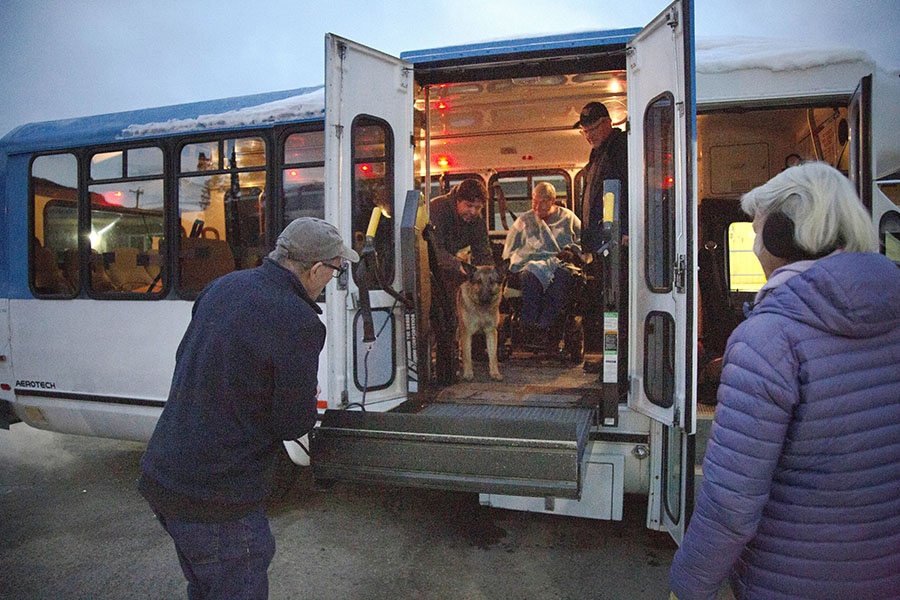 By Laura Keil
It was still dark the morning of Nov. 15th when a small bus carrying four passengers parked in the Valemount Health Centre parking lot. Inside, Linda Hicks sat in her wheelchair waiting for her transfer to arrive – the Northern Health Connections bus. After it pulled up, the doors to the small bus swung open and the ramp unfolded, with several people assisting Hicks safely onto the ramp.
It was one of a handful of "trial runs" this month of Valemount's new accessible bus that will soon be noticeable around the community. Starting January 2nd, Valemount-area residents using a walker or wheelchair can call this local bus to shuttle them to appointments or even the grocery store. It is the only one of its kind in the community, as the Valemount Community Bus does not have an accessibility lift.
It will also improve safety for the friends and family members supporting those needing assistance.
"It's difficult to get (the person in a wheelchair) up into a truck or down into a car," says Derek McClure. "As a community paramedic I was witnessing this all the time … Their partners or friends are being hurt trying to get them in and out of vehicles."
The bus is an initiative of the Valemount Ambulance Association, an independent non-profit that is not associated with BC Emergency Health Services or the local ambulances. Several members of its board are paramedics, however, and they've seen how isolating it can be for locals who have limited mobility, especially in winter.
"People in wheelchairs get locked down in the winter," says board member Penny Waechter. "It also keeps the community at large from realizing what kind of difficulties they run into because they don't see them around."
McClure, who has spearheaded the bus initiative, says many assume that people who are mobility compromised can simply call an ambulance if they need a lift but that's not always possible and certainly not ideal.
"Wheelchair and walker clients are virtual prisoners of their own homes and I've had some feedback that they could just use the ambulance. But they want to go to the clinic like everyone else. They don't want to be forced onto a stretcher, forced to be on a bed. We're taking away what little mobility they have."
McClure says passengers will need to be referred to them through their doctor confirming their mobility needs. They estimate there are at least eight people who will use the service initially. Their intention is for the bus to run twice a week – Tuesdays and Thursdays – to link up with the Northern Health Connections bus. The bus will offer rides to other places clients may wish to go, such as the grocery store or the library.
Insuring the bus for collision and liability is taxing, McClure says, but they are actively applying for grants and seeking donations, and hope to keep the service free of charge.
The volunteer drivers will be properly trained and licensed, he says, and they plan to run a restraint training day soon for those interested and who already hold a Class 4 license.
The bus – a handidart – was purchased for just $10,000 from a company that used to run a similar business in Prince George, and has a robust restraint system and in-floor safety tracks, McClure says. The bus has the capacity to move two wheelchairs and two scooters at a time (four total). It also has room for companions, including companion dogs. While already purchased by an ambulance association member, the bus still needs to be paid for.
The dream has been a long time coming. The association first used a lift-fitted van donated by a local person, but they quickly realized they needed a larger lift to accommodate the new style of wheelchairs.
"It was an outstanding way to see what we needed," McClure said. "Several trials and several clients it became obvious we needed a safer and more robust vehicle to help the clients in our community."
McClure says a large study looked at happiness, especially later in life, and found that having a social network and giving back to others were key.
"This service benefits both our clients and those who volunteer," he says.
After transporting Hicks to the Umfolosi music show Friday night, he received a message from a friend relaying Hicks' gratitude.
"Linda had such a wonderful time seeing people she had not (seen) in five years. She can't believe how white everyone's hair got. She said it was so great."
Anyone wishing to donate can make out a payment to the Valemount Ambulance Association, a registered charity, and mail it to PO Box 487 Valemount. The association needs to raise $15,000 to pay off the van and operate it during 2023. For more information, call Derek 250-613-6905. Those wanting to book the van for a ride will first need a referral from their doctor. The bus can pick people up within a 21km radius of Valemount, according to their license.