By Andru McCracken
---
When Tom Coles began sharing the rules regarding recreational vehicles on private property in the Thompson-Nicola Regional District (TNRD), social media users were quick to accuse him of lying about the rules to stir up a hornets' nest.
"In retrospect I would have likely not believed them either; it seems too bizarre that you can't have kids camp out in a tent on your property," said Coles. "I was completely unaware [these rules] even existed until recently."
Not only can recreational vehicles not be used as a permanent dwelling, they may not even be used on a temporary basis except where properties are zoned as a campsite.
For some, rules about camp-outs are the least of their concerns. Some residents have been living in RVs as their primary residence. New scrutiny and enforcement has residents banding together against a perceived crackdown by the Regional District.
"There are people living full-time in RVs," said Coles. "The next step is to the street."
Coles and others started a Facebook group called North Thompson RV Rights, but they soon changed the name to Thompson Nicola RV Rights, because the concerns are shared throughout the Thompson Nicola Regional District which spans from Blue River to Lytton to Chase and includes Kamloops and Merritt. The group now has about 500 members and has taken steps to organize itself.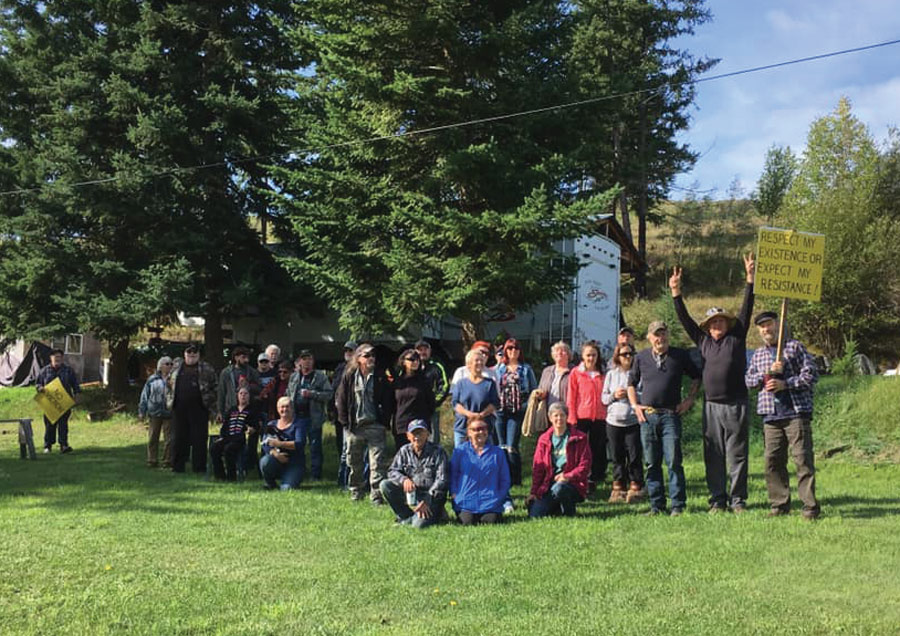 The administrators of the Facebook group held an open public meeting at the Clearwater Elks Hall on September 11 to take the next steps. Two elected regional district representatives were in attendance and taking notes.
Preparing for Eviction
This spring, Angie Smith and her partner took possession of a piece of property they bought outside of Barriere. They have been living full-time in their RV.
"This is our dream. We saved up all our money to to buy this land, with our dreams of having our small farm and building our house, and living here happily for the rest of our lives," she said. "We didn't anticipate this nightmare at all."
Smith said the RV is properly connected to an approved septic field.
"We didn't plan on building the house until next spring kind of thing," said Smith. "While we were buying this place we had no idea these are the bylaws."
Smith said an eviction would be devastating.
"We've got nowhere else to go. How do they expect us to pay our mortgage on this land, as well as pay rent?" she asked. Smith raises pigs on the property and doesn't know how she'd look after the animals while living somewhere else.
When Smith's case was raised on the RV Rights page, residents voiced their support and actually drove down to her place just outside of Barriere on September 16th in order to show support. Smith has been served with an eviction notice by the TNRD's bylaw officer.
Poverty Line
Coles said the move by the Thompson Nicola Regional District to enforce the bylaw exposes the precarious condition of people living in the area.
"To me and many of us […] this is the criminalization of poverty," he said. "It wouldn't have been half as bad if they had some compassion."
The Goat reached out to the TNRD for comment, but did not hear back by presstime.
Coles is hoping for a rational and compassionate response from the regional district, but he admits he is concerned by the make-up of the TNRD which has 26 representatives, some of whom are mayors of municipalities.
"We do not get to vote for the mayors. The mayors of the cities two- or three-hours distance are making lifestyle choices for rural people: To evict rural, poorer residents for the crime of trying to live within their means."
Coles said the consensus was strong at the September 11 meeting.
"There is unanimous opposition to what TNRD is doing," he said.
Two directors on the TNRD board, Carol Shaffer and Sally Watson were present and took notes.
"They said they would take our concerns to the TNRD board to see if they could rectify the situation," he said.
Coles said not every jurisdiction is so uncompromising about recreational vehicles; some provide for a standalone residential campsite on private property.
Coles said some elected officials have suggested that people living in RVs purchase land in a new tiny home subdivision in Clearwater and a tiny home to go with it.
"It shows these people are out of touch," he said, adding many Canadians are a $200 expense away from poverty.