By Andrea Arnold
---
It took a little time, but BRKH Custom Woodworking Ltd., owned and operated by The Dunster Community Forest Society, has begun sales and production.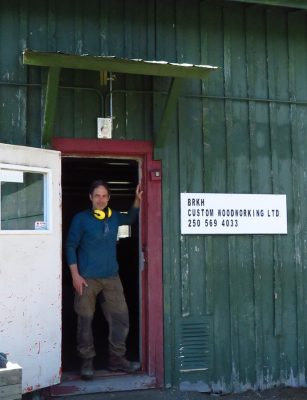 "The name was not easily decided on," said General Manager Ray Thiessen. "There was a lot of brainstorming."
They wanted a name that was unique to the Robson Valley, and specifically to Dunster. The final decision embraced a name with meaning that literally surrounds the Dunster Community Forest. B (Baker), R (Raush), K (Kiwa) and H (Holmes) are the names of the four bodies of water found along the community forest's boundaries.
BRKH is not set out to reinvent the wheel. They have taken over some clients held by the building's predecessor, Syncra Wood Products, and are continuing to provide many of the same services.
"We are still producing hardwood flooring, trim, V-Joint," said Mill Manager, Tim Haus.
They also will continue services such as drying and/or processing if clients provide their own wood. Thiessen said they are looking at expanding what they offer.
"We are exploring right now. As markets emerge from our current situation we will try to adapt to expand where the demand is."
Haus, a Industrial Engineer by trade, loves working with wood. He has already had the chance to create tools for a profile on cedar decking that has not previously been created in the shop.
"People can come in with ideas, and I will do my best to create the product they want," Haus said. Another example of a new product is a larger profile on both the V-Joint and tongue and groove products. Haus has produced these items in 2×6 as well as the smaller versions that have been available in the past.
"The product we create here is a handmade product," he said. He went on to explain that even though it goes through a machine, the machine has been hand-adjusted to the customer's specifications. The attention to detail results in a high quality product. Haus tells clients that if there is a board in their order that doesn't meet their requirements, they can exchange it. B-grade boards are available to locals at a heavily discounted price for mostly outdoor projects.
The takeover of the building and equipment happened late in 2019. BRKH Custom Woodworking Ltd, was established in March and is now open for business. Haus is currently employed part-time, as the business is in the 'getting going' phase. He works from home some of the time on marketing research. His time at the shop is not on a set schedule, so if people want to meet with him to discuss a product, place or pick up an order, the best plan is to call him first to set up a meeting.
There is a new website in the works as well. Larry Stamm, Chair of the Dunster Community Forest is overseeing its creation. It will not be a site for online shopping but will give the visitor an overview of what the company has to offer.
Dunster Community Forest Society has recently received a Northern Development Initiative Trust grant for $74,000. That money is set to go towards building improvements as well as the construction of a third dry kiln.
"We hoped to get improvements started in the spring," said Thiessen. "However, with the current situation it looks like we will have to hold off till fall."
Improvements will include upgrading the shop portion to provide more insulation as well as plumbing improvements and the relocation of the sawdust collection unit.
Thiessen said purchasing the building was the best move from both a financial and time angle. "We could have spent a lot of time and energy investing in land, changing zoning and building from scratch," he said.
They want to take local wood, and create local products for local projects. As changes are made and the business becomes more established, they also hope to provide more jobs.