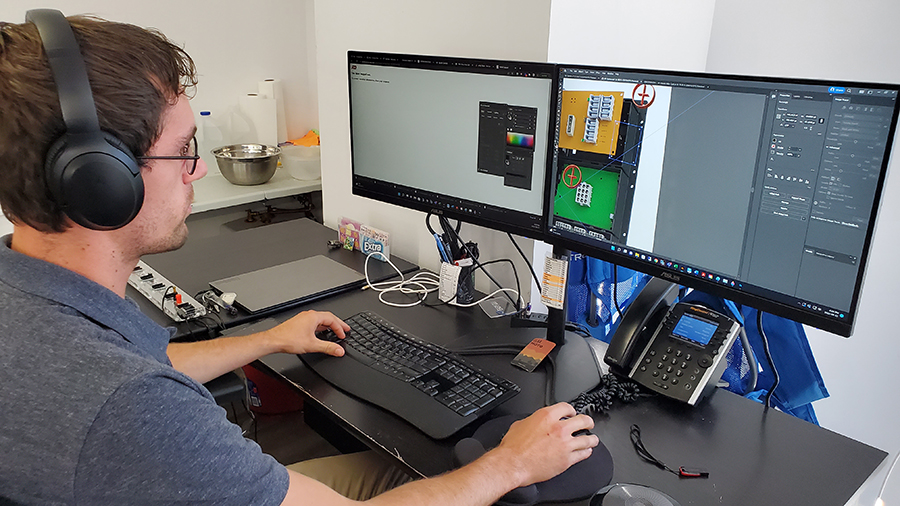 By Andrea Arnold
Spyder Control Corp. has purchased the building at 222 Main in McBride where three years ago, they set up shop on the top floor. About a year ago, they expanded into the main floor space as well and they have grown to a staff of 10. In spite of their three year presence in the downtown core, not many people know what it is they do. Contrary to their name, the employees of Spyder do not have anything in common with arachnids.
The company designs and manufactures control systems for RVs and marine markets, says Clayton Lorenz, Vice President of Technology.
"We control or interface with basically everything in the RV that isn't chassis related. Not the driving part, but the living part."
Lorenz says most of the high-end RVs and even travel trailers that come through town likely have a control system they designed for slides, awnings, lights, water pumps, generators or any of the other electrically operated features inside. They also work on the RV energy management systems, to prevent campers from tripping breakers when they plug in to outlets at campgrounds, the Auto Gen Start that tells the generator when to kick on, and tank monitoring systems.
The staff in the McBride office focus on development and integration. This involves coding, hardware development, circuit board layout and prototyping. Once the prototype is ready for production, they hand it off to one of the manufacturing partners the company has around Western Canada. The parts of the system are mass produced by these companies before being assembled and installed into the appropriate vehicle.
Three of the employees in McBride also work as a part of the customer support team. They answer calls and emails from clients requesting troubleshooting for systems or requesting an order of parts.
Spyder Control Corp. originated in Lacombe Alberta. The name was chosen by founder Curtis Letniak while he was out on his quad. Lorenz thinks that the similarities between a web and the visual of many circuits connecting at a central hub may have played into the naming.
Lorenz worked for the main office in Lacombe but wanted to return to the Robson Valley. He brought with him the desire and knowledge to open Spyder's first satellite office. A location in Indiana has since been added to the company.