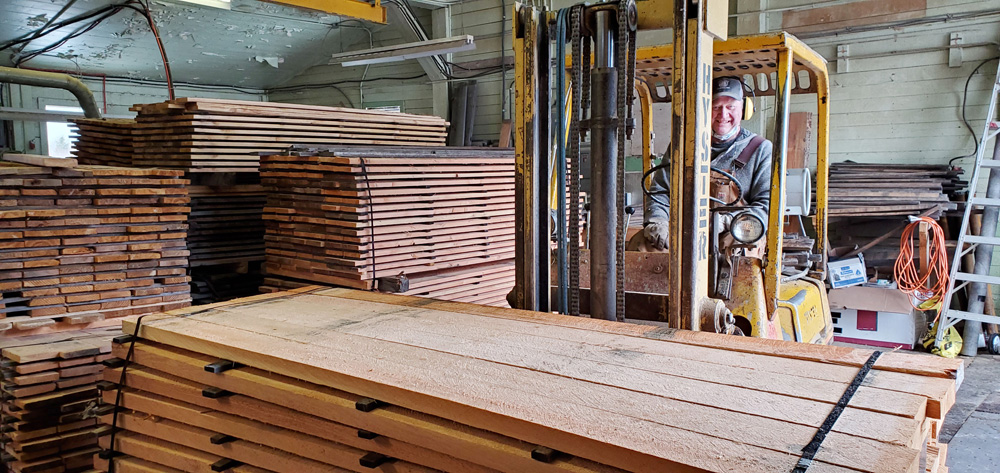 By Andrea Arnold
---
When Eric Johnson was approached by the Dunster Community Forest with the opportunity to step into the newly created role of full-time shop manager at BRKH Custom Woodworking Ltd, it was an easy decision. Johnson, a long-time McBride resident, has been working with wood since he was a kid.
"I started by fixing up old furniture," he said. "Kind of reverse-engineering. I'd take it apart and see how it all went together. I also did some refurbishing."
Johnson's dad, Robert, owned and ran Castle Creek Forest Products, so Johnson grew up familiar with mill operations. In 1977, at age 18, Johnson started a 23-year career at Zeidler Forest Industries/McBride Forest Industries.
In the few years before leaving the mill, he had been balancing work at the mill as well as operating a small shop on 2nd Ave in McBride. In 2000, when his time with Zeidlers/MFI came to a close, he was able to focus on EJ
Custom Woodworking where he flexed his creativity working on custom projects. After 10 years of the shop being based in town, he moved it home where he continued to create.
With the new responsibility to BRKH, he will no longer be taking on orders through EJ Customs Woodworking, but will maintain the home shop for the creation of small personal projects.
Over the next while, Johnson would love to see the shop become a micro factory. In his vision, the main shop space would continue to be used for production of flooring, moulding, planing, and sanding general and custom products.
"I hope to also incorporate a custom woodworking shop, down the road."
He is also excited about the upcoming changes that will be made upon receiving a portion of the Community Economic Recovery grant.
Johnson stepped into this new role on March 1, 2021, and has been familiarizing himself with the business and shop this past week while organizing the stock. BRKH's first employee, Tim Haus was unable to commit to the additional hours needed but will remain on as a part-time employee, and is helping Johnson get his bearings. Johnson will oversee production and raw wood acquisition. Dunster Community Forest General Manager Ray
Thiessen was thrilled when Johnson accepted the job.
"I am looking forward to a great leap forward with Eric here," he said. "The goal has always been to have a full-time employee to ensure consistent customer service. We recently hired a marketing representative, and in order to help move the business plan ahead as we grow and expand, now was the time."
Johnson's love of woodworking isn't just about the final product.
"It makes you think," Johnson said. "It allows for a high level of creativity. I also love the happiness that others experience when you've created something for them. I have always loved my job. I am truly blessed."