By Sandra James
In her garage in the alley behind 1091 2nd Ave, Katherine Arneson repairs and restores vehicles under her business name Back Alley Artistry.
Back Alley Artistry specializes in vehicle painting, paint repairs, rock guard, rock chip repair on paint and airbrushing custom paint jobs. Currently Arneson has two employees: Buddy, her bull mastiff and Lucifer, a cat.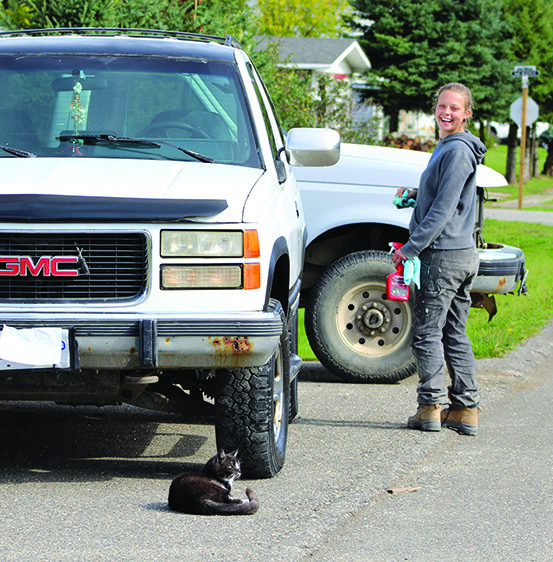 Arneson first started learning her skills around the age of 10 while helping her father Kris after school and continues to work with him as well to this very day. Kris also has his body shop in McBride and has many years of experience in the auto body repair business including celebrity clients. Five years ago Katherine Arneson opened Back Alley Artistry.
Every vehicle is different, she says, but on average, a vehicle can be brought to completion in about 20 hours. Variables include how deep the rust areas are, how large the damaged or dented surface area, and the customer's expectations.
To help cost-conscious customers, Arneson also repairs parts such as plastic bumpers when possible, as she likes to help people save money.
She also helps customers repair rock chips with paint before a costlier rust repair is required. If not maintained, rock chips will let water soak through creating rust.
Rock guards are another one of Arneson's specialties and something she does a lot of in the valley with our gravel roads. Some of the types are PPF or automotive paint protection film, which is also known as clear bra, rock guard, invisible shield, clear wrap, 3M, a thin layer of flexible material made from various plastics polyurethane and acrylic, that is applied to a vehicle's body panels to protect them from flying rocks, road debris, rust, paint chips and stains. Arneson uses spray-on rock guard primarily.
In order to properly paint, Arneson has to take off any parts of the vehicle requiring work such as the doors and quarter panels. Painting or touching up is easiest while the parts are not on the vehicle and can be fully accessed when taken off.
When talking about painting Arneson says many people believe that their vehicle needs to be re-clear coated when their vehicle paint has faded away when sometimes a really good polishing will bring the colours and lustre back to life.
Car polish is only ideal for getting rid of mild surface defects. It won't fix deeper the defects that have penetrated the clear coat, the paint and possibly the primer layers to the base material, she says.
"With rust, dents, and blemishes removed from the vehicle it is now ready to be transformed with a fresh coat of paint," said Arneson.
She mentions in order to maintain your vehicle's paint, annual polishing is recommended as wax also protects your paint from UV damage and oxidation from the sun, makes it shiny again and protects it from airborne contaminants. The colour of your vehicle also plays a role in things as black or red vehicles tend to have more sun damage than white.
Living in the valley with its winters, Arneson recommends you regularly wash your vehicle which is a challenge for some McBride residents as there is no car wash in the village.
Wheel wells are an important area to clean out, as this area tends to rust. Rock guarding these areas will also protect and extend vehicle body life.
For a custom look ask Arneson to apply her airbrushing skills with one of a kind art. The process begins with removing the affected areas, repairing the rust, sanding, priming, sanding again, and then smoothing everything out. Sanding and priming is sometimes required multiple times, even up to four passes, changing the grit of the sandpaper. For example, on rust, Arneson will use a 40-grit where to smooth the base coat she sometimes will use a 400-grit paper to get everything smoothed out prior to painting.
Arneson's current project is a 1995 GMC Yukon which she is applying the final polishing to before the owner sees the dramatic transformation. The only thing left is the bumper which is on order by the owner.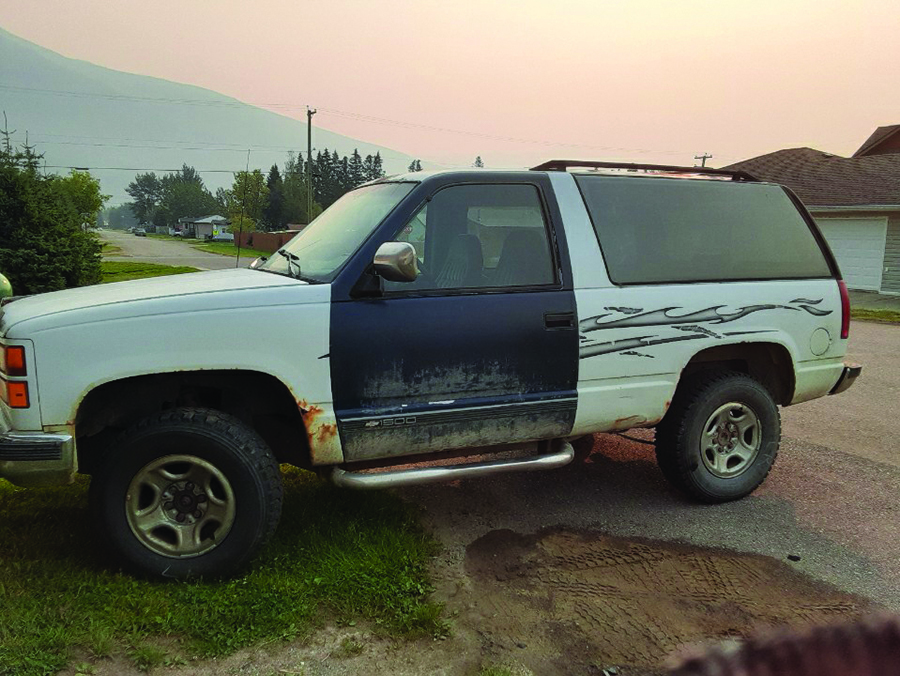 One of Arneson's favourite things after all the hard work is the reward of saving something that looked so nasty and seeing people's reaction to the transformation.