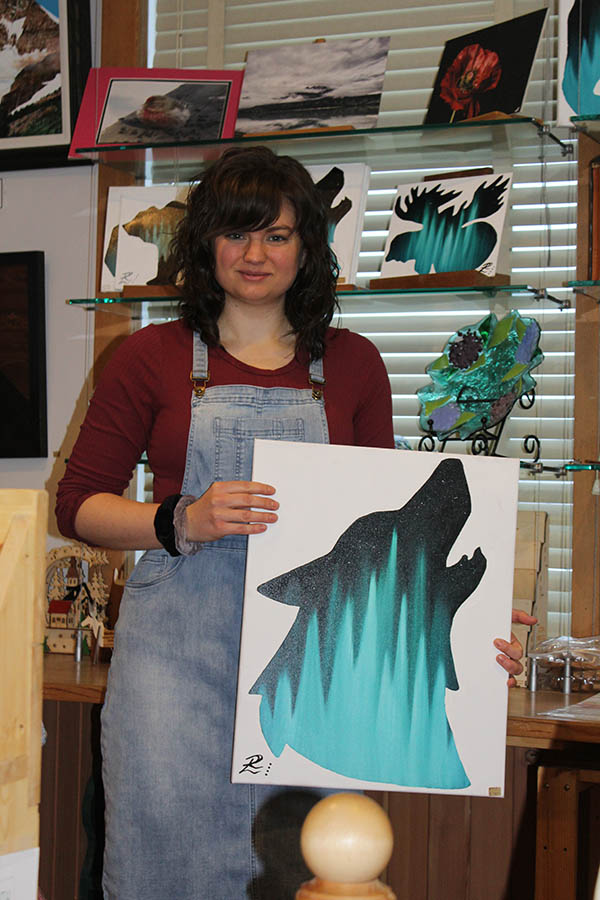 By Sandra James
McBride resident and Michigan native Rachel Lamming was inspired to begin her journey of painting by well known artist Bob Ross. Ross is known for his art, and for the saying "we don't make mistakes, just happy little accidents."
Lamming started painting in high school however took it more seriously when she moved to McBride in 2015 with her husband, long time resident Corey Lamming. Unable to work and needing something to fill her time while she was awaiting her Canadian residency, Rachel picked up her paint brushes again letting her creativity flow.
Along with Ross, Lamming's inspiration is drawn from the breathtaking local scenery. She has done landscape paintings however her current series is one of Silhouette paintings featuring various animals and the colours of Northern Lights.

The style of painting she uses is called wet on wet technique, or alla prima, which is the Italian meaning for first attempt. Lamming applies a new layer of oil paint on top of a still wet layer rather than waiting for it to dry. Oils are the primary paints she uses however she does also do acrylic portraits. These take a lot longer due to her time constrictions as she juggles her art and a busy mom life. As a mother of two toddlers Lamming finds the time to paint as she enjoys it and the art is important to her.
Lamming grew up in a small town similar to McBride. Her great love and appreciation for nature and the outdoors started young. While talking about moving here she says "coming to McBride was like coming home".
Lamming says she is a sentimental person and loves nostalgia which she applies to her art. She also believes in what she calls "affordable art." She wants to keep her paintings at a reasonable cost so that everybody can have access to a beautiful work of art. It is very satisfying and means a lot to her that somebody has her work hanging on their wall. She feels it is a blessing from God and wants to be able to pay it forward.
Rachel sells her paintings for between $30-$150. They can be purchased at the Whistle Stop Gallery in McBride and you can follow her on instagram – psalms.in.scenery.