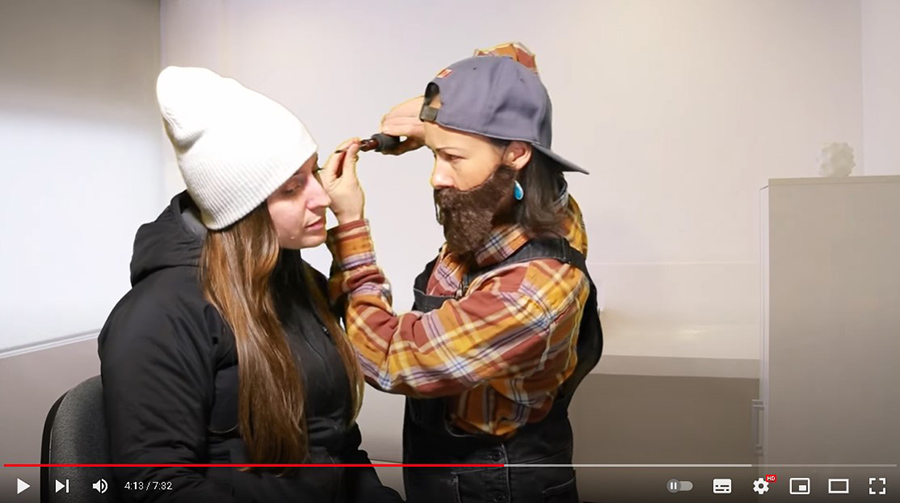 By Michael Piasetzki
If you were living in or around Valemount in 2014 you might remember with fondness a theatre production put on that year by a group of local young women called Valemountia!
Held at the Valemount community theatre, it was an initiative conceived by playwright, actor, and singer Sharon Stearns, a Dunster resident who runs Wishbone Theatre.
Originally a project meant to involve local youth in theatre, Valemountia! evolved into a full stage production directed by Stearns but written by and starring six local young women, including Donalda Beeson, Miwa Hiroe, Caitlin Beddington, Laura Keil, Kerry McNaughton, and Nicole Dryden.
The show was a comical parody that reflected the women's vision of life in a small community like Valemount. It was, as Stearns said during her introduction of the production in 2014, "a culmination of months of collaborative work by the women while working full time, during which time they shared experiences, ideas, dreams, opinions, laughter, tears and stories, all distilled into the piece called Valemountia!"
The production, which ran for two shows, was very well received by those who viewed it. However, afterward, the six young women involved decided to put Valemountia! to bed. Each went their separate creative ways, getting on with their personal lives, all the while keeping in touch.
As a result, it seemed like Valemountia! was destined to be a one-shot artistic effort. That is, however, until the pandemic hit, and time began to grind to a halt for many, including these women.
"That was when Laura Keil reached out to us and asked if we wanted to revisit the project," said Hiroe, who has continued to work and perform with Stearns and the Wishbone Theater since Valemountia! and is currently working on a play with her called The Last Good Valley. "The first real meeting we had was hours of much-needed laughter. It's been refreshing to broach contentious topics with comedic filters."
After that meeting, the group decided that due to time constraints and personal commitments, the best route would not involve a full stage production. Instead, a different direction was needed. That approach was to write and film short skits that could be released as they were completed on YouTube and Valemount Community TV.
As of Feb 20th, three skits have been written and performed by the troupe, currently comprised of Miwa, Beeson, Keil and Tanya Russell. New people—including men—are being encouraged to come forth and add their talents.
"It's been downright therapeutic and insightful," added Hiroe. "It gives us some faith in an eventual resolution to the current situation with the pandemic."
When asked about her perspective on the reunion, Beeson agreed, saying it was a no-brainer from the start the theme and direction of the new skits had to remain like the original Valemountia!
"That theme is still to make good fun of our community," she said. "You know, you have to be able to laugh at yourself. Also, we're all a little older now and in a different place, but we still look at these new skits as we did in the original Valemountia! That's a chance to celebrate the pioneering spirit that Valemount once had. We're trying to revive that spirit in our reunion through being creative once again."
Hiroe said one of the nicest aspects of the reunion so far has been the lack of pressure to constantly produce ideas. Each member now has the advantage of contributing at their own pace and availability.
"So far Valemountia! 2.0 has required little commitment," she said. "It has been sustained by enthusiasm alone. We all contribute in our unrestricted way: a written skit, an update on current events, an original perspective, a laugh riffing off one person and gaining momentum with the next. It's a collaborative process."
Hiroe said only the editing has been a one-person endeavour, led by Keil.
When asked why the troupe continues to stick to comedy in version 2.0, Keil said humour continues to be a great way to relieve the tensions they—and everyone in the community—are feeling these days.
"It's really kind of a pressure valve for us and hopefully our viewers," said Keil. "It's kind of a collective catharsis in some way. That's why we think they're worth producing for others to enjoy."
Keil said they have many more satirical skits written and are currently filming their next episode.
If you'd like to watch the new skits, including bloopers, check out Valemountia! 2.0 on YouTube at tinyurl.com/valemountia or VCTV Channel 7/Bell Satellite Channel 653 at the scheduled times TBA.