By Laura Keil
Over the next two weekends, Wishbone Theatre's Miwa Hiroe will be premiering her first theatre production, a play called i, Human, which she wrote and directed. The show is put on by a cast of four characters, produced by Sharon Stearns, and supported by Columbia Kootenay Cultural Alliance. The Goat connected with Hiroe to learn more about the production.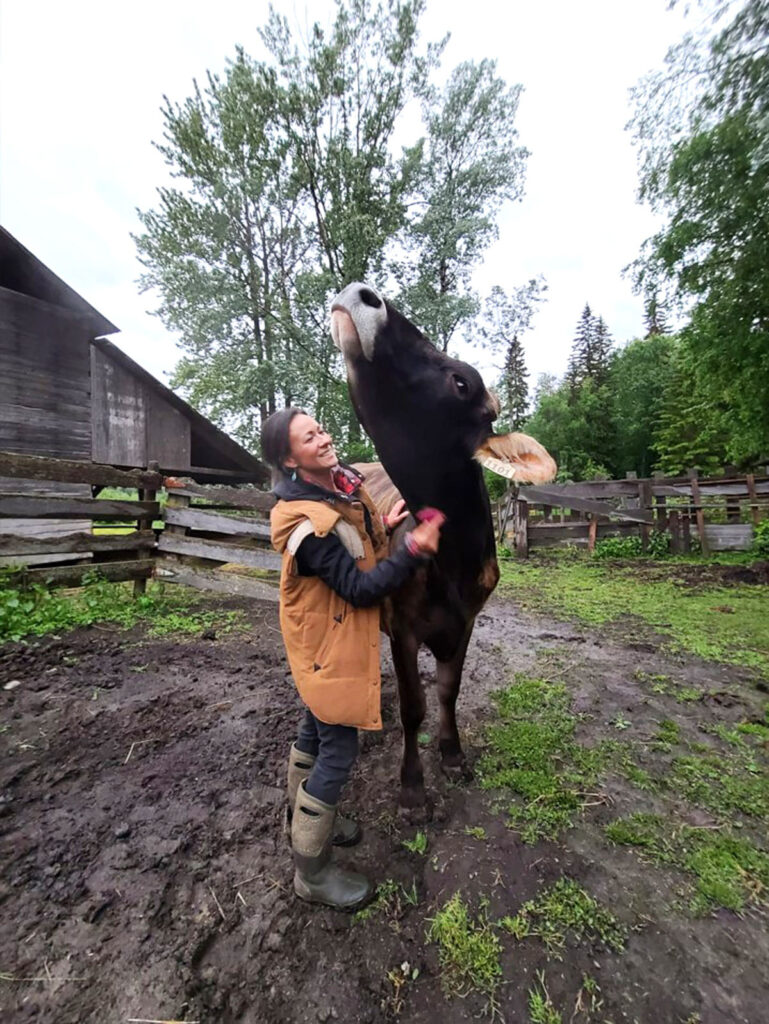 Goat: You've been working with Wishbone for many years now as an actor. What got you interested in writing and directing your own script?
Hiroe: Despite having some credible experience in performing and none with writing, writing has always felt like the more natural creative outlet for me. My curiosity for script writing, specifically, owes to the exposure I've had to Sharon Stearns' plays.Sharon, Wishbone's founder, offered me an opportunity to apply for a CKCA mentorship grant together and has been guiding me through the process of creating a script and putting on a show. I must say, it has seriously diversified my respect and appreciation for the work that she does. Creating characters, movement, and a driving story line through dialogue alone has been an eye-opening challenge. Directing is a foreign art to me, and I'm so grateful to have Sharon's support and experience in this endeavour! The most unexpected challenge has been the acute vulnerability of displaying the innards of my mind to an audience, especially one that is full of people that I love and respect.
Goat: What do you like most about theatre?
Hiroe: My favourite part about theatre is trying on other identities and perspectives, trying to dissolve our egos as we sell ourselves as another character. It's a cathartic process. It's also interesting to discover a character's virtues and foibles by trying to feel them yourself rather than seeing them objectively. It's like an experimental practice of non-judgement. Another wonderful aspect of theatre is the creative rapport that grows among the cast members in an environment where mistakes, clumsiness, silliness, and inventiveness are standard parts of the process.
Goat: Tell me about the play. What inspired it? What are some of the themes?
Hiroe: The project was stalled by covid but that strange era of isolation and drastic cultural shifts definitely influenced the story – the small social bubble, the monotonous setting, the domestic navigations that intensified as our quarantine quarters consumed us. But as much as I set out to write about the covid experience, what I ended up writing about was a much broader human experience, one that stretches between the conscious and subconscious, the genetically embedded and the intellectually chosen. I'm fascinated at the way humans evolve through biology and culture, and how these types of evolution intersect. And then there is the influence of technology!
The social bubble in i, Human consists of a married couple, an elderly woman with dementia who lives in their suite, and an AI Robot. The unlikely four stumble through self-discovery and self-loss, growth and deterioration from their initial 'programing,' and the impact that memories, or loss of memories, have on their personal identities. And then, of course, there is the mortality theme because, well, humans.
Goat: What can people expect in terms of mood? Is it serious, lighthearted, comedic etc?
Hiroe: I very much wanted to write a comedy, but for all my efforts, it ended up being a drama with funny moments. Let's say, a lighthearted approach to some very real matters. As an exploration of the human experience, it includes the full spectrum of moods and emotions.
Goat: Anything else you'd like to add?
Hiroe: I'd like to add a huge thank you to the people that have supported me as I've poured an alarming amount of energy into something so momentary as live theatre. As I was writing i, Human and pondering over the influence of AI, there were certainly moments where I wished I'd gotten ChatGPT to write it instead. But then, on a personal level, that would defeat the point. So thanks, your encouragement is what has oiled this project as it grapples from inception to the stage.
iHuman plays this weekend May 12-13th at the Valemount Community Theatre (high school) at 7:30pm, and May 19-20 at 7:30pm at the Roundhouse Theatre (McBride high school).