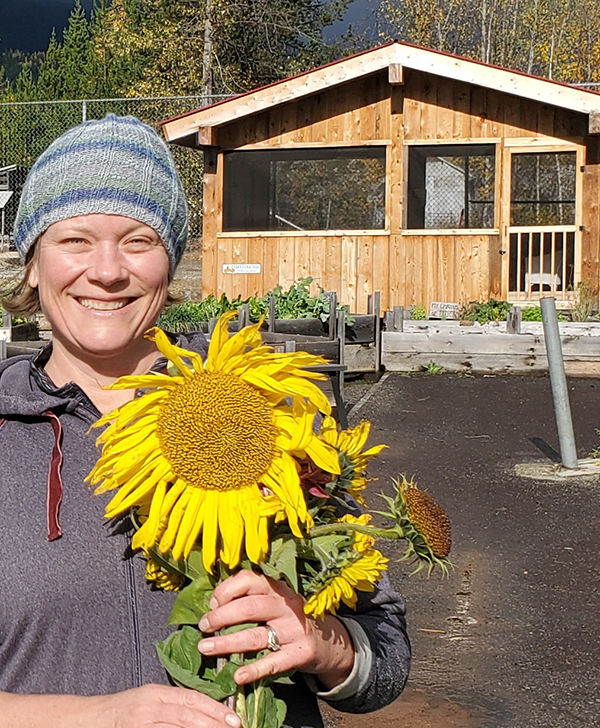 Submitted by Blue River Community Association
The Blue River Community Garden has had another successful year of growth. A spectacularly bountiful harvest put fresh vegetables on tables throughout Blue River again this year. A special thank you goes to The North Thompson Communities Foundation who has financially supported our garden annually since 2018. This year's generous grant was used to construct a vegetable wash station which also captures the water to repurpose for the plants. All supplies for this project were purchased from Wells Gray Home Hardware, who continues to support us with annual donations of materials used in the garden. Many thanks to Dustin Deuling and Tom Onslow for volunteering their time and expertise to make this project a reality.
This year, a Trans Mountain Community Investment Program grant will fund the installation of an automatic watering system with a smart timer that can sense precipitation levels and minimize waste by only watering when needed. This watering system will be installed next spring and will be a great improvement to the hand watering that is currently required!
Blue River Community Garden includes 30 garden boxes surrounded by a tall chain link fence left over from its previous life as a tennis court. The glorious vines that are gradually climbing this fence, a large central flower garden, and a screened-in gazebo make the garden a beautiful, welcoming community space. Thirty of the garden boxes are planted, tended, and harvested by individuals and their families, and the other 10 boxes are planted and cared for by volunteers who extend an open invitation to anyone to pick and enjoy the fresh produce. The garden is an extension of Blue River Elementary School's indoor garden project where the children start all the seedlings early in the spring and transplant them to the community garden.
To see garden photos and to follow updates about the Blue River Community Garden on Facebook, just search Blue River Community Garden, British Columbia.
Thank you to all our garden supporters and members who have helped to create this amazing space in our little town!