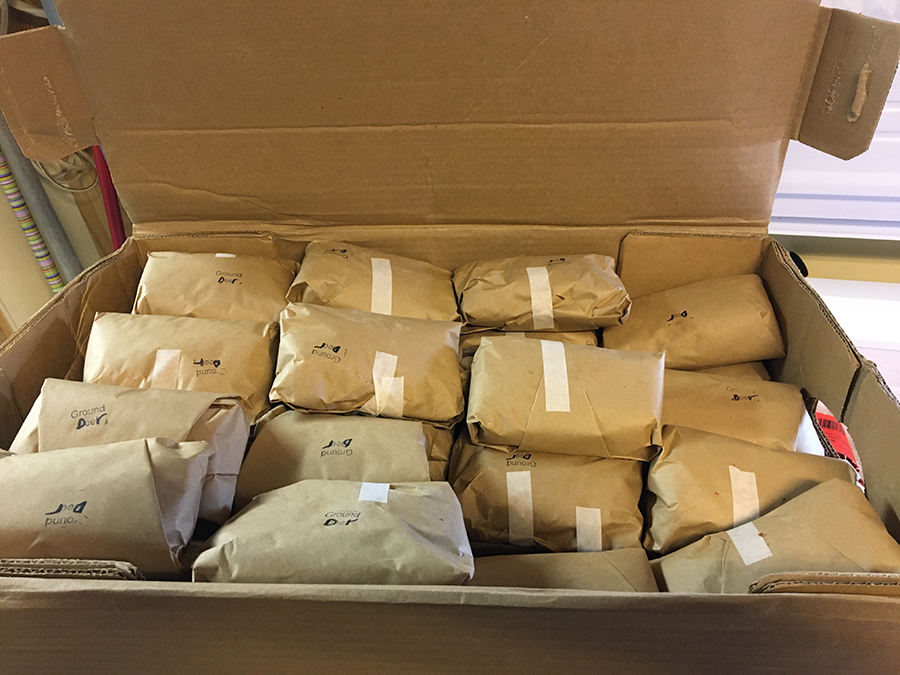 By Andrea Arnold
The Seventh Day Adventist Food Bank in McBride recently received an early Christmas present—a 60lb donation of processed venison for their freezer.
A mule deer, accidentally shot by a local hunter, was reported to Clearwater-based Conservation Officer Warren Shayer by the hunter directly. Shayer contacted the local RCMP who reached out to Julie Holland with the Seventh Day Adventist Food Bank in McBride.
"Occasionally we have opportunities through seized animals, or those who have died an accidental death, to provide the meat to members of the public who need it," said Shayer.
On this occasion, Holland said the Food Bank would gladly take the meat for their freezer, but were not in a financial position to cover the cost of processing the carcass.
Valley newcomer Steve Doane stepped in with an offer to provide his facility, meat processing, and supplies free of charge.
Doane lived on a ranch growing up. His involvement in the ranch, along with his own hunting successes has resulted in a growing interest and development of butchering methods.
The deer was delivered directly to Doane for processing. His property includes a fully stocked and functional butcher's set-up. He is working towards a "Class E" licence that would allow him to slaughter, process and sell his own livestock.
For now, he has been renting the facility out for locals who want to hang and/or process their own meat.
"It is the least I could do for the community," said Doane, "And the deer didn't go to waste."
Holland, the Food Bank Director, was thrilled to accept the rare donation.
"In the 20 years I have been a part of the food bank, I can remember receiving meat from the RCMP only one other time," said Holland. "Sometimes we get private beef donations, but that doesn't happen often. We are glad when it happens."
Food Bank Update
Holland reports that the food bank has been stocked thanks to people's generosity. The annual food drive by the Robson Peaks Pathfinder Club in October brought in 1540 items and they received donations/grants through several organizations—McBride Seventh Day Adventist Church, ADRA Canada (Adventist Development & Relief Agency), Reach BC & Yukon, McBride Community Endowment Fund, Emil Anderson Maintenance, Elks/ Royal Purple, Brookfield Energy, and Emergency Community Support Fund.
This year, some of the money was used to purchase a freezer, a cart and portioning equipment for bulk items. Some grant money has been earmarked to cover the costs of extras that will go into Christmas Hampers.
"The hampers will contain all the fixings for Christmas dinner, including fresh produce, dairy and a turkey," said Holland. The group likes to include non-food items as well like a toy, toque, socks and mitts."
The food bank has already started taking recipient names for the annual Christmas Hamper distribution.
Donations
Friday, December 3, 2021 is National Food Bank Day. Although the stock at present is in good shape, Holland and her three fellow volunteers, Beryl Hagen, Sabrea Lipke, and Karen Andrews accept donations year-round. All funds received go directly to the food back operational costs and services.
Donations of food may be dropped off at the post office or if it is purchased at AG Foods can be left there in the donation bin located in the produce section. If necessary you may also call for pickup 250-569-7436
Monetary donations can be mailed to PO Box 603. Cheques must be made payable to The Seventh Day Adventist Church.
Donations may also be made online at mcbrideadventist.ca under the Menu tab is Online Giving, enter your donation under Community Services (Food Bank Donations must be received before Dec 25th to ensure a tax deductible receipt for 2021).
9th Annual Food Bank Day in McBride
On Friday December 3, the Beanery 2 in conjunction with CBC Food Bank Day, will be accepting donations for the local food bank. Monetary donations as well as food items will be accepted, and as a thank you for your generosity, you will be invited to have a coffee, on the house. This event is hosted by Donna Perkins and Andy Werner of the Beanery 2, and Rick Thompson and Carol Hammar of Thompson Enterprises.
The donation boxes will remain available for donation drop off at the Beanery for the next several weeks, leading up to Christmas.