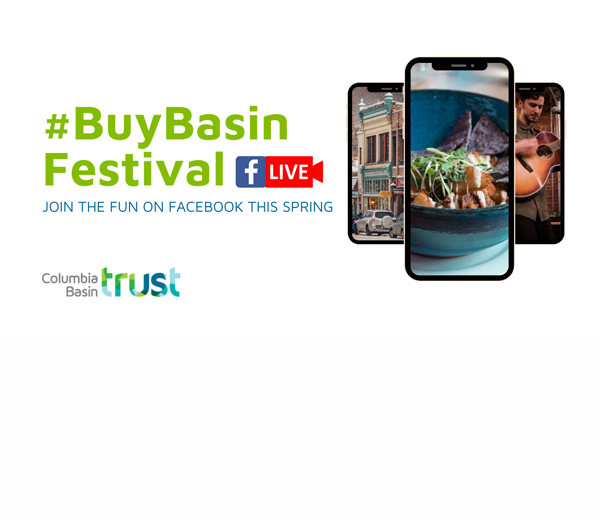 By Goat Staff
More than 100 businesses and performers from across the Columbia Basin are showcasing a diverse range of products and services available locally during the #BuyBasin Festival this fall with expert tips, giveaways, demos, live music and all kinds of behind-the-scenes fun. The Columbia Basin Trust has partnered with FestivalSeekers to host the #BuyBasin Festival.
Valemount's Bikes & Bites owner Jeff Jewett was one of the people who brought his talents to the festival stage, getting basin residents revved up for biking with a song to start. Jewett talked about his rental business and Park Tool bike mechanic courses offered at his shop. https://tinyurl.com/jeffsingsnbites
"If you haven't ridden Valemount, you gotta," said Jewett in his 5 minute video. "It's got a lot of flow, it's got technical, it's got 40 km of cross country we opened this year."
On Wed. Nov. 3rd Valemount's Infinity Office & Health is going live. The store, which offers health food/supplement store, local artisan products and office supplies, goes live on its Facebook page at 1:30 p.m. PST.
Many other small businesses have taken up the challenge of going live during the festival. Jessie Paloposki of Golden's Mamacita's Empanadas shared an Argentine hot drink with viewers, specifically the secrets of making Yerba Matte. Paloposki uses family recipes to create authentic and indulgent Argentine empanadas and other delicious food. To see her video check out: https://tinyurl.com/goldenempanada
The #BuyBasin Festival takes place entirely on social media, LIVE, from October 18 to November 10, 2021.
Catch the full lineup here: https://tinyurl.com/buybasin
You can connect to each business or performer's Facebook or Instagram page straight from this lineup.
If you miss a LIVE video, use the lineup to catch up and you might score some amazing local deals and giveaways too. Every time you share a video from the #BuyBasin Festival to your Facebook page or Instagram story, you're entered to win $50 to spend at your favourite local business.