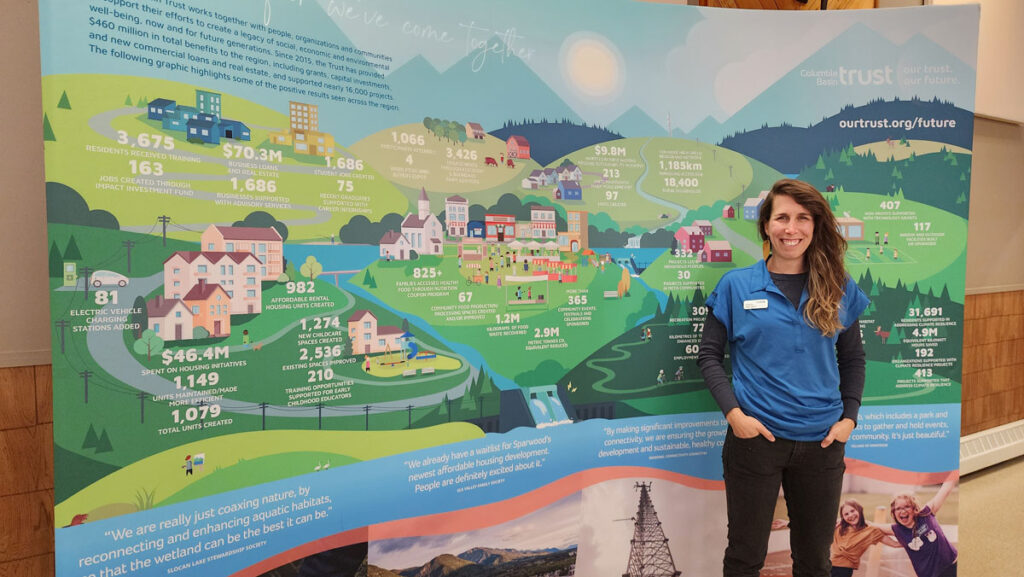 Columbia Basin Trust looks to the future
By Laura Keil with files from CBT
What is the ideal Valemount? Columbia Basin Trust was in town the last week of April to seek feedback from residents on their vision for the future, both in terms of their community and the Columbia Basin.
The event is part of the Our Trust Our Future consultation activities happening this year that will inform the development of the Columbia Basin Management Plan.
A draft plan will then be shared with people in the Basin for further feedback later this summer. In addition to in-person community meetings, people can provide feedback online at ourtrust.org/survey. The Trust is also hosting three symposia in Golden, Cranbrook and Trail. People can register or join the waitlist for these free events to continue the dialogue about the future of the region by going to future.ourtrust.org/sign-up.
The Trust was established in 1995 to support efforts by the people of the Basin to create a legacy of social, economic and environmental well-being in this region.
Its activities are guided by the Columbia Basin Management Plan, developed based on public input from residents.
"This is an opportunity for everyone who lives in the Basin to share your perspective on how we can realize an even better future for this incredible region," said Johnny Strilaeff, Columbia Basin Trust President and Chief Executive Officer. "We all have a stake in this as residents, and that's why we call this process Our Trust, Our Future."
The Trust is offering many ways for residents to provide input, including in-person open houses and facilitated conversations in more than 20 communities. These events in April and May are opportunities to explore your vision for your community and the region as a whole, with your family, friends, neighbours and Trust Board and staff. There will also be virtual meetings and an online survey available.
In May and June, the Trust will present the common themes from resident feedback at three large regional events in Cranbrook, Trail and Golden. These symposia will bring Basin residents together to celebrate the region and create a further opportunity to discuss the themes that emerged from the earlier engagement. The symposia will feature local food, visual art and music from Basin creators and entertainers, and an exciting keynote speaker—a well-known Canadian personality that will be announced at a later date.