By Goat staff with files from Seekers Media
Debra and Jeff Jewett of Valemount's bike shop Bikes & Bites, will be kicking off the first-ever #BuyBasin Festival tomorrow, an online festival to promote Columbia Basin businesses and artists.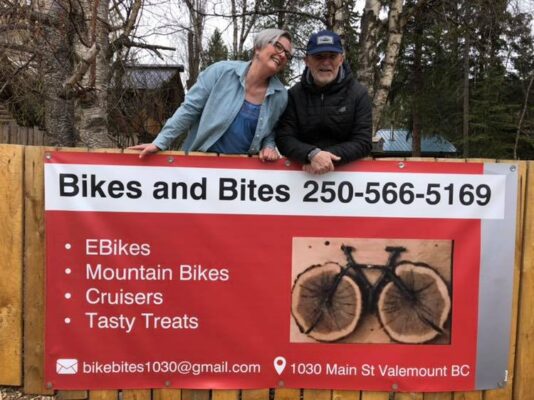 Bikes and Bites will go live on facebook on March 23 at 11 a.m. PST. The Jewetts moved from Calgary to Valemount in 2016, after falling in love with the town on a camping trip. Both avid cyclists, the couple runs the shop which offers bike rentals, repairs and sales. Jeff is a certified bike mechanic and he also teaches people how to fix their own bikes.
Other businesses being profiled include Glacier Fire Pizzeria, VALE Coffee, Mountain Driftwood Gallery and Emerald Earth Organic Spa.
Visit the #BuyBasin Festival event page here
The month-long festival will profile more than 100 local businesses, artists and musicians. From March 23 through April 27, you'll get a sneak peek behind the scenes at local businesses on Tuesdays, Wednesdays and Fridays, learning all about their passions, what they sell and create. It's a way to learn online about the products and services being made in your backyard, without having to leave your home or office.
Each day when you tune in, you'll meet a new face of a business from the Columbia Basin and get to ask them questions. In between each broadcast, you'll be treated to a musical performance by an array of performers, including Fernie-based alt-rock-folk band Shred Kelly.
Alison Bjorkman, program manager for the Basin Business Advisors, a sponsor of the festival, says the live broadcasts couldn't come at a better time for the business community and local residents.
"Like any festival, it's an enjoyable experience. (People) become aware of a business they didn't know was there," says Bjorkman. "It's also a chance to remind people of what's available in their business communities. It's kind of like we can go virtually shopping."
Join Shred Kelly, FestivalSeekers and other friends on Facebook on March 23 for the #BuyBasin Festival.
People are anxious for the pandemic to end, Bjorkman says.
"Things are changing. We're weary of the pandemic and restrictions and this is a prime opportunity for people to see outside their bubbles to see what's going on in the region."
Sage McBride, singer for Shred Kelly, is not only providing some of the entertainment, but she's also helping coach local businesses about creatively using social media to engage potential customers.
"Now more than ever it is incredibly important to keep small businesses in the Columbia Basin not only afloat but thriving," says McBride. "I'm hoping that this shift to support local businesses during the pandemic will have a long-lasting effect of shifting the way people shop and encouraging them not to purchase from Amazon, but to support local companies whenever they can."
McBride is also curating the entertainment lineup for the festival. "There is so much amazing talent in the Columbia Basin and I'm excited to curate a lineup with artists from all over the Basin."