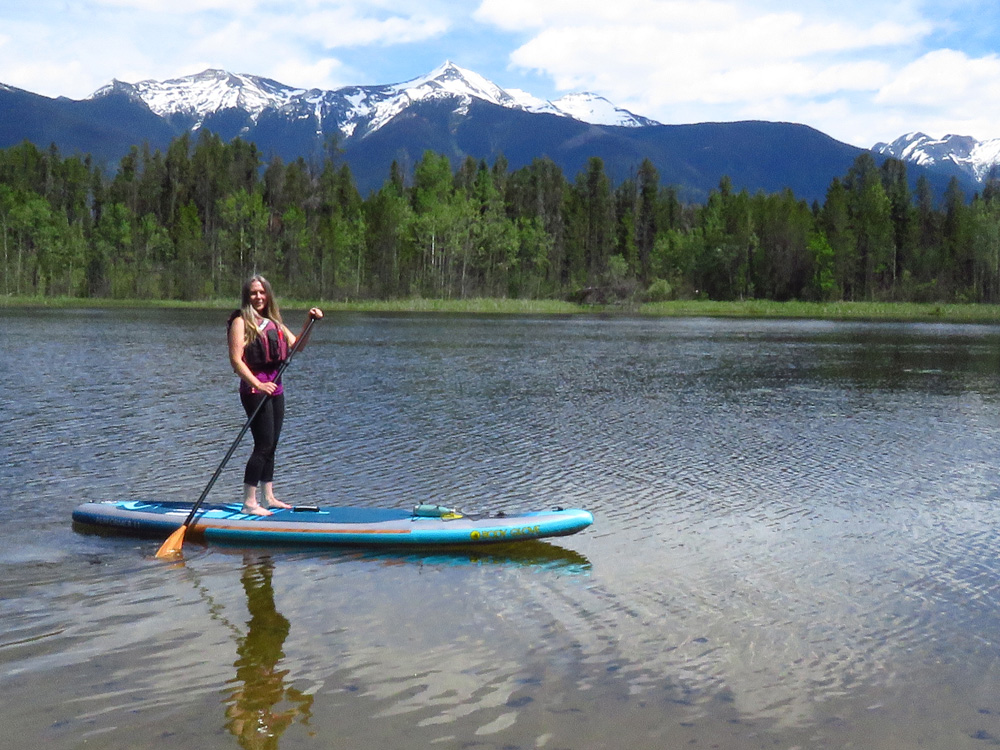 By Andrea Arnold
A new Valemount home-based business, Whitecap Watersports, has received some of its paddleboard stock and the owners expect more to arrive soon.
"At the moment, we have two inflatable stand up paddleboards available," said owner Krista Bachrach. "We expect the rest of our fleet to arrive within the next few weeks. In total, we will have 12 boards available to rent, in various sizes."
Bachrach has lived in Valemount for 13 years, and has noticed that tourists are drawn to the area for recreation opportunities like snowmobiling, mountain biking, ATVing, hiking and sightseeing. A friend who had worked at the Valemount Visitor Centre a few years ago mentioned to her that they had many inquiries from people wanting to explore local lakes.
This comment planted a seed in Bachrach's mind.
"Stand up paddleboarding is a great way to explore and enjoy nature," she said. "It's a low-impact family-friendly sport, and it is fairly easy to get the hang of."
During the long COVID winter months, Bachrach decided to jump on it and started hunting for a supplier.
It's been a long process, made longer by the shortage of available supplies. After extensive shopping and research, Bachrach located a Canadian company that was able to provide her with beautiful., durable, hard stand up paddleboards.
Rentals can be picked up and returned to the Bachrach's home on 14th ave. Delivery of boards can also be arranged for a small fee to Cranberry Lake, Cranberry Marsh and up to 12km on Kinbasket Lake. They hope to set up a cargo trailer later in the summer, that would allow them to become mobile and set up near the water at select locations.
As of right now, boards can be rented for two hours ($30), half a day ($50), and a full day ($80), with the option of an extra day for the reduced price of $50. A fiberglass paddle, life jacket, whistle and safety leash are all included in the rental fee. Also available for rent for $10/day are dry bags, a roof rack system and anchors. A 10% discount will be given for groups of five or more.
At this time, lessons are not available, however, renters will be given a short introduction to the sport, equipment overview, safety features and be given a quick launching demonstration prior to heading out.
"I want to encourage locals who haven't tried stand up paddleboarding to give it a shot as well," said Bachrach. "This is a great way to try a new sport without the headache of shopping and spending the money on a new board."
For more information see their website www.whitecapwatersports.com