By Andrea Arnold
---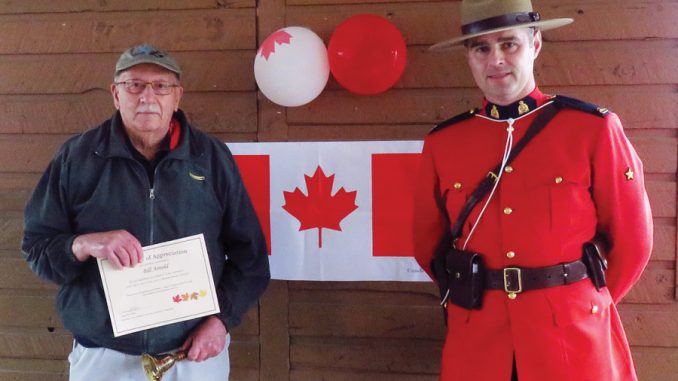 Each year during the weeks leading up to Canada Day, members of the McBride community have the opportunity to nominate people have made a significant contribution to the community, for the Cheryl Sansom Award. The nominees vary in their ages and roles, but all have a heart for the betterment of the whole. This year, the following people were nominated: Charlene Long Dickerson, Craig Arnold, Joyce Godfrey, Bill Arnold, Nancy Taylor, Ingrid Stengler and Mary Hooker.
The recipient of the 25th Cheryl Sansom honour is my grandfather, Bill Arnold. In the 63 years since Arnold moved to the valley, he has been involved on countless boards and committees. He was deeply involved in bettering health services for the community, through his role as Ambulance Unit Chief, the Robson Valley Hospital Board and the Robson Health Association. He also facilitated good working relationships between the different first responder departments in the area. Arnold is also working with local groups to help keep areas of the Dore River open for recreational purposes.
He has been involved in every aspect of the McBride E-Free Church as well. He helped with the renovations and construction as the current building took shape. He is often found in the kitchen after events, washing up the dishes. Usually, a great-grandchild volunteers to help him, demonstrating that his heart for giving has been passed on through the generations.
Congratulations to all nominated and a special congratulations to Bill (Grandpa) Arnold.