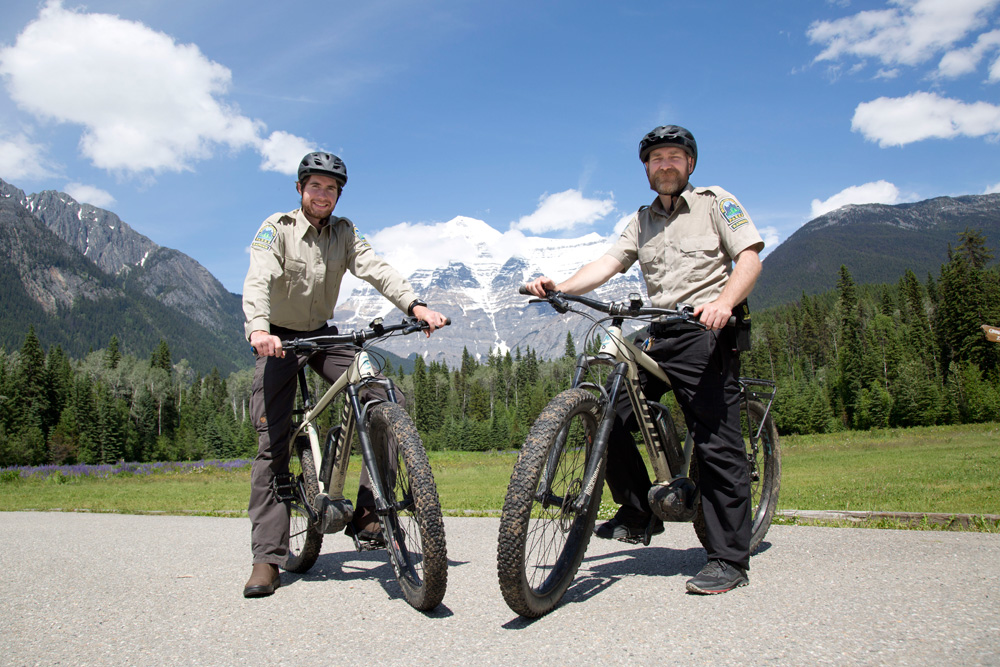 By Laura Keil
BC Parks staff at Mt Robson have a new tool to get their work done—e-bikes.
The bikes arrived last fall and were put into full use this spring. Mt Robson Area Supervisor Elliott Ingles said they reduce the energy it takes to access locations and save staff time.
"The number one best part about them is how much time it saves you in a day," Ingles said.
A spokesperson at the Ministry of Environment and Climate Change Strategy said the e-bikes are used by Ranger staff to travel up and down the lower portion of Berg Lake Trail, as an alternative to hiking and to reduce travel time.
"They're used for conducting patrols and inspections, and as an environmentally friendly alternative to gas or diesel truck use for transport between campgrounds, the Visitor Centre, and the Berg Lake Trail head."
Ingles says the bikes allow Parks Staff to reach Kinney Lake from the Info Centre in just 10 minutes. This has allowed them to do primary assessment of injuries and arrive quickly in case there is an animal. It also cuts down on their use of trucks, which they've found has improved their rapport with the public when they do campground patrols.
"They're a great conversation piece," Ingles said. Being on a bike instead of in a truck also allows more spontaneous interactions with campers. "It's a great way to have eyes on the ground, especially in the campgrounds, so we can talk to people and they can ask questions."
"It's a friendlier interaction," added Corridor Ranger Sean Allin.
"Our trucks look pretty 'enforcement,'" Ingles noted.
Last weekend, Ingles and Allin used the bikes to assess a bridge on the Mount Fitzwilliam trail. They got to the Rockingham Creek campground in an hour, a trek that would normally take 2-3 hours—a savings of 2-4 hours for each staff member when including the return trip.
Ingles said they can even use the bikes to replace helicopters in some cases, since they're able to transport heavy supplies to remote locations.
The e-bikes are pedal-assist and the assist maxes out at 30km/h. They only use the bikes to the end of Kinney Lake along the Berg Lake Trail. The public is allowed to use regular bikes and Class 1 e-bikes to the same point along the trail.