By Andru McCracken
---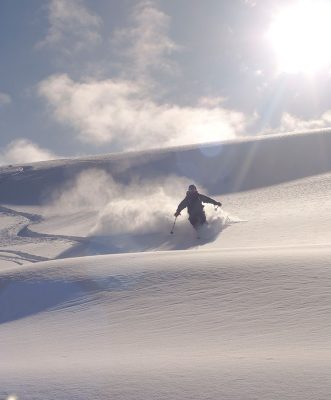 Most heliskiers are international visitors whether from the US or further afield and that means the global pandemic will have massive implications for heli-ski operations from Blue River to Crescent Spur.
Crescent Spur Heli Skiing for example has solid bookings for the upcoming winter but whether or not they will be able to operate is outside their hands.
"We're in a holding pattern. The borders are closed for non-essential travel and there is a quarantine requirement. That doesn't make it workable for international travel," said Mark Aubrey, an owner and founder of the boutique heli-ski outfit.
"We have a very high return rate, 75 per cent plus, 10 years in a row, and the vast majority are US and European."
He said many have committed their deposits anyways and have agreed to transfer them to next year if they cannot ski this season.
"We aren't finalizing travel until we have some advanced notice they can come across the border," he said.
Aubrey said the company's primary concern is safety for the community and clients and staff.
"We want guests to be able to travel safely for themselves and everybody else," he said.
"We can weather this. It's going to have a huge impact on the finances of the company of course, but as importantly, it will have a huge impact on suppliers – grocery stores in McBride to our helicopter provider.
Lots of our employees have been working for us for 10+ years. This is a big part of their revenue for a year."
Aubrey said this year may demonstrate the economic impact of heli-skiing…. in the negative.
"Heli-skiing puts 100s of millions into the economy, primarily into small communities from Golden to Terrace," he said. "It becomes a big part of the economic structure of these communities. It's not visible but it is consistent and stable."
Aubrey said that Crescent Spur Heli-skiing will be ready to spring back into action when the global pandemic passes.
"Local ownership is committed to be part of the solution as we move towards rebuilding the economy when that time comes. When the public health officials feel
it's time to get going again, we'll be ready to go."
Canadian Mountain Holidays launched a program that will provide discounted heli-ski rates for Canadians at their Bobbie Burns lodge south of Golden between January and March.
"With winter fast approaching, we have prepared a program that will allow our Canadian guests even more opportunity to get out and explore the world's best skiing and riding that exists in their own backyard," says Jeremy Levitt, President of CMH Heli-Skiing & Summer Adventures.
"This year has kept most of us cooped up longer than any of us would prefer. With the long-range forecasts calling for remarkable conditions, we want to get people outside again and back into the snow."
The company conducted a trip simulation with 50 people in August.
The company believes safety measures will keep up to 27 guests at a time safe and sound. It usually accommodates 44 people.
CMH also operates two facilities in the valley, the Valemount Lodge, an exclusive lodge for small parties located just south of the village and the larger Cariboos Lodge up the Canoe River valley.
Area manager John Mellis said their heli-ski season is still up in the air.
"If we don't start in December we shoot for January and so on," he said.
Whatever the case, he said that the lodge is ready to go.
"We have a few play books in place for whatever scenario unfolds."
We contacted Mike Wiegele Helicopter Skiing based in Blue River but didn't hear back by presstime.
Release the snowcat
Terry Cinnamon said that Cariboo Cat Skiing should be able to operate this season because their clientele doesn't typically cross borders.
"The majority of our clientele are from Western Canada," he said. "We're hopeful to be able to operate."
Though he is concerned that small changes in guidelines could have far reaching consequences.
"If they told us we can only have one person per seat we wouldn't be able to operate," he said.
Cinnamon said that safety procedures should allow them to reduce the risk to an acceptable level using thorough cleanings and masking guidelines – something he implemented during the rafting season this summer.
"[Riding in the snowcat] is no different than riding a city bus," he said.
Cinnamon is mindful of the potential risk to the community if there are COVID-19 outbreaks in the cities where his clients are from.
"I don't want to bring potentially COVID-infected people into our town," he said.
But despite the pandemic, or perhaps because of it, the urge to get out and play in nature is stronger than ever.
"A lot of our returning groups are saying that after the type of summer they had, they are really looking forward to this trip," he said.