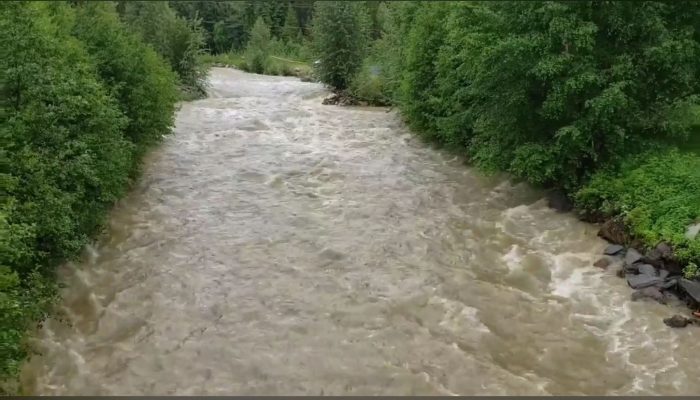 By Laura Keil
---
The Village of Valemount is enacting temporary Stage 3 water restrictions June 25th  due to high water levels, and the resulting effects on the Municipal Water Treatment Plant. Yesterday, June 24th, it enacted and then rescinded Stage 4 water restrictions due to high water in the creek.  The Stage 3 restrictions will remain in place until further notice.
"The rain event (of Tuesday evening) brought considerable debris into the area of Swift Creek where our water intake is located," said CAO Wayne Robinson. "This was discovered today once the water levels in Swift Creek had dropped enough for proper visual inspection."
"Currently we are not  in any danger of running out of water, however, we are concerned the rain forecasted over Friday June 26, to Sunday June 28 may result in additional debris settling in and around our water intake."
Stage 3 water restrictions limit residents to two days per week of lawn watering. Even numbered addresses can water Wednesday and Saturday between 7-10am or 7-10pm. Odd numbered addresses can water Thursday and Sunday between 7-10am or 7-10pm. Drip-irrigation or hand-held watering is allowed any time of day.
PROHIBITED:
– A person may not fill or add water to any swimming pool, hot tub, fountain, or pond.
– Bulk water sales may be restricted to any person at the discretion of the CAO or Public Works Superintendent.
– A person may not wash a vehicle with water unless within a commercial car wash facility.