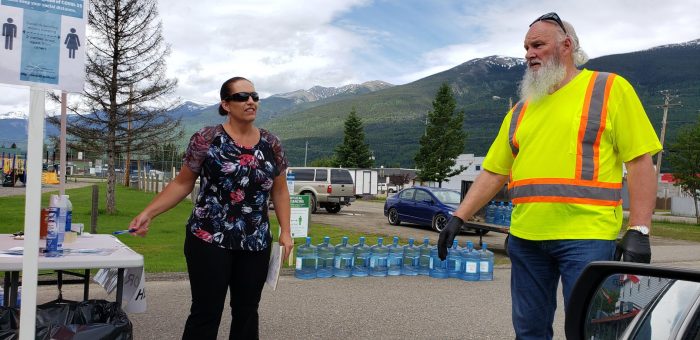 By Laura Keil
---
Residents in McBride have been boiling their tap water for two months, but on the evening of June 24th, the Village gave notice to residents they would not be able to consume their tap water at all, boiled or not.  The advisory says even things brushing their teeth or washing fruits and veggies should be avoided. Showering is ok as long as water is not swallowed.
The notice also orders restaurants to close. The concern from Northern Health is the restaurant won't have reliable access to sufficient potable water to ensure safe handling of food. All food premises must ensure that equipment connected to the community water system is disconnected. For example, soda machines, slurpee machines, and ice machines. Public venues must post notices at public fountains/water sources.
Why?
The Village says significant rain fall had led to high water level and freshet to the Dominion Creek. Several reasons are listed for the advisory including possible chemical contamination due to landslides above the watershed, high turbidity (lots of particles) in the water that make it hard to clean, and forecasted rain Friday and Saturday that will exacerbate the turbidity. The current Turbidity level at the reservoir is 23 NTU with some locations in the distribution system higher than 10. Normally it's below 1 NTU. The Village says there's no current guidance document regarding the effectiveness of boiling water under excessive turbidity level.
Turbidity is caused by suspended organic and inorganic materials in the water source leading to colored water. Turbidity at the current level renders the current treatment systems of the Village ineffective, the notice says, and so pathogens can survive in the water system.
Potable Water Station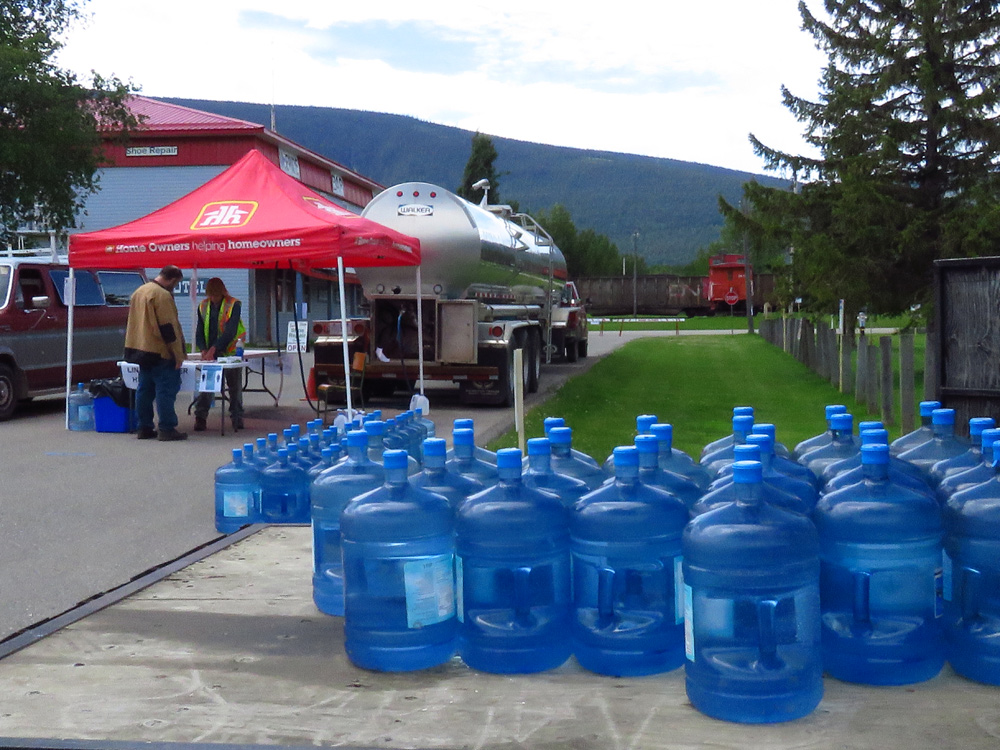 The Village hauled potable water from Prince George and on Thursday residents picked up water at the Bulk Filling Station located on Holdway Street beside Steve Kolida Park. The station is open from 7 am to 8 pm. Residents may bring water containers to a maximum size of 5-gallon jugs and nothing smaller than 4 litre size.  The Village encouraged residents to help out those who can't carry/pick up their own water. Anyone without their own water container will be supplied a pre-filled 5-gallon water jug, but a name and phone # must be provided for the $10 deposit fee.
Avoid using for:
Residents are told not to use tap water to:
 cook
 drink
 feed pets
 brush their teeth
 make soups or ice cubes
 wash fruits and vegetables
 make infant formula or other drinks
 any other food products that require water
During a do not consume advisory, do not use tap water to bathe those who need help, such as:
 infants
 toddlers
 the elderly
Give them sponge baths instead so they avoid swallowing the water by accident.
The water can still be used to shower and bathe (avoid swallowing the water):
 adults
 older children