By Andru McCracken
---
Joan Nordli says she has been "bored to tears" in Kyalami Place, a seniors residence in Keremeos BC, but a riddle delivered to her by her daughter caused her great joy.
"Julianne phoned me and told me she would bring me 24 things that I will play with for 21 days," said Nordli.
Julianne arrived with an incubator and 24 fertilized eggs.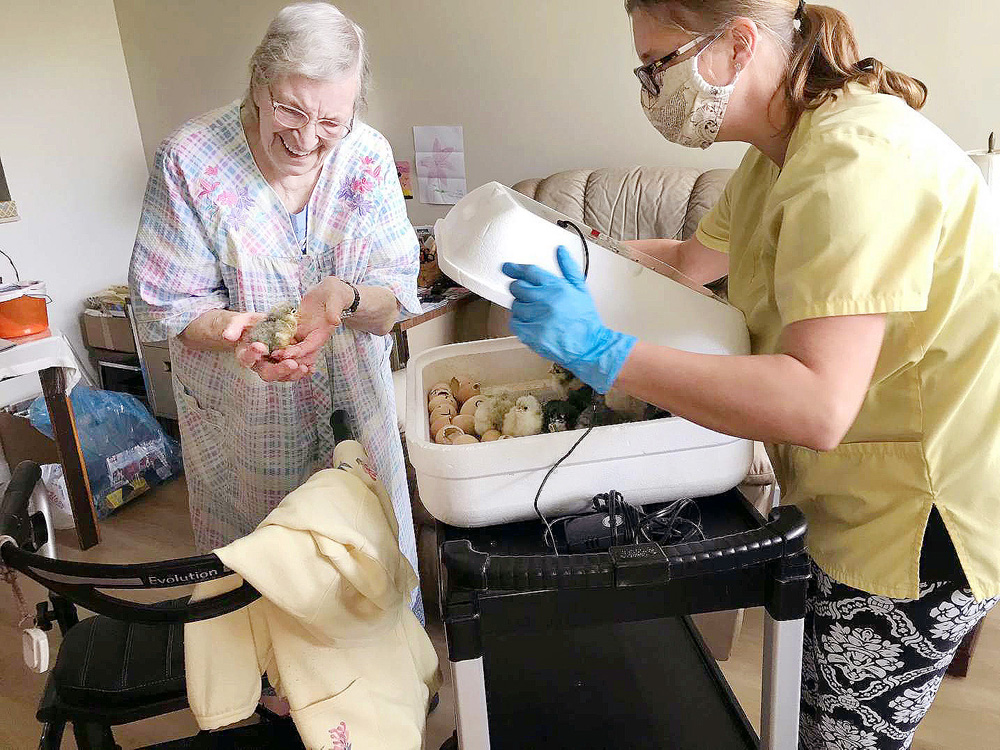 "I was to turn them every day for 18 days, 10 in the morning and 10 at night all turned in the same direction," she said.
The chicks were expected to hatch on April 28th, but it was a no-show.
"On April 29th I watched the birth of a chick. It is earth-shaking when something like that happens," said Nordli.
Before her daughter picked up the chicks, one of the facility coordinators organized a residence-wide tour.
Nordli said the residents were overjoyed.
"They came to the doorway and took the lid off and they were able to pick up the chicks and handle them," she said. "The residents were like kids – oohing and aahing."
Nordli said some residents had been farmers and hadn't seen a baby chick in decades. With great joy, sadly comes a sense of loss.
"Friday they were gone at 2pm and Saturday this place was dead. I was used to hearing the chicks," said Nordli.
Now Nordli is asking her daughter if she needs more chicks hatched.
Asked whether she supported backyard chickens, the former Valemount village councillor (and teacher, mother, and historian) was enthusiastically supportive.
"I would be for it," she said. "If you put them in a fenced in area, what harm would they cause?"