By Andrea Arnold
---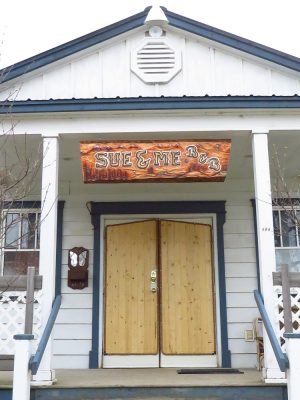 The old church building on Main Street in McBride across from "Sue and Me Eatery" has been given a new lease on life. The 70-year-old former church building has had an assorted history.
A collection of odds and ends if you will. Sue and Me owners and relative newcomers to the valley Lance and Soo Ewasiuk, along with locals Jonathan & Suzanne Mazereeuw teamed up in a restoration renovation. The result is a beautiful family-friendly BnB.
"I watched the building for a year, since we opened up the Eatery." said Lance. "I couldn't understand why no one was doing anything with the building." He noticed that there were often many tourists, and with a little research learned that another nearby accommodation facility was often booked.
"I approached Jonathan with the idea, and he said 'Let's do this,'" said Lance.
Jonathan said he's been helping out at the restaurant over the last while and has been surprised how many people ask about nice accommodation options.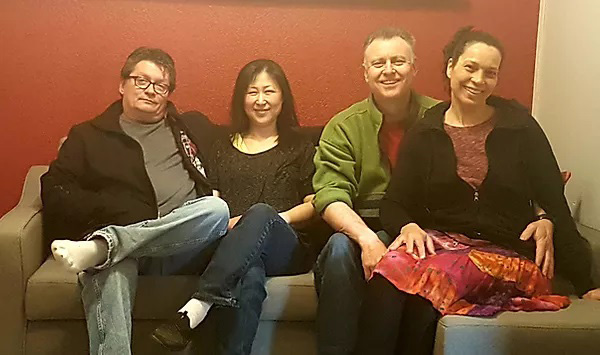 Jonathan was familiar with the building and knew the previous owners. The building wasn't officially for sale, but when the pair presented their offer, it was accepted, and ownership changed hands.
They took the historical value of the building seriously as they renovated. The wood wainscotting inside was preserved as well as the mosaic on the walls as you walk into the building. Even some of the wood around the new energy-efficient windows was kept original. Many of the appliances, some of the furniture and even the pedestal sinks were found items, repurposed or cleaned before finding new life in the historic building. Local contractors were called in to complete tasks requiring certification, or to help speed a task along. They constructed an open concept living room, kitchen, dining room complete with a bar, long dining table and, for the kids (or young at heart), a stationary basketball game. They added a bathroom that looks like a separate building within a building. The back portion of the building has been split into three rooms. Two bedrooms with beds for four people, and a sitting room with two couches that pull out into beds for four more. The couch in the living room is also convertible, resulting in beds for up to 14 people.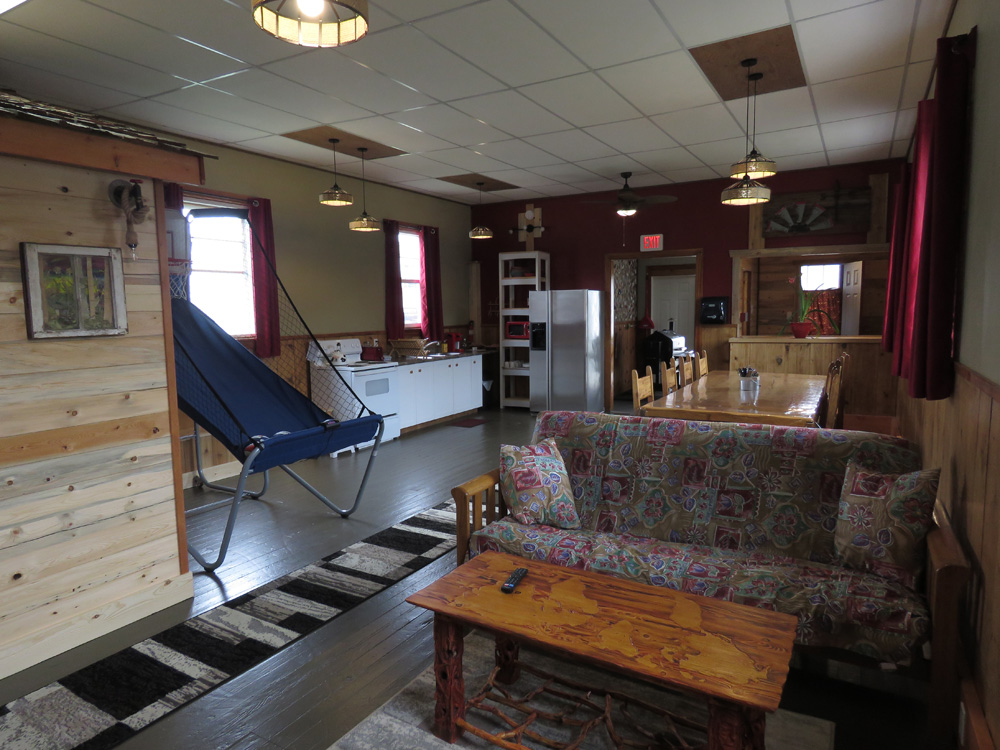 They hope to provide accommodation for large groups during family events such as reunions, weddings or funerals. Also, they would like to serve the sports community, providing an affordable space for whole teams to stay together.
The second "B"- Breakfast, is an option that can be included. Guests have the opportunity to add onto their bill either a packaged meal in house, or food served from Sue & Me Eatery across the street. Guests are also welcome to prepare their own meals in the fully equipped kitchen, including a BBQ/Smoker to be used on the deck outside.
Lance thinks that the location is ideal. "It's five minutes to everything you can need," he said. "That's a five minute walk."
With the grocery store, playground and liquor store all within a few blocks, the location is truly family-friendly.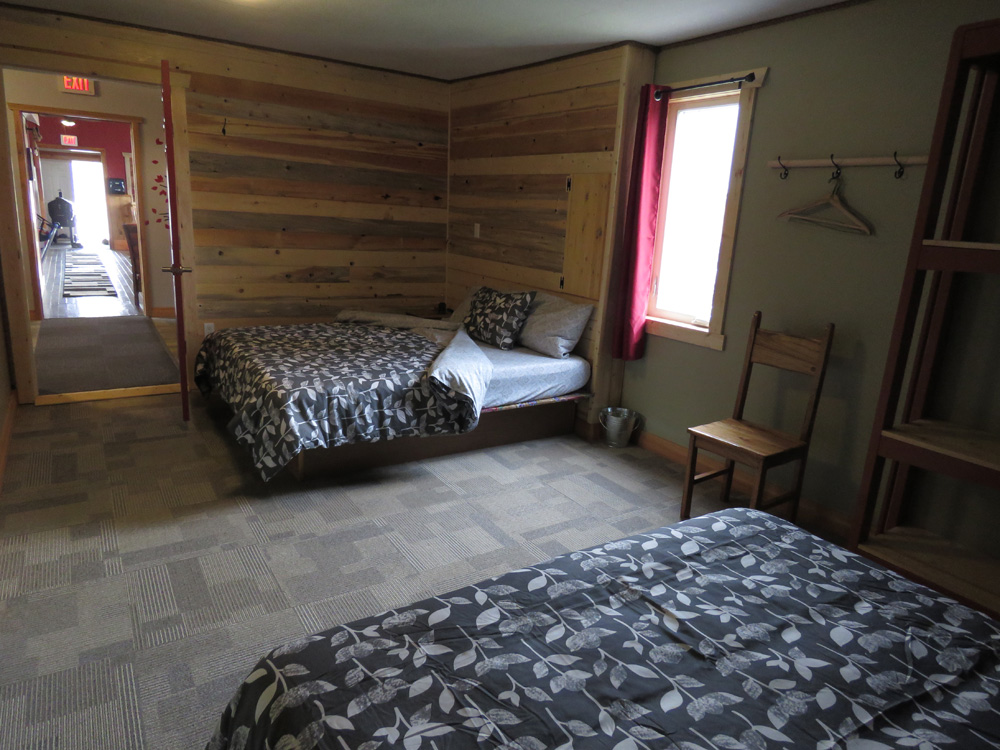 The artwork and some of the furniture in the unit was created locally, and they are looking forward to adding more. They say it will be an ever changing gallery, showcasing talent from around the Valley. In time, other valley visitors as well as locals will be able to join guests in viewing the unique gallery, and have the opportunity to purchase the artwork on display. Local artists are invited to approach Sue and Me with submissions to be considered for display within the B&B.
The two sets of Sue and Me couples also own the property next to the old church. They have short term plans to put out some picnic tables and provide an outdoor dining option for both the guests of the B&B as well as patrons of the Eatery. Longer term, depending on how Phase 1 is received, other smaller accommodation options may be added to the property.
"I would like to see people come from all over," said Jonathan. "I would like to present and manage the place in a way that guests will enjoy. I hope we can provide one-on-one help and serve as guides as people explore the area. I would love to see us have return guests."
The Sue and Me B&B has been open for two weeks, and have already had their first visitors. They hoped to host an official open house to present the project to the community. Due to current restrictions, that will not be possible at this time. If you are interested in seeing first-hand what they have created, pop in to Sue and Me Eatery, and request a quick tour. Don't forget to take off your shoes as you enter the house.