By Andru McCracken
---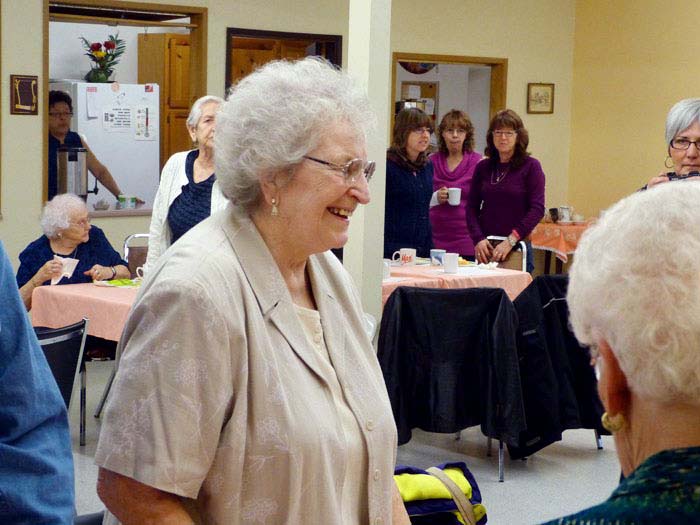 When Joan Nordli was laundering her bedding at the Irvin's RV park, she slipped on some snow-covered ice. Nordli carried on for the next four days, but an injury to her first vertebrae caught up to her and she left town on January 20, the day after her 84th birthday.
Now she's in Keremeos with her daughter Juliann Kaddatz and missing Valemount furiously. She's regretting not being able to participate in the Valemount Seniors' Club where she was recently elected Vice President.
A historian and storyteller, Nordli remembers vividly how she came to Valemount 53 years ago.
"I connected with Valemount as soon as I saw it," she said.
Nordli was born in Crowsnest Pass and she lived in Alberta prior to moving to Valemount.
Nordli and her young family were en route to visit her Aunty Bette in Kamloops. It was Farmers Day, June 5, 1965. They decided to go via Jasper. Her son James didn't take to mountain driving and was car sick on the way.
"By the time we got to Valemount, I wasn't very presentable; I smelled like the morning after the night before," she said.
They stayed in the Swift Creek Motel and the next day they did a little tour of the town.
"I went to see what it was like for school," she said. "We were up early and went around town. I saw the village clerk, Tom Wood, and asked him about the teaching situation."
Wood asked her how many teacher friends she had since they were in such need at the school.
Nordli husband Arnie, a machine operator, barely had to blink to get a job.
"He got a job immediately building Highway 5," she said.
The journey was filled with mishaps, car sickness, flat tires, getting stuck in sand, overflowing rivers, narrow foreboding passes: the whole thing appealed to the Nordli's.
When they arrived in Kamloops her Aunty Bette inquired about their trip, imagining they had gone through the existing highway.
When they replied that they came through the Thompsons, her aunt replied, "But you couldn't have! It's run-off time."
Nordli laughs deeply.
She said she knew she needed to come back to Valemount.
"And that is exactly what I did," she said.
Nordli welcomed the change. She had been teaching Grade 9 to 45 kids at a consolidated modern high school in Sangudo that served 1500 students. She welcomed the opportunity to have smaller classes.
Valemount was different, but the classes weren't small. Her first class was 37 Grade 3 students in an ancient schoolhouse. She said it was like travelling back in time 50 years.
"That old building, it was colder than a cave. The windows were only on the north and there was no insulation in the building. We never left water in the crock, it would have froze," she said.
Nordli packed water from the train station across the street where the Deforge family lived.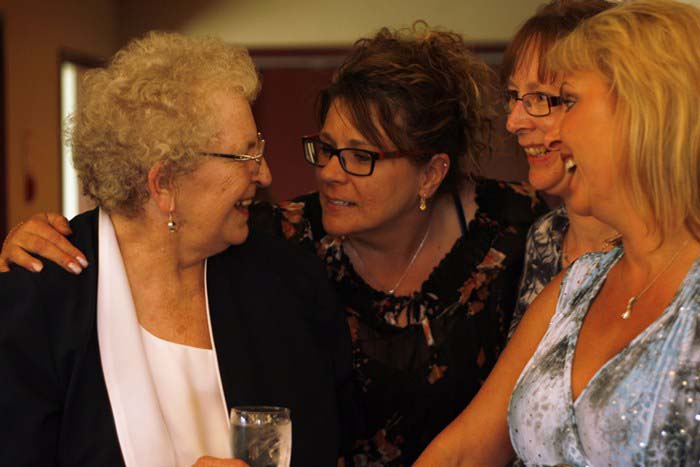 New Home
Nordli's fall has taken her away from her home of 53 years.
"I managed for four days, but the pain was so much, I was looking forward to celebrating my birthday," she said.
"I'm getting better and better as time goes on," said Nordli.
"They whisked me off to McBride and off to Prince George," she said.
She said she is still getting up in the morning and making her own breakfast.
Nordli had high praise for local doctors and Valemount Health Clinic staff.
"It's all connected by the people that have come to Valemount and made it their home; they are safeguarding their home."
Nordli said that over her five decades in Valemount she has made many good friends.
"My philosophy in life is friends and hugs are the main ingredient of a damn good life," she said.
"When you are down and out people come to the door or send something along for food, and send little cards in the mail. There are so many ways to connect and they do."
Joan encourages all her friends to keep in touch; though she is slowly getting better, she doesn't have plans to return to Valemount.
"I am going to be permanently here," she said. "Unfortunately that's the way things seem to happen."