By Andru McCracken
---
Two weeks ago, three candidates were confirmed for the riding of Prince George – Peace River – Northern Rockies. This week, two more candidates have been nominated by their parties: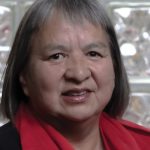 Mavis Erickson for the Liberal Party of Canada and Marcia Luccock for the New Democratic Party of Canada.
Mavis Erickson is a First Nations lawyer she has been twice elected as the Carrier Sekani Tribal Chief and First Nations lawyer.
Marcia Luccock hadn't released a bio or a photo by our printing deadline.
The three candidates previously announced are incumbent Bob Zimmer for the Conservative Party of Canada, Catharine Kendall for the
Green Party of Canada and Ron Valliant for the People's Party of Canada.
The next federal election is scheduled for October 21, 2019.