By Andru McCracken
---
One of the issues that gave rise to the Thompson Nicola RV rights group in Clearwater was the enforcement of severe rules around camping on private property. The understanding of Tom Coles, one of the leaders of the group, was that camping on private land (other than campgrounds) was not permitted within the Regional District.
enforcementAccording to Chair Kenneth Gillis, camping is not prohibited on private property in the TNRD, inspite of bylaw complaints.The Chair of the Thompson Nicola Regional District (TNRD) said there is no ban on camping in RVs on private land but that's not the rule experienced by property owners in the region. A man who owns property in Clearwater said a bylaw officer for the Thompson Nicola Regional District has harassed him two years in a row, citing Zoning Bylaw 2400, 2012.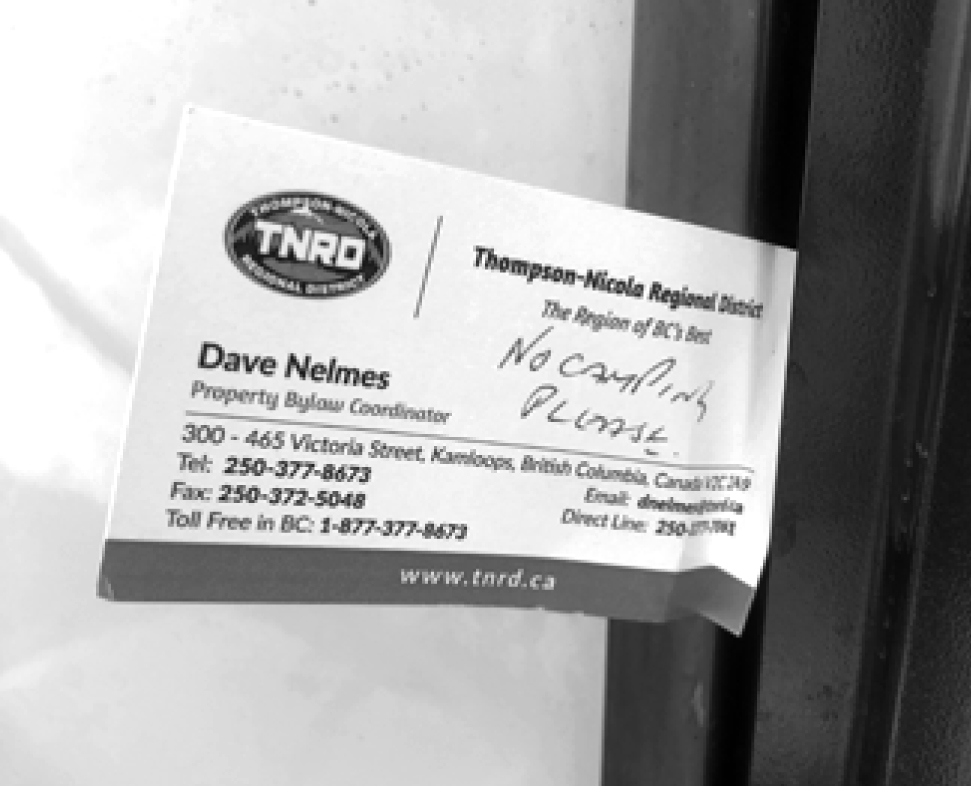 This August he received a bylaw infraction notice and passed it to the Rocky Mountain Goat.
The man doesn't want to live there, just camp on occasion.
"We like to camp on it for a couple weekends a year, at max seven days at a time," said the resident, who asked not to be named.
The infraction notice cited Section 3.18.2 of the Zoning Bylaw 2400.
"Section 3.18.2 of the Zoning Bylaw prohibits the use of an RV as a temporary or permanent dwelling, and camping is not permitted in any zone."
TNRD Chair Kenneth Gillis said that the enforcement action was not consistent with TNRD policy.
"I checked with our senior staff; there is no prohibition on camping," said Gillis.
Gillis said he has been critical of the CBC for using the word 'crackdown' with regards to enforcing the rules about living in RVs.
"There was no official decision to escalate," he said. "I don't know where it came from."
But the bylaw infraction notice uses that phrase exactly.
"Recently the TNRD has escalated enforcement on this activity, and had been successful in the court process in gaining compliance," read a report signed by Carolyn Hunter for Bylaw Officer Dave Nelmes.
"At least some of the miscommunication has originated from us," admitted Gillis after seeing the notice of infraction, "Obviously there is a problem here and part of it is ours."
The matter is getting the attention of the Thompson Nicola Regional District, and it will be referred to the electoral areas meeting next month on October 17.
"There will be a fulsome discussion and we have invited the RV Rights people to attend and elect a spokesman," he said.
In commenting on a story we covered last week about Angie Smith, a resident who purchased a rural property near Barriere and is living in her RV until she can afford to build, Gillis said the TNRD can accommodate her very easily.
He said as soon as Angie Smith and her partner apply for a building permit, they are allowed to live in an RV on their property for three years. The exemption for full-time living in an RV starts as soon as she applies for the permit.
"Staff has tried to work with those people. If they are serious about building a home take out a building permit no one will hassle you," said Gillis.