By Andru McCracken
---
Community literacy program and the McBride and District Public Library hosted an all candidates meeting in McBride Wednesday, October 2.
Incumbent MP Bob Zimmer representing the Conservative Party of Canada, Ron Vaillant representing the People's Party of Canada and Catharine Kendall representing the Green Party of Canada were on hand to answer questions. Mavis Erickson for the Liberal Party and Marcia Luccock of the NDP were not present.
After a 1-minute introduction, the candidates took turns answering questions from the floor from the 25 or so people who had gathered.
The event had a collegial feel despite the variety of perspectives present in the room.
Zimmer started the evening reminding folks about caribou closures and his efforts to prevent them. He cited his work defending the forest industry.
"I'm trying to make sure that it's a viable future for a lot of us in this part of the country. I've always said natural resources are important to keep a roof over our heads and meals on our table," he said. "If you re-elect me on October 21, I look forward to another four years."
Kendall said she was happy to see a wide range of ages represented, from youth to 91-year-old Sylvia Arnold.
"I come from a small community of Eaglet Lake. I'm there 20 years now and I am still considered a newbie," she said.
She said she came west to travel and now practices sustainable agriculture.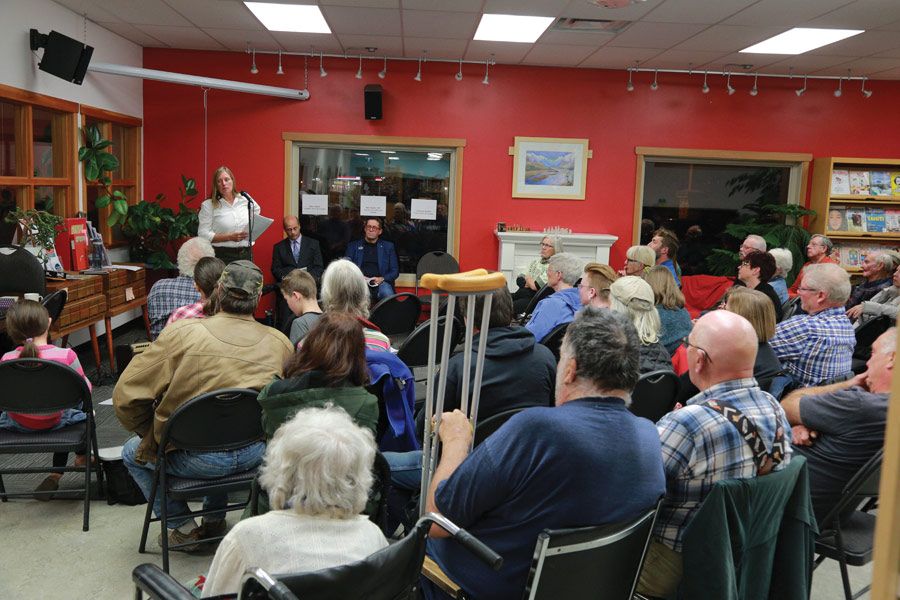 "My main passion is community development," she said. "I work from the grassroots. I go out into the community and Prince George and I ask people what it is they need. I now do a lot of youth programs to make sure that our kids have safe things to do and keep them off the street.
"Climate change is the top of my list. Without our climate being healthy, it's hard to talk about the resources that we rely on here in the communities," she said.
Of all the candidates, Vaillant had the most to say. He started off by saying he almost moved to McBride 25 years ago, but didn't because of uncertainty around the running of the mill.
"So we stayed in Alberta to earn the income," he said.
Vaillant said although his party, the People's Party of Canada, was only started a year ago, it has "taken off like a rocket ship."
"The People's Party has bold reforms that Canada really needs," he said. "50% of Canadians are actually looking for something new, something they can believe in. And the new thing on the block is the People's Party of Canada."
He mentioned balancing the budget and debt.
"We want to stop all the wasteful spending, and once we balance the budget we want to lower taxes, and simplify taxes."
Vaillant said he would use section 92(10) of the constitution to approve pipelines (this section has been most often used in connection to the railways, occasionally nuclear power and puts the federal government in charge of oversight).
"We're going to lower immigrations to sustainable levels. We want to preserve our Canadian identity. We want to end official multiculturalism… we want to preserve our free speech and political correctness is dead with the People's Party of Canada. We want you to be able to speak freely and debate. […] we want to eliminate individual trade trade barriers […]. All you folks who are into firearms, we're going to scrap the Firearms Act," he said.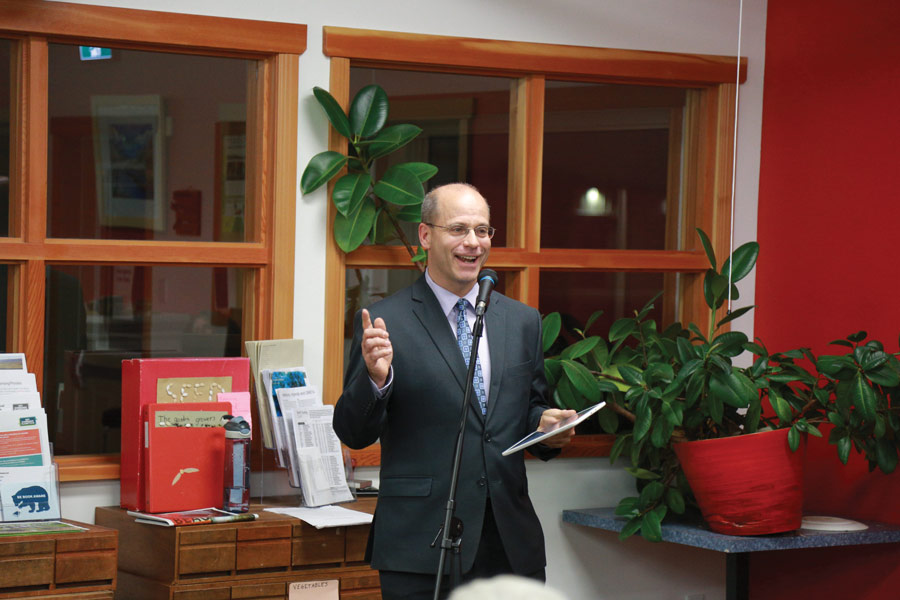 The first question was how each candidate would handle 'geoengineering,' followed by a brief description of a conspiracy regarding poisoning the masses using airborne chemicals.
"They're spraying us like insects, they're doing this for all kinds of so-called reasons, geoengineering, manipulating the weather, poisoning us, poisoning the land," said Monika Schaefer. "All you have to do is look up in the sky and see this."
Kendall answered first, prefacing that her views on it was not officially part of her platform.
"Those are the kinds of things that are secret and not talked about," she said. "They are the kinds of things you might find on a blog a million hits away from when you start to search it."
Kendall said she worked with a woman who was concerned about a plot to manipulate the weather. She said she knew about a field of towers near her home used in the project. Kendall said the Green Party's commitment to transparency across all areas of government would throw light on the plot.
Zimmer said he had been asked the question before.
"I asked the Minister of the Environment at the time about that very thing about whether chemtrails or any kind of weather manipulation was in practice. He got back to me and said as far as he knew it wasn't," said Zimmer. He asked the questioner to send any evidence they found of the plot to him so he could follow it up.
Vaillant said that it was a great question.
"They're spraying nano-sized aluminum barium and other heavy metals and a lot of it has to do with climate change and the climate change hysteria," said Vaillant. "[Chemtrails] is the greatest threat to our society right now, because we're breathing all this stuff in. And it's poisoning everything. The People's Party of Canada, we don't believe in climate change hysteria going on right now. You can bet your boots we will dig down and find out what's going on."
[Editor's note: Like Zimmer, we don't believe the conspiracy. From an article published in Nature.com: "'Chemtrails' are not real. The US Environmental Protection Agency says so. Scientists say so. An increasing number of investigative journalistic accounts say so . Contrails, made up of water vapor, have been a byproduct of aviation ever since humans began to fly using jet engines." http://tiny.cc/debunkchemtrails  ]
The next question asked what each party would do to transition to renewable energy sources citing infestations of forest pests, endless wildfires, and anomalous weather.
"The Green Party has a transitional economy based on a green economy where renewables will be introduced over a period of time," said Kendall. She mentioned making existing homes more efficient, more solar panels, phasing out oil and gas and also her plan to offer university and college to students for free.
"They can figure out what it is that they want to do to help change the world," she said.
Zimmer said his party acknowledges climate change.
"But we also don't want to bankrupt our country in the process of going towards the renewable economy," he said.
"I'm actually in agreement with you to a certain extent. I absolutely support the geothermal project in Valemount. I think we should be doing more geothermal across our country. […] Andrew Scheer has said Canada needs to be a part of the solution globally. If we were to stop all our natural resource processing tomorrow, that would all get gobbled up in 21 days from emissions from China, whereas Canada could be part of the solution."
Zimmer went on to describe a plan to sell Canadian natural gas to China so they wouldn't burn coal.
Zimmer said the Conservatives were committed to the Paris Agreement, signed in 2016, that requires Canada to reduce emission levels to 30% of what our emissions were in 2005.
"We think we need to use technology […] to do it," he said.
Vaillant said the PPC doesn't believe man-made CO2 emissions are having an effect.
Vaillant said if other party leaders were serious about climate change they wouldn't be flying around in jets or living in massive homes.
"In Alberta in February we had one of the coldest Februarys that sustained minus 25," he said.
At this point an audience member interjected and said that climate change has destabilized the jet stream. "It was warmer in the arctic than where you were working," said Seth MacDonald, from his seat in the audience.
"Well," said Vaillant, "It sounds like weather to me."
Vaillant gave an account of other weather predictions that didn't happen.
At his point another person spoke up.
"Are you a climate change denier?" asked Vernon Pawloske.
"Climate change happens all the time," replied Vaillant.
Pawloske took some time to argue that there has never been more carbon dioxide in the atmosphere thanks to burning so much coal, forest fires, aircraft and fossil fuel consumption.
At this point the moderator thanked Vaillant for his answers.
There was a question about whether communities have an inherent right to potable water including indigenous communities.
All candidates agreed it was an inherent right.
There were other questions ranging from stances on working with the United Nations.
Zimmer said the Conservatives respect Canada's United Nations commitments regarding migration and climate.
Kendall agreed.
Vaillant felt that the voluntary agreements ceded Canadian Authority.
"We want our Canadian government to be the highest standard of authority," said Vaillant.
Candidates answered unscripted questions on "the meaning of sustainable immigration levels," proportional representation, a "fairer" carbon tax, how they would propose to build new pipelines, and innovation.