By Andru McCracken
---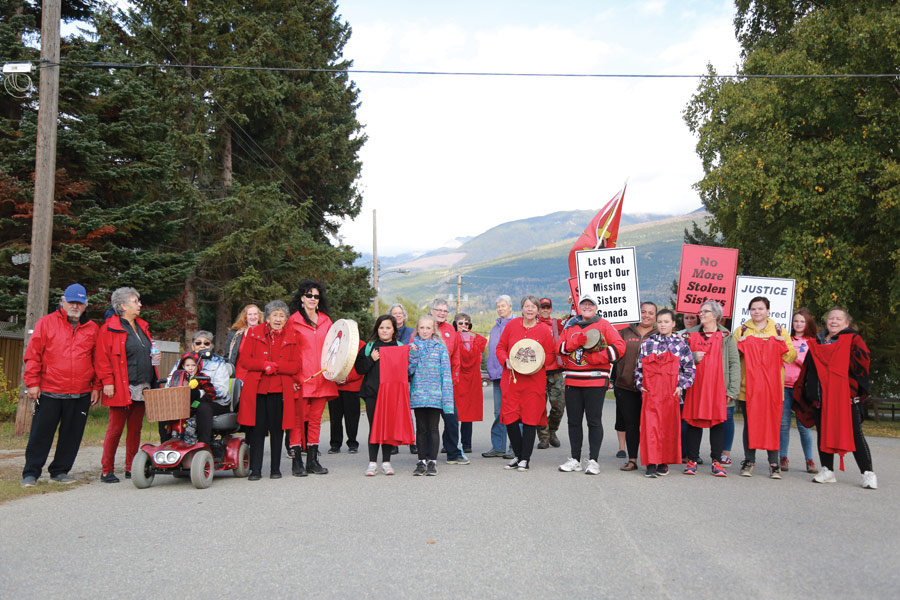 [rl_gallery id="39035″]
Who speaks for the missing and murdered women along the Highway of Tears? Who remembers them?
A sombre REDress procession from the Visitor Information Centre down 5th Avenue to the United Anglican Church on Friday was meant to both remember and be a voice for the women who have gone missing.
Organizer Sherry Tinsley said that the REDress campaign was started by Metis Artist Jaime Black in Winnipeg in order to raise awareness for Missing and Murdered Indigenous Women.
The marchers walked down 5th Avenue, Valemount's busiest street, like a sea of red, many wearing or carrying red dresses.
"It's deliberate. Red is the colour of love, life and violence," said Tinsley. "It's the colour that it is believed that the spirit can see. When you see a red dress hanging … it's powerful."
Tinsley said she wants to raise awareness that indigenous women still go missing and to arm young women with the knowledge to protect themselves.
"There are so many ways they need to be educated. This is running rampant in this country," she said.
"We're a voice for the missing and murdered and we're speaking for them in small communities."
Tinsley said the red dresses start a conversation.