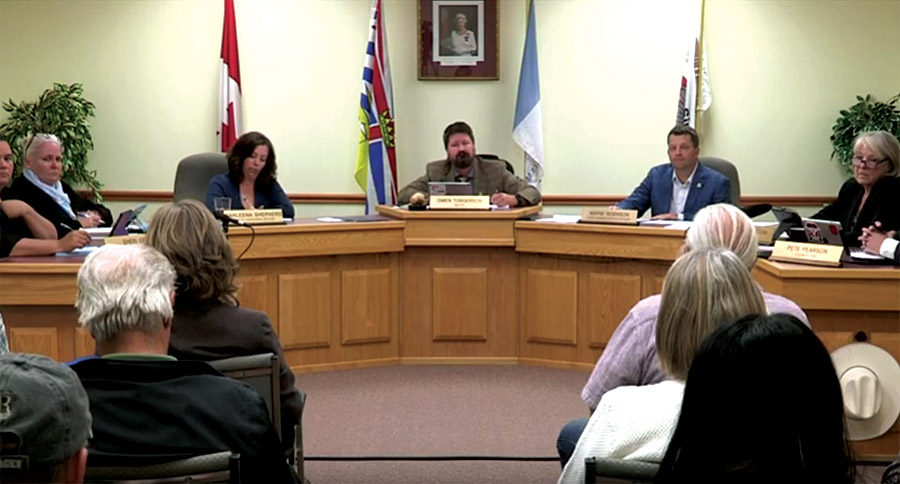 By Goat Staff
---
The Village of Valemount held its regularly scheduled council meeting on August 27. In attendance were Mayor Owen Torgerson, Councillors Sheri Gee, Hollie Blanchette, Donnie MacLean and Pete Pearson.
Public Comment
Neysa Weatherbee of the Valemount Arts and Cultural Society made the case for their proposed big foot sculpture.
Eugene Jamin voiced his support for the Big Foot sculpture. "The future of Valemount lies in its artists," he said, quoting former resident Margaret McKirdy.
Jen Applebaum addressed the pressure that the Trans Mountain Pipeline would put on Valemount's rental situation and she suggested Trans Mountain set up a legacy fund to help with affordable housing.
Marg Kinley said she is frustrated with pressure from Trans Mountain to gain access to her land. She said the company initially offered her $150,000 for access to her land. She reports that the company is pressuring her now to accept $5000.
Michael Peters said he supports the Big Foot sculpture but wished there had been better public consultation.
Donalda Beeson said she hoped Trans Mountain would connect with Robson Valley Community Services about their impact on the community.
Pipeline delegation
Trans Mountain Corporation provided an overview of where the project is at and details about temporary worker accommodation. (See the Goat's story this week on what was presented.)
Foot on the table
Council received and filed a report concerning the Big Foot sculpture.
Council tabled approving a location for a sculpture by a local artist, leaving the project on uncertain footing. The sculpture in question is a 12-foot foot, an arch designed to be placed on the Big Foot Trail.
Tax exemptions
Council decided which non-profit organizations would be exempt from taxes and by how much for the 2020 year.
The Valemount Legion came up first and councillors Sheri Gee and Pete Pearson recused themselves from discussions due to a conflict of interest.
Blanchette made a motion for a 75% tax exemption. "The service groups are struggling, you know and I don't mind helping them out," she said.
The Valemount Curling Club received a 50% tax exemption, there was no discussion on the matter.
The Valemount Lions Club also received a 50% tax exemption; similarly there was no rationale given.
When the Valemount and Area Recreation Development Association came up, Pearson moved that they receive a 0% tax exemption.
"I look at it in a couple ways," he said. "In the definition of the purposes of the tax exemption and we all have copies of their bank account, they have a healthy bank account, a very healthy income statement and they are healthily supported by Valemount tourism already."
Blanchette moved that the Valemount Affordable Rentals Society receive a 50% tax exemption, but there was no seconder for the motion.
Then councillor Pearson moved that the rental society get no tax exemption.
"I hate to be the bad guy," he said. "At our last meeting we just waived $25,000 in fees for their next portion [a new affordable housing project]. They are running as a business really. They seem to be renting at market value or close to."
The motion carried.
Reading file
Council wrote a letter in support of public libraries.
Childcare strategy
Council received the Valemount Childcare Needs Assessment and Strategy (See our story in last week's edition).
"The report is very in depth and well done," said Pearson.
Billboards
Council approved annual leases for billboard promotions for Tourism Valemount.
Council donated $200 to the Valemount Marina's Annual Fishing Derby.
Fees and charges
Council added a new $750 fee to its fees and charges bylaw for processing applications for Cannabis retail outlets.
In camera
Council proceeded to an in camera session concerning negotiations and related discussions respecting the proposed provision of a municipal service.