By Andru McCracken
---
On August 21 the Trans Mountain Pipeline gave contractors in Edmonton and Burnaby what's called a 'Notice to Proceed.' As a result contractors are mobilizing the initial workforce required to build the Trans Mountain Expansion Project.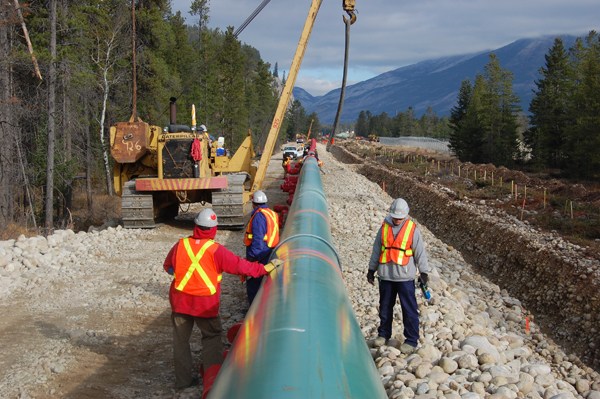 According to Trans Mountain's press release the directives give the contractors 30 days to mobilize equipment and commence the process of hiring workers, procuring goods and services, and developing detailed construction work plans. The contractor for the Hargreaves to
Blue River section is Ledcor Sicim Limited Partnership. Employment inquiries can be directed to: [email protected] and vendor inquiries can be directed to: [email protected].
Construction is supposed to begin soon along the right-of-way between Edmonton and Edson and at the Burnaby Terminal. Ledcor Sicim haven't yet been given their 'Notice to Proceed' for the stretch from Hargreaves to Blue River.
President and CEO of Trans Mountain Ian Anderson called it a significant milestone.
"We are confident that we have a path forward by which the Expansion Project construction can commence," said Anderson.
Anderson expects the pipeline to be in service by mid-2020.
Trans Mountain had planned a 500-person work camp near Valemount to accommodate workers as well as another camp near Blue River.
A statement from Trans Mountain was short on specifics:
"We are continuing to move forward with planning and engagement activities related to the temporary worker accommodation plans for the Robson Valley and North Thompson area."
The pipeline company doesn't have a start date for the North Thompson spread yet.
"We are continuing to complete the necessary steps including permitting and regulatory that need to take place before we can get boots on the ground in this area," read an email from Trans Mountain's media team.
According to the Mayor of Valemount, Owen Torgerson, a temporary use permit to allow a work camp within the village was issued but the permit has expired and has not been renewed.
Torgerson hoped to get more information from the company at the August 27 council meeting when Trans Mountain made a delegation to council (after our print deadline).
"We anticipate receiving more clarity on Trans Mountain's plans for the impending Pipeline Expansion Project and associated worker camp in our area," he said.
Torgerson said a temporary use permit takes between 4 to 6 weeks.
Trans Mountain did have a permit in place, but it expired.
Pipeliners are looking for housing in the area. A man calling himself a professional male environmental inspector for the Trans Mountain
Pipeline Project advertised online to find a one bedroom suite which he hopes to rent for four years.
Some housing owners appear to be keeping suites open for pipeliners despite the zero vacancy rate.
A woman advertised two suites in Tete Jaune to accommodate up to 6 people specifically to pipeline workers.
"Seeking long term pipeline tenants," read the ad.
Property manager Jennifer Applebaum said keeping units off the market and waiting for pipeliners is bad for local people and businesses that require accommodations or accommodations for employees, but she said there is a clear reason.
"There are people holding onto empty housing waiting for the windfall … for wealthy pipeliners that are going to come through and pay three times the market rate would be for somebody working at a hotel," she said.
Applebaum explained that evicting residents in order to raise the rent is against the law, which is why some people are keeping them empty while they wait.