By Andru McCracken
---
A small group of local people and a few tourists unveiled a rainbow bench on the patio of Valemount's Gathering Tree on July 27 in an emotional ceremony that recalled the struggles faced by the LGBTQ2 community.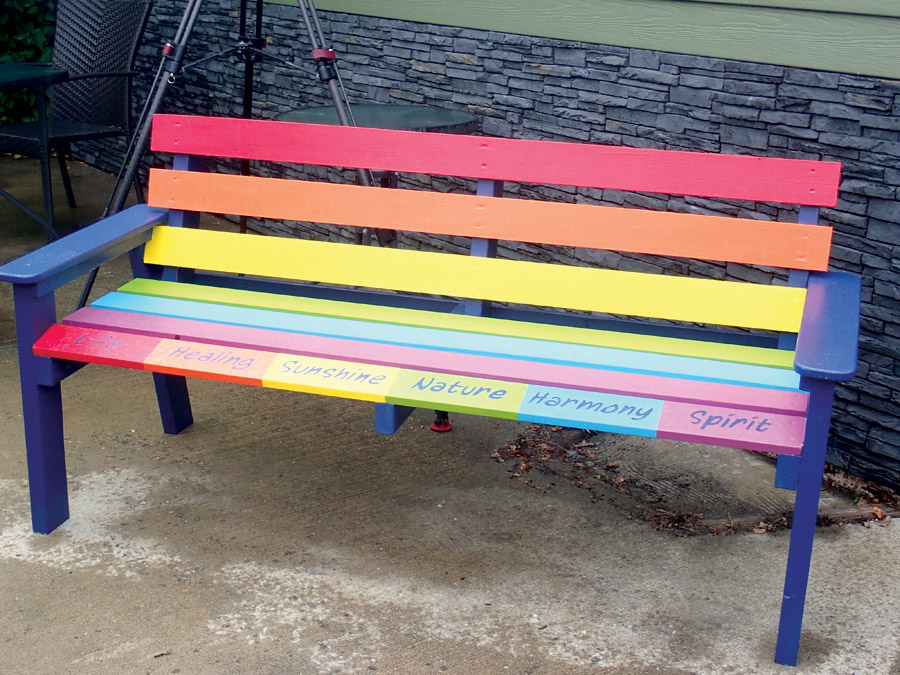 A number of speakers shared their personal experiences
Sherral Shaw, the owner of the Gathering Tree said that bench began as a simple gesture to recognize the LGBTQ2 community but researching it took her deep in the travails and injustice faced by many people to this day.
"Valemount is one of the most beautiful places in the world. But truly the beauty of a community only continues to shine if the hearts of its citizens are open to acceptance and understanding, to be able to embrace our diversity and to create a safe and supportive community for all its citizens," she said.
"This is not a day to celebrate a rainbow crosswalk, but make no mistake this rainbow bench is a strong symbol of acceptance for the LGBTQ2 community."
Shaw said she hopes the words inscribed on the bench will get people interested enough to educate themselves.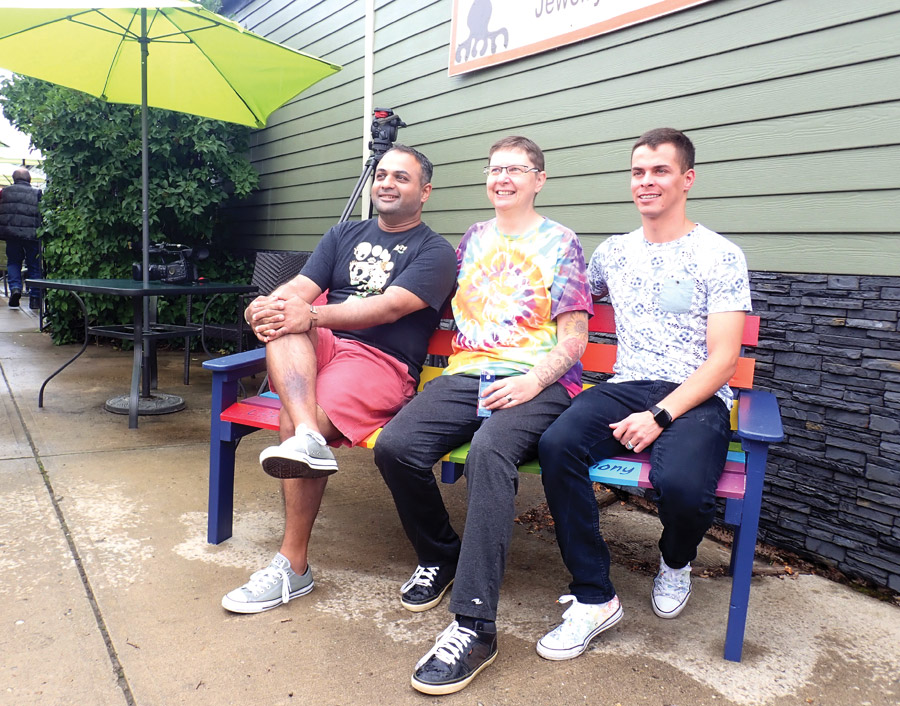 "In my opinion most prejudice comes from a lack of knowledge. Human rights abuses still happen all too often in Canada," said Shaw. "I'm humbled to be a part of the bench's creation."
Cat Crowley was moved to tears at the event.
"I'm hoping that your kindness for the community doesn't go unnoticed for the people that have been having a symbol such as this," said Crowley.
She told of the isolation she suffered when she came out to her family. She spoke of abuse and the punishment that the universe seemed to rain down on her after coming out.
"I lost everyone that I loved. I'm truly hoping this bench will be a symbol going forward, and one day we can all live without persecution."
Gail Burbidge hailed the bench as a symbol of welcoming for more than the LGBTQ2 community, but also for everyone that feels different.
"This bench shows tourists and visitors that you are welcome, no matter your colour, race, sexuality or gender identification and it reminds the locals that our differences is what makes us the awesome community we are.
It shows anyone struggling with their differences young or old that it is okay, you are welcome, you are not alone and that there is a place for your here."
Mandy McMinn wasn't planning to speak, but was moved to do so.
"Hopefully this will give people a taste of what it is like to accept the rainbow, not just the LGBTQ2+, but for everybody. Accept the rainbow, accept the colour in your life and hopefully everybody will accept us," she said.
McMinn pointed out that the event was held three years to the day that community supporters came out en masse to chalk a rainbow crosswalk despite a warning that police would prevent it from happening.
On the bench are six words, a word for each of the six colours: Life, healing, sunshine, nature, harmony and spirit.
The bench received a weatherproof coating before being permanently installed on Aug. 6th.