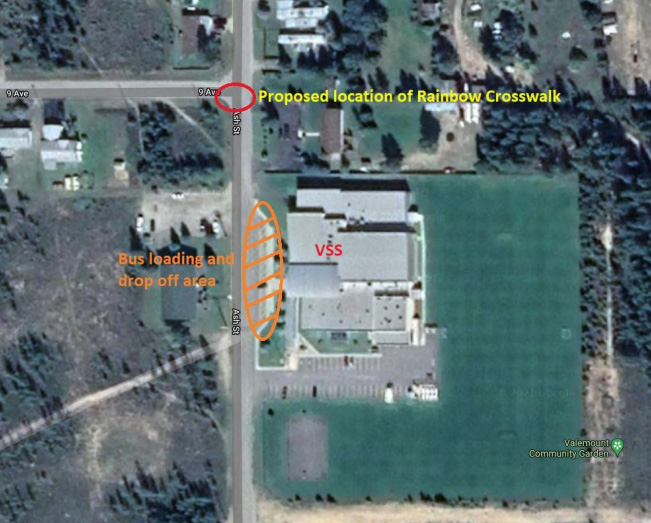 By Laura Keil
Valemount Council has unanimously approved the installation of a rainbow crosswalk at the corner of Ash Street and 9th avenue near Valemount Secondary School, to celebrate diversity and inclusion.
Council voted on the matter at their July 27th Council meeting, based on a staff report drawn up after a June request from community members.
"It is often thought that rainbow crosswalks are placed to recognize the LGBTQ2 community; it does, but it also represents the idea of diversity of the human species," said a report from CAO Wayne Robinson. "Rainbow crosswalks are a reminder to the community that it is made of a group of people from diverse backgrounds, beliefs and lifestyles.
It is also an indication to our visitors that Valemount recognizes and accepts diversity within society."
Councillor Hollie Blanchette was brief in her comment: "It's about time."
Mayor Owen Torgerson also spoke in support.
"This is one way this Council can really connect with youth and offer them diversity and inclusivity in the place that they will learn the most in their learning career," said Mayor Torgerson, before a vote was taken in which Council approved the crosswalk.
The crosswalk was presented to Council earlier this summer at their June 22nd meeting, when Valemount Secondary Principal Derrick Shaw along with local parent Kiba Dempsey and a Grade 11 student made a request that Council install a rainbow crosswalk near the school.
"Tonight we ask that the Valemount Council consider installing a crosswalk on Ash Street near Valemount Secondary School that would indicate to all those coming to our school community that Valemount not only welcomes diversity and inclusivity, but we embrace it and celebrate it," Shaw said.
The Grade 11 student also shared her thoughts with Council.
"As a member of the LGBTQ+ community and as a student at Valemount Secondary, the addition of a rainbow crosswalk or pride crosswalk would be very welcome for me, especially as someone who doesn't have a lot of direct support at home," the student said. "Having that kind of symbol of inclusivity, for me anyway, would be very important and welcome and I know a lot of other people who would be very accepting of it."
Shaw said his research shows drivers are more likely to stop at pride crosswalks. He noted that ICBC has expressed their support of rainbow crosswalks as a valid crosswalk option.
Village staff say the crosswalk will cost approx. $4,000, and a budget will be needed for repainting every two to five years. The Village also plans to spend $600-$800 to install two crosswalk signs. The Village reached out to ICBC and determined the best location was at the corner of 9th ave and Ash St.
Shaw says he knows first-hand that inclusive environments are important.
"I know that all students need to feel safe, included and empowered to learn and that an inclusive environment will create better outcomes not just in a school setting but in any organizational structure."
Shaw said their proposal is for a crosswalk that goes beyond the standard 6-colour pride flag and includes the colours that were added in 2017 and 2018 to represent queer people of colour, a change made to draw attention to the marginalisation and discrimination towards these communities. The new colours are black (diversity, Black Lives Matter), brown (Inclusivity, Indigenous communities). The crosswalk will also contain light blue and white to represent the transgender community.
Village staff also suggest that Council consider erecting a sign explaining the meaning of each color on the crosswalk, which could be done in collaboration with the high school.
A rainbow crosswalk was originally proposed downtown in 2016 by members of the LGBTQ+ community Mandy McMinn and Gail Burbidge, but at that time was rejected by the sitting Council. Following that decision, dozens of residents showed up at night to chalk the crosswalk in rainbow colours. A few months later, then-owner of the Gathering Tree coffee shop Sherral Shaw installed a rainbow bench on the north side of the street, close to where the crosswalk would have led.
Local resident Cat Crowley praised Council's decision to support the crosswalk.
"I'm pretty thrilled about it," Crowley said. "I'm hoping that community members are able to see the beauty in something like this."
She said it's wonderful to see youth leading the movement.
"What's most powerful about the whole movement is the fact that the next up-and-coming generation is just so passionate about LGBTQIA human rights."
Crowley says she's seen Valemount become more inclusive, even since moving here five years ago.
"Just four years ago, I was the victim of a hate crime. And I just don't think if something similar were to happen to me today it would be as severe. I think people's minds have already started to open up a little bit more."
She said having a symbol of acceptance in a public area helps kids who might be thinking about their sexuality and gender identity to know that there's people out there who will accept them.
"Maybe their parents won't, maybe their friends won't, but someone out there will accept them for who they are," she said. "I think this is just the beginning of something really beautiful, and I'm just excited. I'm really excited."