By Laura Keil
---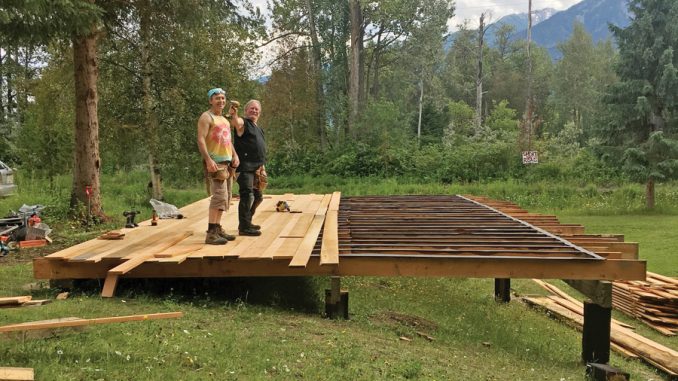 The Robson Valley Music Festival is back and promises more activities to keep festival-goers busy, including a beer garden near the stage.
This is the first year the festival has a liquor license.
Organizer Shara Gustafson says they are pressing for pre-sale tickets this year and will be capping the festival at no more than 1000 people. The entire music festival takes place on the private land of one extended family along the Fraser River.
The capacity of the beer garden is 60 people and Three Ranges Brewing beer will be on tap, as well as a few cider options. Organizers hope the beer garden will help keep attendees in the central stage area.
Unlike in previous years, Saturday boasts a full schedule of music and workshops throughout the day. Events will run all day at the main stage, as well as at a workshop tent, an art tent and the Earthship stage located above the playground area. Non-musical acts include an illusionist, hoop dancers, an improv group, a puppeteer and a kids performer. Workshops include painting, art journaling, crafts, and a mini circus workshop for kids.
"There will be so many things to choose from at any one time," Gustafson says.
She says at least one film crew will be on site this year. An Albertan filmmaker Michael MacDonald will be filming an actor in a fictional film using the music festival as a backdrop. She also hopes a filmmaker who does promotional music festival videos will attend this year.
She says there will be signs warning people that they may be filmed.
Performers this year hail from as far away as Russia and Australia. There is also a good slate of local performers including Benjamin Coyle, Raylene Westlund, Nick Beddington, the Drunken Midnight Howlers, John Crowley, 5 Sheets to the Wind, and others.
The festival also put a focus on B.C. performers this year. For a full list see the RVMF website at www.rvmf.ca. The RMG will be publishing the full schedule in our Aug. 15th edition. The festival runs from the evening of Fri. Aug 16th to the evening of Sun. Aug 18th.
Gate price for a weekend pass is $200 ($165 if purchased before Aug 14th). Weekend gate price for students and seniors is $80. Day passes (with 1 night camping) depend on the day – it's $35 for Sunday, $70 for Friday and $110 for Saturday.