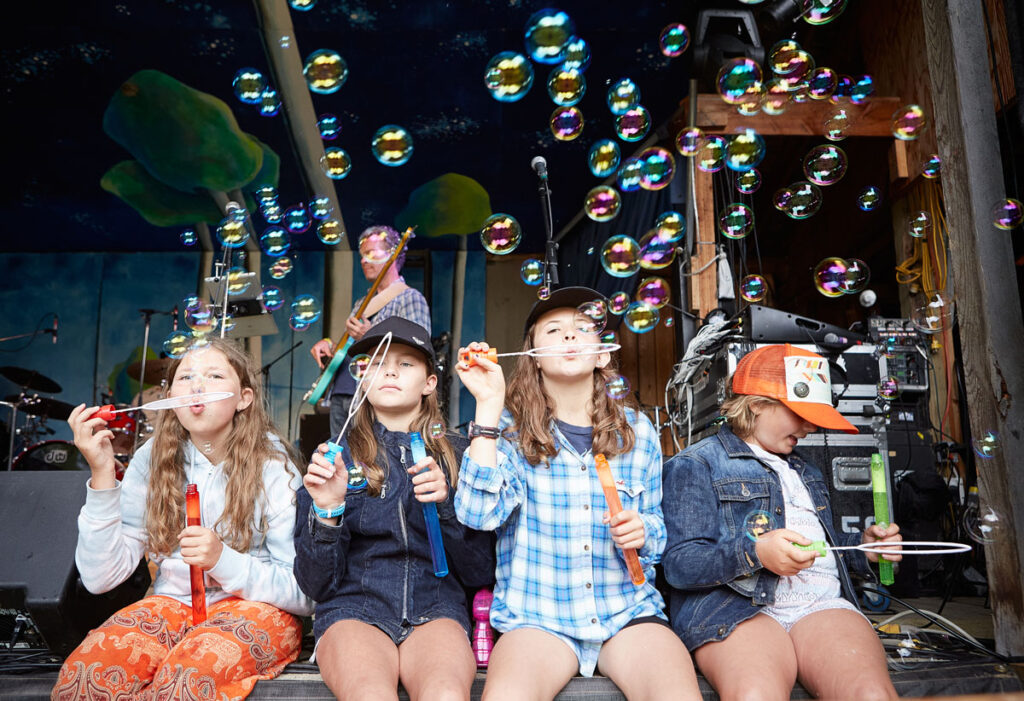 By Andrea Arnold
The Robson Valley Music Festival is returning to Dunster on Aug 11-13th for its 16th year as an official event.
Shara Gustafson, main festival organizer, host and artistic director says that prior to it becoming what it is now, she and spouse Seth MacDonald invited a few friends to join them for a weekend of musical performances. These small informal gatherings continued for several years.
"We built on the idea," she said. "Started to build infrastructure, and to make it 'real thing.'"
She is excited to see how the festival has grown and how in recent years.
"It is a family-centered celebration of music, art and community," she said.
Just prior to the COVID shutdown, they had started only issuing tickets as a full weekend pass. Gustafson says that she thinks the change has helped maintain the family-friendly environment they strive for. It helps build a respectful and cohesive group of festival goers.
"When we tried it the first time, we noticed the 'pit party' mentality disappeared," she said."In its place, a smooth, respectful, nice family vibe."
This year, organizers are welcoming 35 musical artists from all over BC, Canada and even as far away as Mongolia.
"We used to have several international performers, but covid shut that down," said Gustafson. "It's taking some time to rebuild the line-up."
The way they have structured the event is that there is no 'dead air.' They use multiple stages so that one group can be setting up while another is performing. This allows for a seamless transition from one group to the next. They also have a stage that is designated for acoustic music only.
They will have 16 artisan vendors and six food trucks on site. Gustafson is excited at the extent of the offerings available in the vendor alley. She says it will be the biggest with the most variety yet.
There will once again be a kids area that is within close proximity to the main performing area. The overall closeness of the area allows parents to enjoy music while keeping an eye on their children. The kids stage will host both performances and workshops.
Adults too will have many opportunities to participate in workshops. A few on the agenda are songwriting and needle felting.
"There will be a Bollywood dancer putting on a workshop for the kids and then another one for everyone from the main stage," said Gustafson, "It will be a lot of fun."
Keeping the event family friendly requires cooperation and respect from all attendees. Visitors are limited to two drinks per visit to the beer gardens and all smoking is to be done in the designated smoking area along the river. They also ask that all dogs (aside from registered service dogs) be left at home. Their family dogs will also be boarded for the weekend.
They ask that everyone maintain vigilant fire smarts.
"It is private property and our homes are on site," said Gustafson. "We have been okay so far, but it only takes one ding dong."
Two camping areas without hook-ups are available, one area for RVs and campers, and the other for tents and car camping.There is no additional cost for camping. Campers are asked to bring their own water for consumption. There is water available for washing and primitive restroom facilities. The festival is providing a shuttle from the performance area to the campgrounds and in past years, many attendees have brought bicycles.
Gustafson and MacDonald will be performing again this year as Dream Heavy. They, along with son Liam Gustafson Randall and their drummer David McKillican will be joined by many different special guests throughout the weekend.
Although attendance for the weekend is limited to 650 weekend passes plus performers and volunteers (bringing the number to 1000), they have changed the format for Sunday.
On Sunday, they open the doors for locals who want to come out for the day. They only ask people to donate what they are able in order to come check out the event.
Gustafson says they are still looking for volunteers and volunteering is another way people can participate.
"If you are cash shy but want to attend, there are many different opportunities for people to volunteer."
After many years of hosting the festival, Gustafson would say that her favorite moment is Friday when things get underway.
"I still get asked a million questions and people are constantly needing me to be somewhere, but once things get going, I can relax and enjoy the festival. I especially love seeing the families. The family presence seems to grow exponentially every year."
Tickets are still available online at https://www.rvmf.ca/
Although they are only two thirds sold at this time, Gustafson cautions that between now and when the first notes are played on Aug 11th, tickets will sell like crazy.