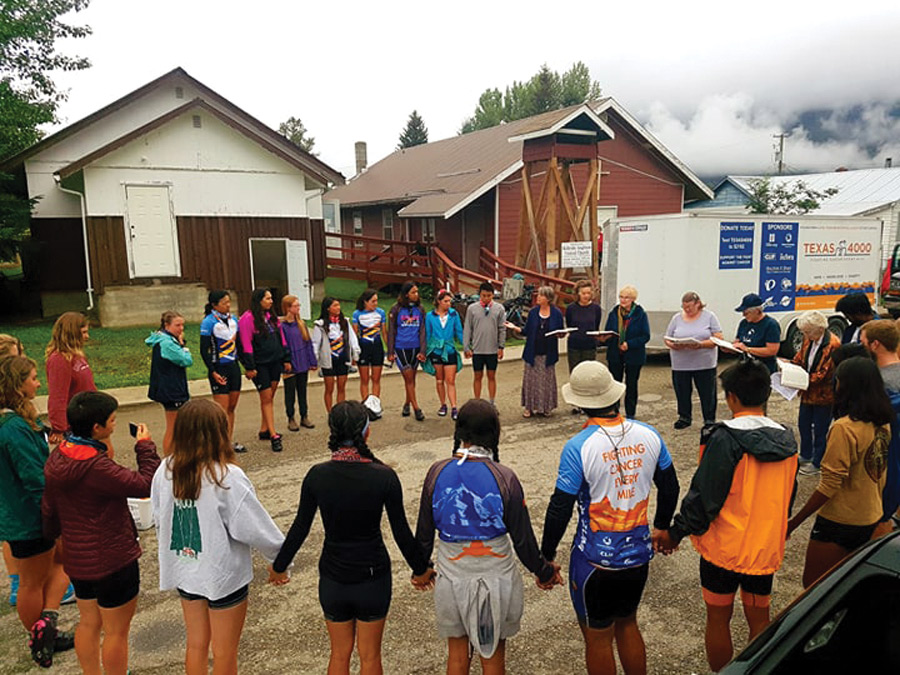 By ANDREA ARNOLD
---
Imagine you are a college student at the University of Texas in Austin Texas, when someone approaches you and asks you to dedicate the next two years raising money for and spreading awareness of cancer, and then pedaling a bike 4000 miles, (6437km) from Austin, Texas to Anchorage, Alaska. For reference, the distance of the southern Canadian/US border runs 6422km.
That is what 83 students are doing by the end of the summer. One of three groups visited McBride on Saturday, July 13, 2019. In Whitehorse, on Day 60, the groups will merge for their final 10 days of cycling.
The Texas 4000 for Cancer was started in 2004 by Chris and Mandy Condit, engineering students at the University of Texas in Austin. Chris, a Hodgkin's Lymphoma survivor, wanted a way to continue the fight against cancer by raising funds for cancer research and sharing hope, knowledge and charity across the continent.
Every year Texas 4000 competitively selects University of Texas students for an 18-month program designed to cultivate the next generation to lead the fight against cancer. Once a student is selected, they have to raise $4,500, put in over 50 volunteer hours, play an active role in planning the trip and, after receiving their bike in October, complete 2,000 training miles before May.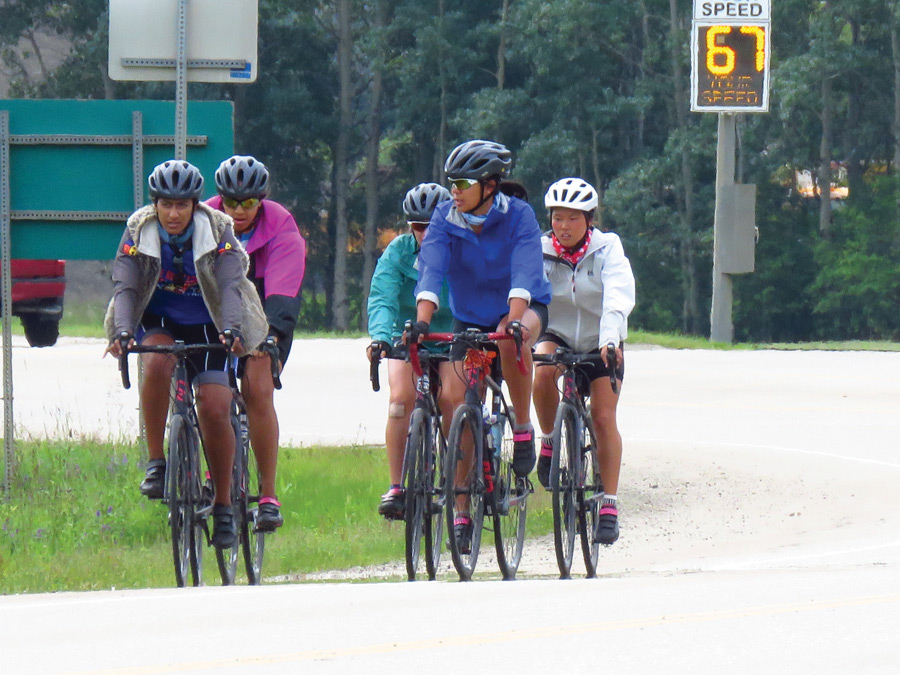 The group started the journey as strangers mostly. Having completed the requirements and now, over half of the cycling route, they now feel they are a family. Christina Mihova said that she can't imagine what saying goodbye at the end will be like. She has had a rough go, and felt, maybe more than the others, the family support as the team rallied behind her after an accident left her with a broken collarbone. She rode in the chase van while recovering and only in the last week has been able to cycle again.
According to Tia Giron, and Adelyn Yau, team members who stayed in McBride, most in their group have never visited Canada, or travelled this far north.
The team aims to cover a minimum of 130km a day, averaging 16km/hour. There are days when their arrival to a destination is delayed due to high winds or other forces of nature. Giron talked about a day when her small group was forced to take refuge on the side of the road during an intense hail storm. "It was scary," she said. "But at the same time funny. It's how memories are made."
The longest stretch, the 144 miles from Lake Louise to Jasper was the hardest, longest, and most beautiful stretches. They could not believe how blue the lakes are and how high the mountains stand.
Organizers try to contact sponsors, or arrange for campsites. In McBride, the Anglican United Church has welcomed these inspirational riders for the last 10 years. This stop is a chance for a solid roof over their heads, showers, laundry, and not just one, but two home-cooked meals. On this stopover, they took the opportunity to sleep in a little and visit over breakfast before hitting the road.
Before the team rolls out each day, they hold a ride dedication circle. Sunday morning, the team members held hands in a circle as individuals spoke out with names of people they are riding for, while others took the opportunity to remind others of their pillars: hope, knowledge and charity. Some ride for family, friends, or people they have just met who have touched them with their story. Once all who wanted to, spoke, they moved on to daily Stone & Pelt nominations. The stone is awarded to an individual who did something dumb or embarrassing the day before. It brings them together as they laugh and share memories from the previous day. The pelt is awarded to the rider who went above and beyond during the ride.
Once these traditions were complete, the team mounted their bikes once again and in small groups, departed McBride to begin Day 44.