By Jean Ann Berkenpas
---
On Saturday February 29, the Open Gate Community Garden hosted their 7th annual Seedy Saturday at the Dunster School. The day was all about sharing knowledge about gardening and food, inspiring growers, and of course the exchange of seeds. Over 90 people were in attendance, not including the many children in the daycare.
The day included plenty of educational presentations by local experts. These included talks about biochar in the garden, wild foraging, and garden art. There were also mini presenters at "tip-tables" who spoke for 15 minute segments on the topics of growing celery, soup stock options, raised bed gardening and apple cider pressing.
A soup and bun lunch, as well as coffee, tea and ample goodies were available by donation, as well as free child minding, and a book exchange. Proceeds from the event go to the Open Gate Community Garden in McBride.
Several local vendors were there selling seeds, preserves, and providing educational materials about gardening and seed saving. Pete Amyoony was there with his 300 plus varieties of tomatoes. Each year he grows about one third of the varieties he has and saves the seeds, thus ensuring that the oldest seed he stores is no more than three years old.
Jos Hoetjes provided the presentation about biochar in the garden. He works with British Columbia Biocarbon Ltd in McBride. They process biomass using pyrolysis to make high grade biocoal, producer gas, biochar and other biogenic carbon products. He spoke about the history and science of what biochar is, how it can be used to add carbon and nutrients to the soil, and also how it can be manufactured from wood waste at home. He also explained how biochar can act as a carbon sequestration tool, due to its ability to store carbon in a stable manner in the ground over the long term.
Catherine Hiroe and Grace Michaud spoke about wild foraging. They not only provided a wealth of knowledge about local plants and how to use them, but also a huge sampling of foodstuffs and products they had prepared from those plants. They also shared some cautionary tales and rules about wild foraging to keep safe and ensure that areas are not over harvested. Their rules were first make sure you are completely sure you have correctly identified the plant, second do not harvest areas that have been sprayed, third make sure you ask permission to use private land, and finally do not over harvest. Many of the plants that they spoke about are easily identified plants and garden weeds, such as dandelion, pigweed, lambs quarters, plantain, and chickweed.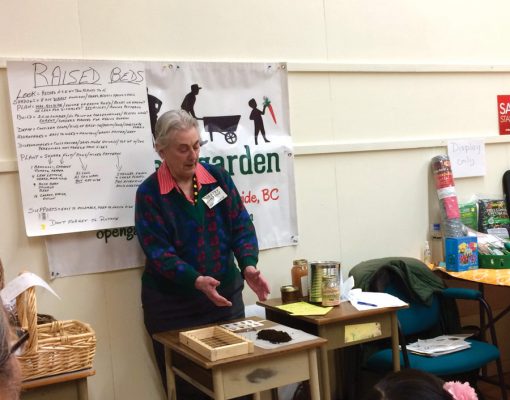 The final presentation of the day was by Ursula Winkler and was a hands-on activity making garden stepping stones out of collected pebbles. The stepping stones created by participants were drawn for among participants.
Two will also be donated to the Open Gate Community Garden and to the upcoming Mother's Day Art Sale fundraiser that is held annually in Dunster.
This annual Seedy Saturday event is growing, with participation up about 20% from last year and more participating local vendors. The demographic is diverse too, with attendees from all age groups and communities within the Robson Valley Region. Volunteers from the Open Gate Community Garden run and work the event, and donations from the Dunster Community Forest, Farm Store and McBride Home Hardware provided funding and draw prizes. Seedy Saturday events are initiated by Seeds of Diversity, a Canadian not-for-profit organization dedicated to preserving heirloom and endangered varieties of food crops and educating the public about their importance.