By Andru McCracken
---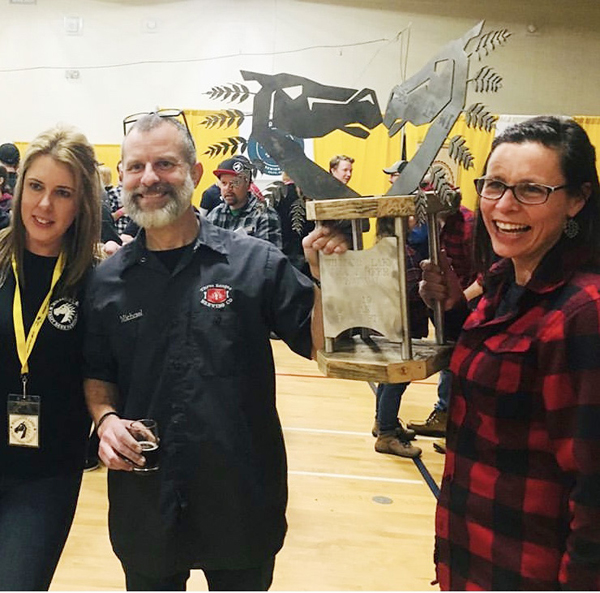 The timing couldn't have worked better. Three Ranges Brewing Company is just releasing their seasonal beer, Mudbogger Dark Lager days after it won fan favorite at the Williams Lake Craft Beer Festival.
"That was a good launch party for this year's Mudbogger," said Michael Lewis, the head brewer and co-founder of the Valemount based brewery.
The festival featured 22 breweries and one cidery.
Lewis said he was initially surprised to see the preference for dark beers in Williams Lake, but the festival winners have been dark beers fairly consistently over the last four years.
Lewis credits Mudbogger's win to their new sales rep Richelle Black.
He said Black got out the vote for Mudbogger.
"It helped so much," said Lewis. "There are so many breweries and everyone is keen to vote they just don't realize the voting ends 30 minutes early. You've got to make sure you get your votes in."
The prize comes with its own massive and unique trophy custom designed each year.
Lewis said the trophy is already on the wall.
Craft beers often come with a backstory. Here's the description for Mudbogger:
"As winter retreats, the spring thaw begins. Creeks and rivers swell as the snow melt makes everything wet. Mudbogger Dark Lager's subtle hint of smoked malt conjures thoughts of the last fires of the season; and the colour, lighter than our winter ales, reflects the longer days of spring. Mountain folk aren't afraid of a little mud. Pull on your gumboots and get out in the muck!"
The Williams Lake Craft Beer Festival is organized by beer enthusiasts who hope to expose the community to BC's growing craft beer movement. The event raises money for non-profit organizations serving Williams Lake and area. Over the last four years they have raised over $100,000. This years proceeds went to the Cariboo-Chilcotin Child Development Centre Association.