by Andrea Arnold
---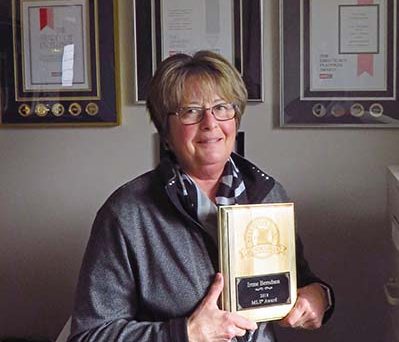 Irene Berndsen and husband Pete moved into the Valley in 2001 when the RCMP stationed Pete in McBride. Shortly after earning her real estate licence in 2007 she joined Royal LePage out of Prince George, and continues to work under their brokerage.
During her years working in the real estate market, and more specifically for her clients, Berndsen has learned what an individual needs in order to be successful. "Being a great Realtor requires dedication to the profession and your clients," she said. "This involves lots of hard work, being available, research and continuing education." Changes are often made to regulations and requirements and agents have to say informed. She says honesty and integrity are also key.
In response to the recent additions to the local Royal LePage family in McBride, Berndsen wanted to take this opportunity to welcome them into the profession. She believes that when the system works, there is room for many agents within the valley. Recent changes to rules regulating who lists and who sells a property make it important to have multiple agents working within the same area.
Berndsen has worked hard in the last 12 years and has received an award from Royal LePage for sales every year but one. This month, she was the recipient of both a top agent award for Northern BC from MLS and a Directors Platinum Award from Royal LePage.  However, Berndsen doesn't measure her success by the hardware hanging on her office wall. "Success means satisfied clients who are happy to recommend your services," she said. "I find this profession very rewarding – and would like to thank my clients for the opportunity to help them through one of the most important decisions they will make."