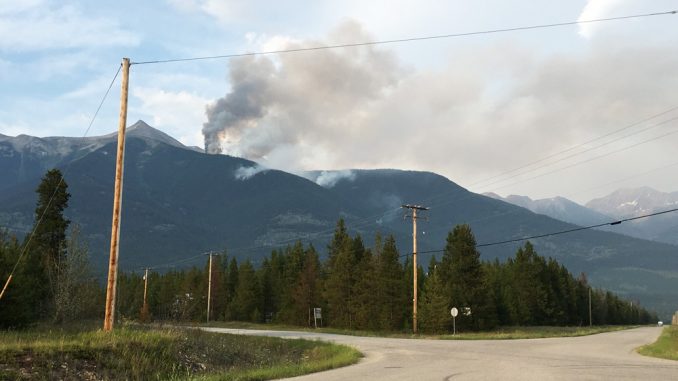 By Laura Keil
A lightning fire that flared up Monday night roughly 5km from the Village of Valemount has been deemed a Fire of Note by the BC Wildfire Service and more resources are being called in.
This morning, the 30ha fire and two smaller spot fires were mostly contained to the far side of the ridge and not visible from town, but helicopters could be heard in the vicinity.
Wildfire Centre spokesperson Amanda Reynolds told the Goat this morning that two teams of three firefighters were currently on the blaze and they had called in a rappel team. The Robson Valley Fire Zone was also responding to a spot fire west of McBride at West Twin Creek.
Reynolds says due to the steep terrain on Mckirdy the air tankers have been called off, since they are not effective in that terrain. She said the large fire is burning upslope away from town towards the alpine and the fire is not currently threatening the village. No evacuations are in place.
Reynolds says they expect more lightning in the next 24 hours, but are hoping the lightning will come with rain, as currently forecast.
The valley has experienced 30+ degree temperatures every day for nearly a week with hardly any rain. Two weeks ago, a fire near Mt. Trudeau gave villagers a scare when it ballooned to 45ha in less than 24 hours and made smoke highly visible from town.
The valley has been shrouded in smoke for over a week due to fires burning on the other side of the planet in Sweden, Russia and other places close to the Arctic circle as unprecedented temperatures and storms wreak havoc, weather patterns attributed to climate change.