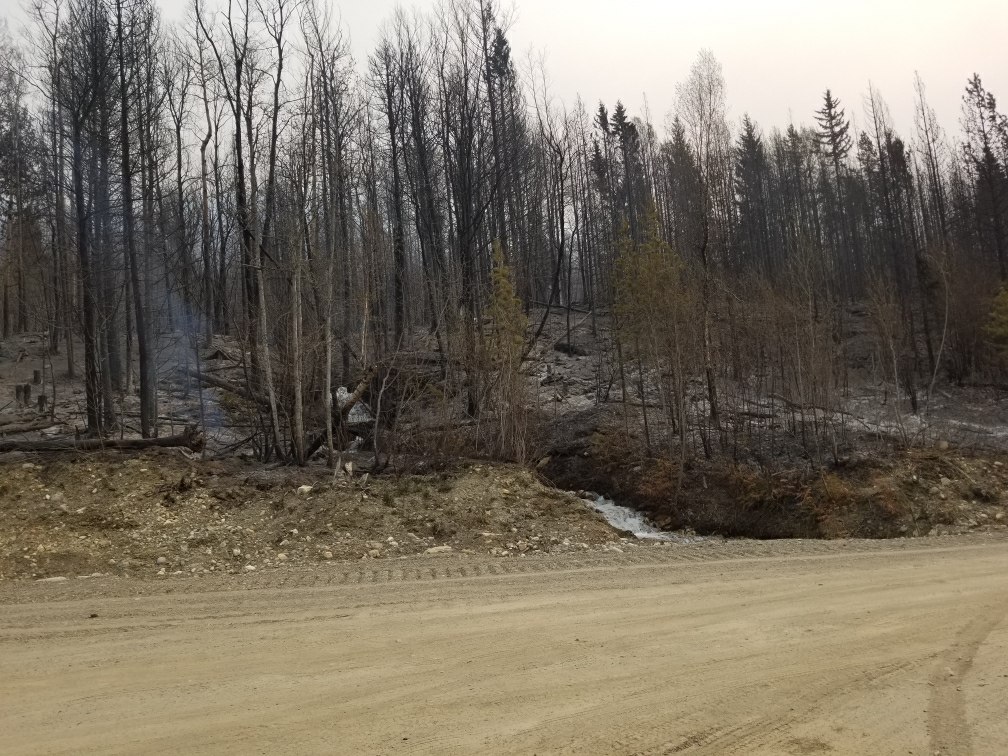 By Laura Keil
As of 10:30a.m. Sun. May 7th, the evacuation orders and alerts for properties in the vicinity of the Teare Creek Wildfire near McBride are rescinded, after heavy rain Saturday night and Sunday morning helped calm the flames. The fire is now listed as "Being Held" which means it's not expected to grow beyond the containment lines under current conditions.
There have been four Initial Attack Crews, 1 Unit Crew and 4 Officers responding to this wildfire, as well as helicopters and a water bomber plane.
Dozens of properties were under evacuation order, and hundreds under evacuation alert after a wildfire that started Thursday mushroomed in size to approx. 600 Hectares within 24 hours. It is now estimated at having burned 1,100 Hectares.
Crews continue to conduct mop up operations as well as Danger Tree Assessing and Falling in active fire areas. The BC Wildfire Service reminds the public that the Teare Creek wildfire is still an active wildfire and a BCWS worksite.
"Public interference on active fire worksites has a direct impact on the effectiveness of fire suppression activities and pose safety risks both to the public and to responders who are working to contain these fires," the service says. "In order for wildfire suppression activities to continue safely and effectively, the public must stay out of active fire areas."
Government officials, including firefighters, engaged in fire control have the authority under the Wildfire Act and the Wildfire Regulation to order all people to leave active fire areas.
The Wildfire Service says although there has been significant precipitation, hot and dry conditions well above seasonal are possible in the long-range forecast. Fire activity and onsite conditions can change rapidly, especially if hot and dry conditions return. Residents in the vicinity are encouraged to keep up-to-date on the current wildfire situation and check the Regional District of Fraser Fort George website for updates on Evacuation Alerts and Orders.