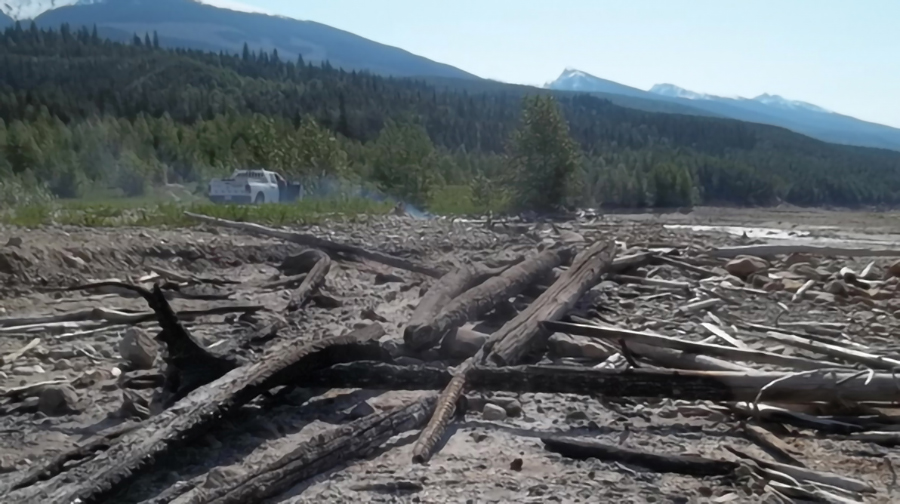 By Andrea Arnold
There is a possibility that Kinbasket Reservoir users will encounter more floating debris than usual this summer.
"BC Hydro is preparing for above average reservoir levels and discharges in the Kootenay and Columbia Basins," said BC Hydro Stakeholder Liaison Mary Anne Coules. "This is due to the delayed spring snowmelt as well as above average spring precipitation, which could mean a more compressed runoff and higher than normal peak flows and levels this spring and summer. Currently we are forecasting that Kinbasket Reservoir is likely to fill by mid-summer. "
BC Hydro is seeking permission from the Provincial Comptroller of Water Rights to store up to one additional foot of water in the reservoir this summer, bringing the maximum water level to a depth of 754.7 metres (2,476 feet) between mid-July and the end of September.
"The duration at which water levels will remain high depends largely on actual inflows and power demand," said Coules.
Valemount Mayor Owen Torgerson is a member of the Joint Debris Management Committee, a group of people from Valemount and Golden that work together advising BC Hydro on budget issues. The joint committee was formed not that long ago. Prior to the joining of forces, each community had their own representation and there was $50,000 total allotted for cleanup after a surplus water situation. Valemount and Golden each deal with varying debris clean-up based on wind and weather conditions.
Torgerson said that for 2014-2017 the committee cameto a multi-year funding agreement for $1.2 million with BC Hydro. In addition, BC Hydro agreed to an additional $200,000 contingency fund if surcharge occurs."
If the additional water situation occurs, there is a lot of extra clean up required when the water recedes as debris is left behind in what is called the bathtub ring around the reservoir.
"I am particularly concerned about this year," said Torgerson. "Last summer, the water was below the high water mark by about 11 feet. If surcharge occurs, more debris will get pulled into the water."
Potentially, contractors hired to clear debris are left scrambling to clear out as much as they can before the water washes it out into the reservoir. Normal high water levels leave behind debris when they recede, but when a surplus occurs, some of the debris is pushed back into the tree line. Then it becomes an issue as to who is responsible for the clean-up.
"Technically speaking, anything below the highwater mark is BC Hydro's responsibility and anything above falls under the Ministry of Forests," said Torgerson.
An overfilling of the reservoir can bring both positive and negative results, so Torgerson gave reasons for both.
"On a local level, selfishly, it is a bad thing," he said. "It creates added hazards for those using the water recreationally. Sometimes it is important to be able to exit the water quickly and that can be hindered due to debris by the boat launch."
Torgerson said another area that becomes a catch basin for debris is the sandbar area at Horse creek. Also, due to their proximity to the water, there are some shoreline campground spaces that will likely flood if a surcharge occurs as well.
There are downstream benefits to a surcharge in the reservoir.
"Surcharging the reservoir helps everyone south of the Mica dam," said Torgerson. "One piece in the cog is to ensure that through the Columbia River Treaty, power is made for both Canada and the US," said Torgerson. "Certain flow rates are used to build a healthy return of fish stocks. It is also a method of flood control."
Through the non-treaty storage agreement between BC Hydro and the Bonneville Power Administration, they are able to hold water back if needed. For example, during a cool spring when the snow pack is slow to melt.
According to Coules the most recent occurrences of a surcharge situation was in 2020, 2013 and 2012. BC Hydro is preparing for it this year, but it's not a sure thing.
"Some years, despite having authorization to store additional water, we were able to maintain the reservoir water level within normal limits," she said. "This was the case most recently in 2021, 2017, 2011 and 2007."